Amirra B., from Fremont, California, recently sent us these awesome 'before' and 'after' pictures of a fantastic fireplace remodel project; which transformed the family hearth just in time for the festive season.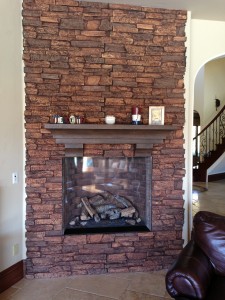 AFTER: Basic carpentry skills were all Amirra needed to complete this incredible fireplace redesign.
Festive Fireplace Remodel Featuring Fake Stone Veneer
While the television is what most people gather around in the evening, the fireplace is still regarded as the 'heart' of most homes. That's why our synthetic stone and brick panels are often used to give a facelift to existing or drab fireplaces and hearths.
One recent example we were eager to share is the fireplace of Amirra, from Fremont, California, who resurfaced the living room fireplace with our Oxford Ledgestone Tan Panels.
As you can see in the 'before' shot Amirra sent us, the original fireplace was finished in drab tiles; and looked incredibly dated. However, updating it with real stone or brick would have been prohibitively expensive and time-consuming.
Fortunately, a better solution existed in the form of our ledgestone panels; which are molded from real ledgestone walls, and perfectly recreate every nook and cranny in lightweight and durable polyurethane.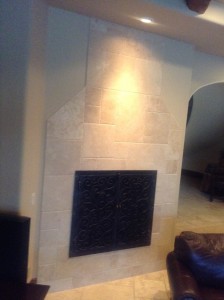 BEFORE: The original fireplace was incredibly dated; looking like something the eighties forgot.
Costing just a fraction of what a real stone upgrade would, Amirra was able to install these fake stone panels directly onto the fireplace surround with regular construction adhesive and screws; giving the fireplace a complete makeover in just a few hours.
To complete the look, Amirra visited our sister site, FauxWoodBeams.com, and ordered a Rough Sawn Juliet Cove Mantel; which was attached to the installed stone veneer panels with a mounting block and regular screws. All in all, the project took less than a day to complete and required only basic carpentry skills to complete.
But the finished look? Outstanding. Vividly realistic, it's hard to tell from looks alone that Amirra's fireplace isn't really made of stone and timber. It's totally transformed the living room; and just in time for the holidays, too.
What do you think of this incredible fireplace transformation? Let us know in the comments section below.