Tick or Treat season is a great opportunity to take the kids walking around the neighborhood and take a look at other people's homes. One classic design feature that always adds a little elegance are traditional knee braces.
The Bee's Knees for Curb Appeal: Faux Wood Knee Braces
Classic Victorian houses, like this one in Lambertville, NJ, feature knee braces that are ideal for spooky scene-setting.
Knee braces are structural bracing for timber beams - especially common on porches, doorways and balconies.
They've fallen out of favor over the course of the last half-century as building techniques and construction materials meant that the reinforcement they offered was no longer necessary.
But one thing that modern materials can't replace is the classic look of knee braces - which is why they're a popular part of our faux wood lineup.
Our faux wood knee braces don't offer any structural support; but are lightweight, vividly realistic and easy to install on your porch, windows, doorways and balconies.
Made from tough and durable molded polyurethane, they mimic the textures, grains and knots of real wood, and are available in a range of colors to perfectly match other faux wood products you're using.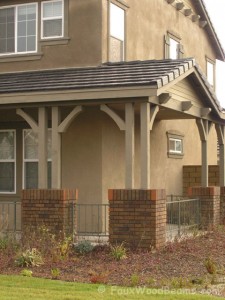 Our faux wood knee braces perfectly capture the appeal of classic Victorian structural braces.
Installing them is easy. You can use construction adhesive or long screws, and it's a job for one person that can easily be completed in less than a day.
The results, as you can see, look terrific.
So what do you think? Have you used our knee braces in any of your home redesign projects? If you have, we'd love to see them.
Share them with us at info@fauxwoodbeams.com. Can't wait to see them!