Customer Cristian Angelescu is pretty handy with a hammer – but even he was impressed with the results of his project using faux stone interior wall panels.
Faux Stone Interior Panels make a Happy Handy Man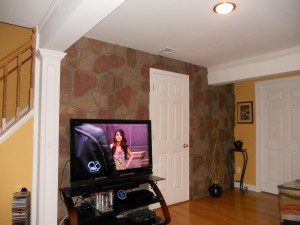 An interior door presented handyman Cristian with a challenge; which he overcame with faux stone panels
Adding an accent wall to your home is one way to totally change the focus of a room – but brick, stone veneer or other stone surface treatments can be expensive to buy, time consuming to install and tricky to get right.
For Cristian – one of our handier customers – the answer was our Fieldstone faux stone panels. Molded from real flat stonework, but made from durable polyurethane foam, they're easily installed onto any flat surface.
Christian's job might have seemed simple – creating a faux stone façade on an interior wall with flat panels. However, a challenge that presented itself was the door, slap bang in the center of the wall. He'd have to cut around that to make the panels fit correctly.
Fortunately, polyurethane foam is easily cut to size with a regular wood saw; but working out exactly where to cut took some measuring and lining up to get right.
"Fortunately the panels are easy to cut and install," Christian wrote, sending pictures of the stunning wall he'd created. "My tip is to use long screws angled from underneath to secure the panels."
Using that technique, and working from the bottom corner and working his way up, Cristian created a seamless wall that vividly captures the look of authentic flat stone.
Understandably, he's very happy with the outcome:
"The panels look great," he writes. "I'm very happy with the result of my small project."
Cutting panels to fit round doors, light fixtures and other obstacles is a challenge handy homeowners like Cristian have to embrace. Fortunately, those issues are manageable when you're using faux stone interior wall panels to create vivid accent walls.
With authentic stone or brick, you're looking at a problem even handy men like Christian would trouble solving.