Catch one of our customers demonstrate how easy and versatile our faux wood products are.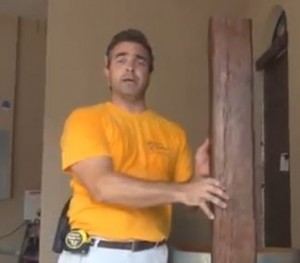 Mark is a high-end woodworking expert, specializing in custom cabinetry and design.
Mark Beyers, a high-end custom cabinet maker and woodworker, is the kind of person we're really proud of to count as a customer.
While he has the expertize and experience to craft amazing things in real wood, there are occasions when even he prefers to "go faux" - and we can't express how excited we are that he uses our products when he makes that choice.
In this short video Mark produced, he demonstrates how straightforward it is to use our false beams in a home redesign project - in this case, specifically to meet the needs of a customer wanting to create a stunning wine cellar.
Mark's design incorporated a lot of real wood - some beautiful reclaimed pieces from old wine barrels were especially noteworthy. Yet he accompanied those with our faux wood beams; which were more affordable, versatile and easier to install, yet looked almost indistinguishable to the real wood.
"They give you that old, rustic look like you'd find in a barn," Mark explains.
He also demonstrates how easy they are to use - hefting a nine feet beam around on one shoulder, and cutting it to size using a regular wood saw in seconds.
The beams attached the ceiling using simple 2"x4" blocks and regular screws - and once installed, looking like they were as old and seasoned as the wine barrels Mark used in the rest of his design.
Don't take our word for it - check out this awesome video:
https://www.youtube.com/watch?v=4kNsphwHuCs