By volunteering time and materials, FauxWoodBeams.com and our sister company, FauxPanels.com, have become frequent television stars. Check out ABC this Friday to see our products featured once again, on Extreme Makeover: Home Edition.
Faux Wood Beams Featured on Extreme Makeover: Home Edition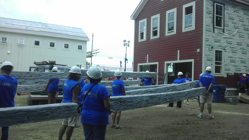 Steve Barron said: "One neighbor had the mess hall pitched on his lawn. Another neighbor had tons and tons of supplies in his yard. It's incredible to see all that energy."
This Friday will see the premiere of the twelfth collaboration between FauxWoodBeams.com and ABC's hit TV show Extreme Makeover: Home Edition.
Dedicated to giving deserving families the homes they deserve, Extreme Makeovers: Home Edition will this time be helping the Dunning family, from Delaware, by breathing new life into the headquarters of their "Jusst Sooup" charity.
Every morning, Dale and Ken Dunning get up to cook delicious soup for distribution to seventeen local soup kitchens; knowing that something as simple as a hot meal can make a real difference to those living on the streets, or otherwise caught short by the country's dire economic situation.
Steve Barron: "The people you meet on these builds is amazing. You don't hear enough about that. The volunteers are incredible."
When he learned that the Dunnings were operating Jusst Sooup out of a converted storage facility, designer Ty Pennington and the crew of Extreme Makeover: Home Edition decided to help out; by giving the Dunnings a brand new home combined with the facility they needed to keep helping out the local soup kitchens.
To achieve a classic farmhouse look for the modern building, Extreme Makeover reached out once again to FauxWoodBeams.com; to help them create a classic farmhouse ceiling by building a towering king truss.
FauxWoodBeams.com was happy to help out.
"It feels good to give back," says company president Steve Barron. "We're a family business too — so doing something special for a family as great as the Dunnings makes us feel great."
In addition to doing something great for deserving people, Steve loves working with the crew from Extreme Makeover: Home Edition because of the truly innovative things his team get to accomplish with their artificial wood materials. For example, in Friday's episode they'll put together an incredible artificial timber wood truss that is practically indistinguishable from the authentic supporting beams that hold up centuries-old farmhouses.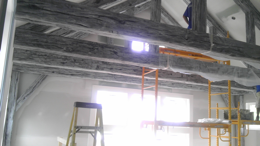 Steve Barron: "Extreme Makeover could do another entire show on the volunteers and everything that happens behind the scenes."
"We wanted the Dunnings' new space to feel homey. An old-fashioned ceiling design made with modern materials was the perfect way to do that."
The episode of Extreme Makeover: Home Edition featuring the faux wood truss and the deserving Dunnings family will air this Friday at 8pm EST / 9pm CT on ABC – and designers Michael Moloney and Paige Hemmis will also be appearing on Who Wants to Be a Millionaire on Thursday and Friday to raise money for Jusst Sooup.
Check it out – and also check out the other TV shows FauxPanels.com and FauxWoodBeams.com have been featured on here.