For several years, FauxWoodBeams.comand our sister site FauxPanels.com have partnered with ABC's hit TV series Extreme Makeover: Home Edition – who help deserving families by transforming their homes and living spaces. This week sees the final episode of the popular show; and FauxWoodBeams.com are helping to make sure EMHE go out on a high note.
Extreme Makeover: Home Edition Series Finale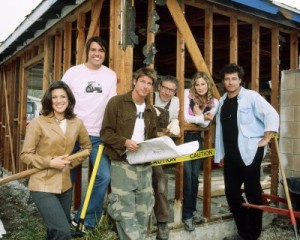 Faux Wood Beams will join Ty Pennington and the EMHE crew in Joplin, MO
Host Ty Pennington and the rest of the EMHE crew – including FauxWoodBeams.com and FauxPanels.com president Steve Barron, will be heading to tornado-ravaged Joplin, Missouri for their special "Heart of America" episode. There, they'll tackle Extreme Makeover's most ambitious project yet – creating seven unique homes in just seven days.
FauxWoodBeams.com and FauxPanels.com partnered in creating five of the seven homes; each designed and built to perfectly match the lives and personalities of the families they were built for.
Our products are perfect for a project like this; as they are easy-to-maintain, easy-to-install, yet deliver the beautiful look of rustic wood the Extreme Makeover: Home Edition crew were looking for. In addition, they're a smart choice for areas that might be hit by tornadoes; as real timber beams can become potentially deadly projectiles in tornado winds; with the power to penetrate solid brick walls.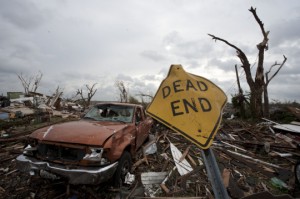 Joplin was devastated by a tornado that tore homes and families apart.
Although it's incredibly exciting to see our products used in ambitious builds like this, the real reward comes from knowing that you're helping make a real difference to people's lives. Each of the seven families receiving new homes in this episode are incredibly deserving; and have astonishing stories of bravery, sacrifice and strength stories to share.
Steve Barron was particularly touched by the heartbreaking experiences of single moms Crystal Whitely and Crystal Cogdill, who both lost children during the devastating tornado.
"As a father, I can't imagine what these families went through," he says.
Although FauxWoodBeams.com and FauxPanels.com are sad that this is the last episode of Extreme Makeover: Home Edition, it's great to know that this is perhaps their most important project ever; and one we could not be more excited or honored to be a part of.
"Extreme Makeover: Home Edition – Joplin, Missouri" will air at 8 p.m. ET/ 7 p.m. CT on Friday, January 13 on ABC. Check your local listings for the time and channel in your area.