This home's new exterior accent siding was quick and easy to install - and came out looking fantastic.
Barron Designs customer Paul Lesperance has a beautiful single-story home in gorgeous Naples, Florida - but he felt that it blended too much with the other homes in the area; a common complaint in places that have a distinctive, local style of home-building.
AFTER: The subtle stacked stone texture and rich earth tones of the siding accents Paul's home exterior beautifully.
The tricky problem was - how could Paul add a distinctive look to his home, without making it gaudy or ostentatious?
While he wanted his home to stand out, Paul's finely attuned sense of style steered him away from that being the only end goal. He understood one of the fundamental principles of design - when you add a new or interesting element to your home, you don't want that to be the first thing people notice.
BEFORE: Paul's home exterior wasn't just bland - it blended in with a dozen other similar local homes.
Fortunately, Paul's search for the perfect solution led him to our website. At BarronDesigns.com, he spotted Colorado Dry Stack panels in the subdued and elegant Earth tone, and realized that they'd be the perfect answer. Molded from real stacked stone walls, our panels are vividly realistic, and the reddish brown tones of our Earth color matched perfectly with the natural colors of the Naples area. They'd provide the perfect way to add a visually interesting new element to the exterior of his home, without it being obvious or showy.
Once Paul had decided on the product he wanted to use, the next step was installation - and fortunately, this was easier than even he anticipated.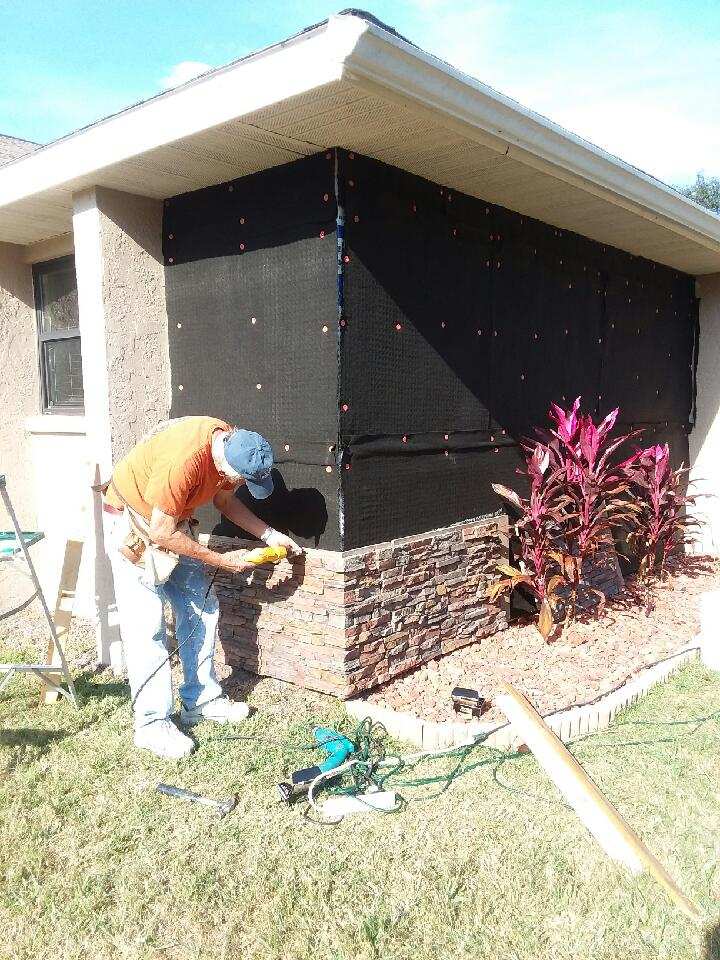 DURING: You can see how easy installation was in this picture. You can also see the drainage mats Paul installed, which are strongly recommended and part of many local building codes.
"I was very pleased with the end results," Paul admits, in the email he sent us accompanying these pictures, "but best of all was the easy installation."
Our faux panels are sleek and flat - slotting together like an oversized jigsaw puzzle to ensure a totally seamless, vividly realistic stone texture that doesn't have any visible joints or seams. In Paul's case, he started the installation at the bottom left-hand edge of his wall, and then worked his way right until he trimmed the final panel with a wood saw to make it fit flush with the edge of the opposite wall.
While that sounds straightforward enough, there were some additional steps that needed to be taken.
First and foremost, while our panels will attach directly to flat surfaces, for exterior applications you need to install our accessory drainage mats on the wall surface. These prevent moisture getting trapped between the panel and the wall. This is a simple enough step, and in the DURING photo below, you can actually see them installed on the wall.
Secondly, Paul's exterior wall application looks so good because it curves around the corner of his home. Corners are the most challenging part of any panel installation - and generally the only spot at which it might be obvious that you're not using real stone or brick.
We make it as easy as possible to get a totally seamless corner finish, though - by offering full tutorials on how to miter your panels and 'fold' them over a 90 degree corner, plus accessory corner pieces that do that step for you.
Finally, the key to making a panel installation look really realistic is to offset each row of panels. To do that, the installer has to trim the initial panel - the one that fits on the left-hand edge - in half. Then, the subsequent panels install as normal. This offsets the stone texture so it doesn't repeat the pattern on the row of panels immediately beneath it - which would look weird and be another clue that you're 'going faux.'
Paul, of course, managed to tackle all three of these challenges - and the end results demonstrate that. His exterior accent wall looks fantastic, and vividly realistic. More than that, it also makes his house visually distinctive from the others in the area, while remaining classy and in keeping with the character of his charming Naples neighborhood.