When Mark Beyers, owner of Beyers Cabinetry & Custom Woodworking, was asked by a client of his to build a wood beam design from which she'd be hanging a chandelier in her multi-million-dollar house, he enthusiastically took the opportunity to create the look she was seeking.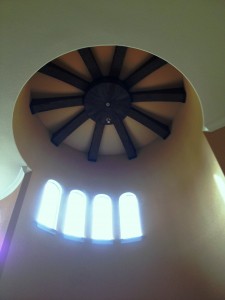 In an interior design magazine, she had come across a picture of a wooden design that she loved, and wanted to replicate for her recessed ceiling lighting.  The picture was of a traditional wagon wheel ceiling treatment that had a distressed, old-world look. Because this client's ceiling was 30 feet high, Mark knew he required building materials for the job that would make the installation manageable and efficient.  In addition, the center of the wagon wheel would include a motorized mechanism for lowering the chandelier when light bulb changes were needed.  This was another reason the client wanted the wagon wheel effect. Taken together, these considerations led Mark to conclude that the best materials for him to build with would be
faux wood beams
. "I used the faux beams on this project because they gave me the look that we were trying to achieve, old distressed looking beams with the
black strapping
for added effect," he said.
"I also used them because they were light weight.  Much easier to install when you're by yourself and working off scaffolding." Mark said that the toughest part of the installation was just drilling the 2x8's on the ceiling that hold the beams up.  He said that once those 2x8's were secured, though, it was easy to slide the beams over and screw them into place. As for the middle section of the wheel that would include the small motor, he attached
faux planking
to the plywood shell in the center for creating a sunburst effect on the bottom, as you can see in the photo. "I thoroughly enjoyed building this project as I do all my projects."