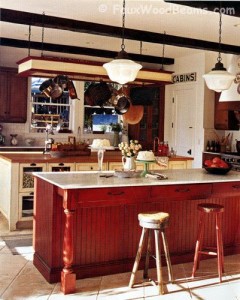 Kitchens have always been known to be the heart of a home. They are the space where family members get together for the preparation of meals, to relax, eat, talk about how their days went, entertain friends, or even get work done.
As one of the most central parts of a house, its decor is vital.
DIY Kitchen Makeovers with Beams
Our customers who have taken up DIY kitchen makeovers large or small with faux beams could not be more thrilled by the difference they have made.
From simple designs such as a single beam to accent the header between your kitchen and living room, to more elaborate ones like trusses or coffered layouts, bringing new life to your kitchen is easy with these beams.
Our customers love them not just because they are lightweight, affordable, and easy to install, but also because they add a whole new dimension of style and vigor, without taking up valuable floor or wall space.
Take a look at the photos below of our customers' projects. You'll see that designs that would be very difficult to create with real wood beams are achievable with faux.