When Hurricane Harvey devastated FauxPanels.com customer Teresa's home, she turned to us for help with a new entryway design. We were happy to be a part of her home's rebuild!
In September 2017, Hurricane Harvey made landfall in Texas and wreaked havoc across the state. Today, Harvey remains tied with Hurricane Katrina as the most costly tropical storm on record, and caused over $125 billion in damages through flooding.
One victim was Teresa, whose beautiful Houston home was flooded during the more than 60 inches of rainfall that fell those four days. Her home was completely washed out, and it took months to gut and refit it back to a habitable condition.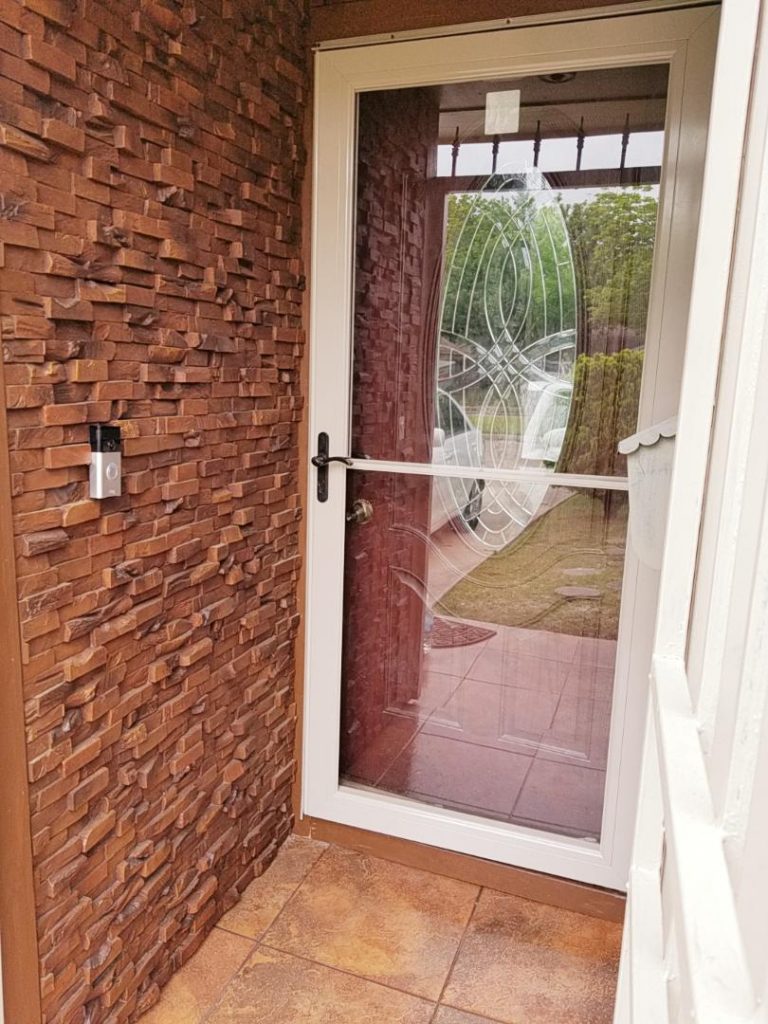 AFTER: Wood Plank panels replaced the entryway's original wood siding damaged by flooding.
One of the final details that Teresa wanted to finish off was the front entryway - which is a big deal for a Texan, given their reputation for 'southern hospitality.' As you can see from the 'before' pictures, the hurricane deluged the wooden siding adjacent to the door, leaving the paint flecked and peeling, and the wood warped and sodden. Worse than that, the structural studs, floor tiles, door frame and screen door were also damaged. The entire thing needed to go.
And, fortunately, it did. As you can see from the AFTER pictures, Jennifer actually made a silk purse from a sow's ear and used the rebuild as the opportunity to expand and extend her entrance. She added a beautiful new screen door, surrounded by sturdy new framing, and refreshed the tiles underfoot to make them appear brand new.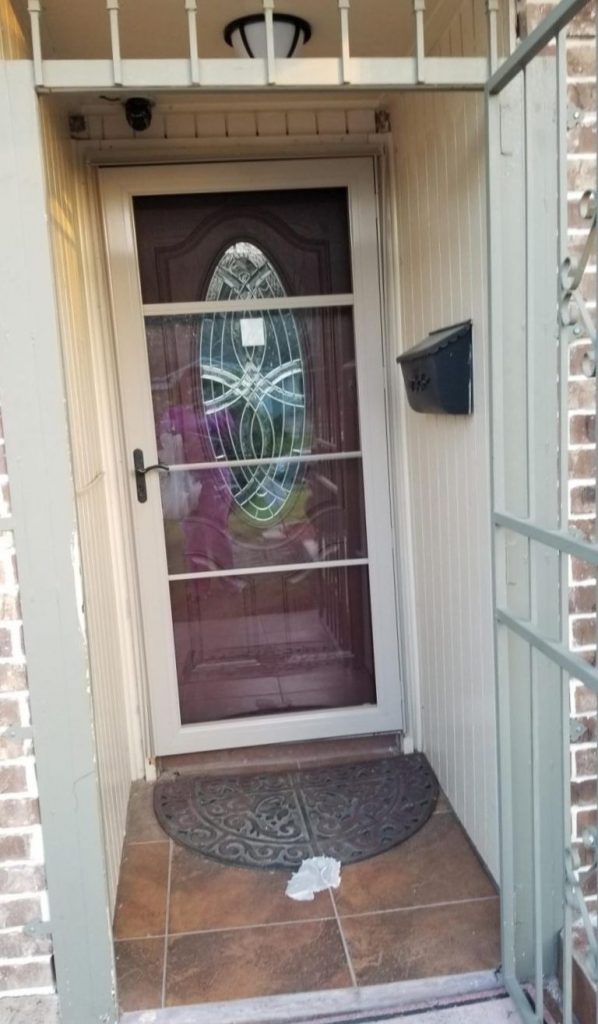 BEFORE
The one thing that was missing was new siding - and Teresa didn't want to go back to the previous white wood. In addition to being an impractical choice - as the devastation left by Hurricane Harvey demonstrated - it was also fairly dated. As with all clouds that have silver linings, the need to rebuild gave Teresa the opportunity to modernize - and she chose our Regency Wood Plank Panels in Amber color to replace the destroyed wood siding.
Wood Plank panels are a truly unique product - resembling a wall made from the ends of wood planks, like a stack you'd find in a lumber yard. It's very stylish and different, and as you can see from the AFTER picture, perfectly suits the style of Teresa's entrance.
Another reason the panels were the ideal choice is due to their durable polyurethane material, which is a "closed cell" plastic. Unlike the original wood siding, this new siding is completely resistant to moisture, extreme temperatures and even burrowing insects like termites. Hopefully it's a theory that will never be tested, but if another hurricane hit Houston, these panels would stand up much better than Teresa's original siding.
The Wood Plank panels are both beautiful and practical
"I'm one happy customer! I can't express how much I love these faux panels," Teresa wrote to us. "After dealing with several horrible contractors. I can honestly say purchasing and self-installing your faux paneling was the BEST purchase I could have made to my home. I'm sooo in love with my entrance way of my home. Thank you so much again for this great invention!"
Teresa, we couldn't be happier that you think so! And we're thrilled to see the end results. They're even more impressive knowing that Teresa installed the panels herself.
What do you think? Let us know in the comments section below.