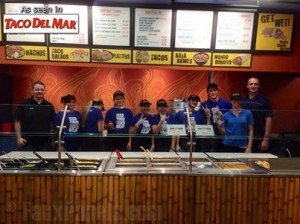 Taco del Mar remodels their restaurant with decorative panels.
Easy Restaurant Remodel with Decorative Panels
In addition to home owners, many of our customers are owners of dining establishments who have chosen to take their restaurant remodeling to a new level with the use of decorative panels. The results for them have been positive comments from their customers, a more comfortable dining experience and an increase in their business. Staff members of the restaurants have also had a better experience working in their enhanced environments.
Bringing a sophisticated look to restaurants can go a long way in attracting new customers, adding appeal, promoting word-of-mouth marketing, and making the overall dining experience one that customers will want to have again. Not all restaurants can afford to spend the money or take the time to remodel for the desired effect, though. Solutions may often feel too costly, if not impossible.
Sophistication need not be out of reach, though. If you're thinking of giving that updated look to your restaurant's exterior or adding class to its interior, then artificial stone, brick, rock or bamboo panels are one of the more sensible options out there. With them, renovating your restaurant can be accomplished in a short amount of time, with maximal efficiency - and very affordably.
A recent customer of ours, a Taco del Mar owner, installed our bamboo-style panels to create an inviting décor for their counter and service area. The results were noticeable, and great for the business. The difference the panels make keeps customers talking, and new ones wanting to stop in.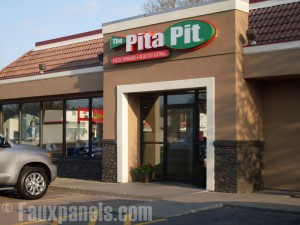 Decorative panels add appeal to this Pita Pit storefront.
Another of our customers, Jill H., remodeled her Pita Pit location by adding the Regency Stacked Stone panels to her storefront. She sent us her pictures, writing, "Here you go! Looks beautiful and we have received many compliments :) Thanks so much for all your help!"
Accentuated ambience positively impacts any restaurant's profitability. It never fails to make for a pleasant dining experience for your customers, and will have them talking to their friends about it, and coming back again and again. For more ideas on ways you can enhance your restaurant's appeal, see our project ideas page.