DIY Fireplace Mantel for Easy Home Upgrade
As the colder weather is upon us while the days get shorter, you might be starting to think about when you'll be sitting by the fire during the chilly nights to come. If you are, maybe your fireplace could use a comforting accent that will add to the warmth you'll feel when you gather in your living room for the night.
Installing a DIY fireplace mantel is one way our customers have given their fireplace designs a new level of comfort and charm. Cost-effective and easy to install, anyone can easily get one of our mantels up on the wall in just a couple of hours.
Take a look at the customer testimonials below, and the photos they sent of their fake wood mantel designs.
Gerry B. of NY was thrilled with how her mantel accentuated the appearance of her basement fireplace.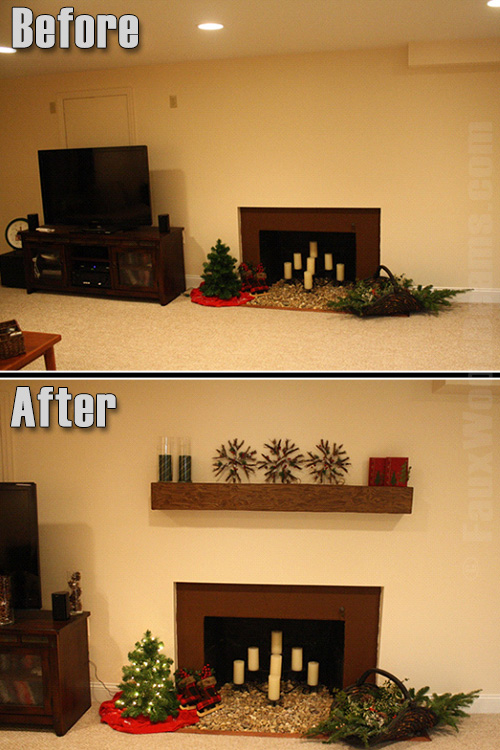 The Tuscany mantel adds a charming element Sandy's fireplace.
It was EASY, trust me!
On January 5, 2014 I installed a Fauxwoodbeams.com product, a mantel for my basement fireplace. The entire basement was destroyed in Hurricane Sandy, and I had a lot of work to do to repairing and replacing things.
My wife found the Fauxwoodbeams.com website using GOOGLE. I can use a hammer and screwdriver but I'm not a carpenter and don't have a lot of professional tools. I was afraid of ruining my brand new sheetrock walls. I delayed the project as long as I could fearing it would be difficult or more complicated than the website made it look.
We finally ordered online and we received the product earlier than they estimated. We inspected everything and all looked as promised on the website. When it came to installing the mantel I was amazed that it was exactly as promised. I mounted a 2x4 to the wall, made sure it was level and centered, then attached the mantel. I used a line of glue and 3 sheetrock screws. I carefully predrilled for the sheetrock screws with a small drill bit, but screwed them in by hand to avoid stripping anything.
Legitimately, start to finish less than one hour. I'm proud of the results. I would recommend Fauxwoodbeams.com to anyone! -Gerry B of NY
D. Hansen of Texas combined our Tuscany mantels with the matching corbels. The result, she notes, is a look that feels like it was always meant to be there.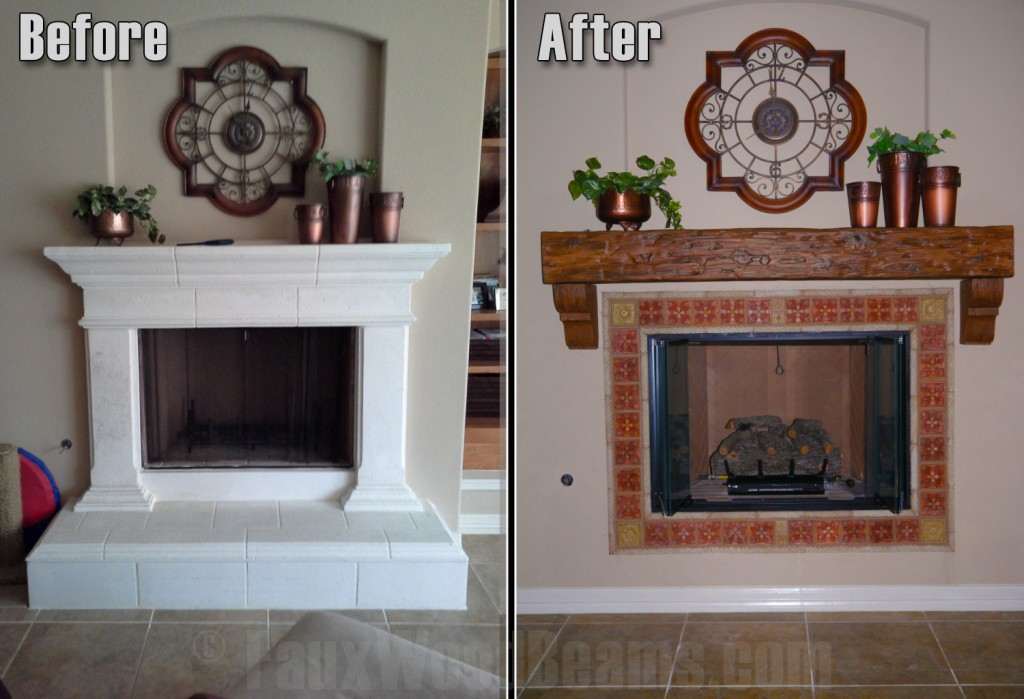 The Tuscany mantel combined with matching corbels creates a sophisticated look
I just finished installation of your faux wood products and am so happy with the results. I replaced a cast stone fireplace surround with your Tuscany Mantel and Timber Corbels, both in walnut. I'm sending photos of the project before, during, and after. My husband thinks the new mantel and corbels look like they always belonged in our family room. The installation was so easy, and I did it all by myself. - D. Hansen, Spring Branch, TX
Rebecca of Idaho wrote to tell us how pleased she is with the way her mantel enhanced the look of her fireplace. You can tell how happy she is with the result.

Rebecca's Timber mantel
I recently purchased the Custom Timber Mantel from you and am really pleased with how it turned out. It was easy to install and completely changed to look of our fireplace. It truly does look like real wood! I have included before and after pictures of the space to see the difference it makes. Thank you for your producing such a quality product. I'm sure we will get many years of enjoyment out of it! – Rebecca, Boise, ID
Dominique of Virginia sent us her before-after picture to show us how great her mantel made the family room look.

The mantel in Dominique's family room brings a nice balance to the entire design.
Thanks for the wonderful product...what a difference it made in our family room! - Dominique S., Alexandria, VA
Steve and his wife, Leslie, transformed their fireplace/entertainment area with a Tuscany mantel and fake stone panels. As you can see below, the difference the two products made is truly outstanding. In his testimonial, you can tell how satisfied they both are.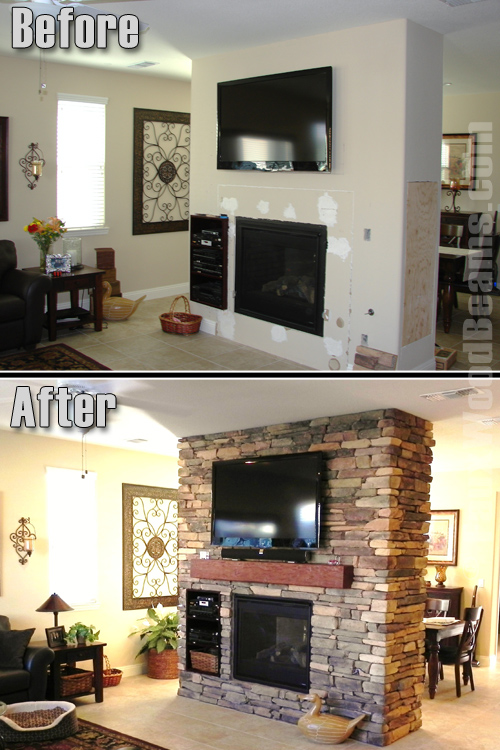 A Tuscany mantel and a stone style veneer give this room a whole new elegance.
OMG, what a beautiful product! Friends, family & neighbors cannot believe our fireplace mantle is a faux beam mantle. Thank you, thank you, thank you for the wonderful service, selection, options and beautiful product, it has far exceeded our expectations, simplified the installation process and came in at about 2/3 the cost of a real wood beam without the problems associated with real wood.
What a great experience, my wife and I are extremely happy customers, and will definitely continue to recommend Fauxwoodbeams.com to any and all who see/ask about our beautiful mantle. Just look at the attached before and after photos- Unbelievable! -Steve & Leslie D.
Our customer, Melissa, let us know how much she loved her new Tuscany mantel.
Our Tuscany mantel was delivered today and we are thrilled with how great it looks! It was packaged so securely, which was really appreciated. I will try to send some photos later when I finish decorating, but we just wanted you to know how happy we are with your product and would definitely recommend it to anyone who wants the look of a wood beam mantel but not the weight or the price. Thanks! –Melissa G
If you'd like to see more project photos like these, make sure to take a look at our fireplace mantels project ideas page. You'll be inspired!