Ceiling Remodelling: Drywall Faux Beams for Ceiling
While drywall ceilings are certainly functional, they typically don't offer much to look at. Faux beams can add the dazzling look of real exposed wood to an otherwise dull white ceiling.

Lightweight and simple to install, the average homeowner can typically complete the project in 2-3 days, transforming any room from a drab space to an inviting and captivating sanctuary.
Check out below how these customers used our beams for their ceiling remodels with great success:
Robin used beams for a captivating ceiling remodel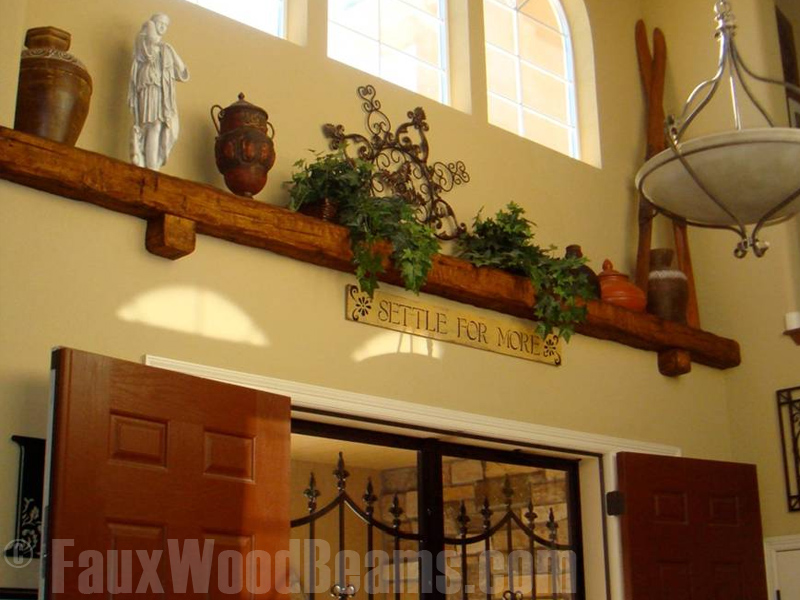 Robin installed a beam with corbels to create a shelf
Here are pictures of our remodel we did last fall using your pre-stained wood beams. I didn't get any before pictures, but it was pretty boring drywall without your beams! They added such a great personal touch to the space. We had several beams left over, so our installer and my husband decided to use them on our high ledges, which now are my favorite touch. Our installer had never used faux beams before, but he quickly figured out a way and I think did a fantastic job - thanks so much for such a beautiful easy way to have the wood beam look. -Robin B., Castle Pines North, CO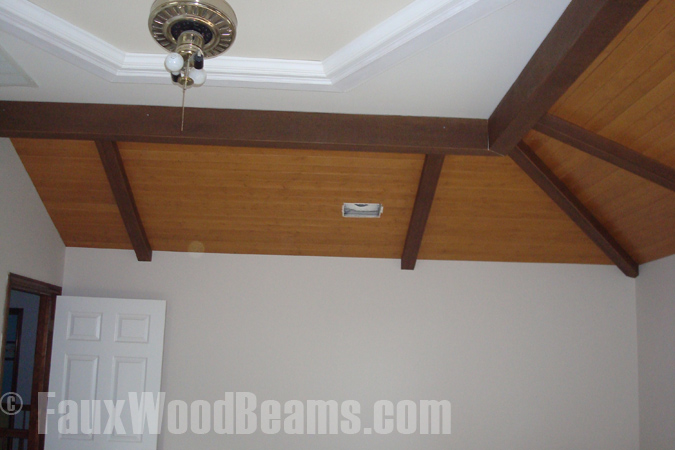 Dave's remodel was a resounding success with planks and beams.
My master bedroom has a 10 ft vaulted ceiling where the drywall finishing work was bad. So, I decided to cover up the poorly done drywall. I installed tongue and groove pine, with a coat of "natural stain" followed by a coat of "English oak." I then installed one of the larger resawn beams over the seam where the vault meets the flat part if the ceiling, a seam that was always cracking. I used a faux bracket to cover up a splice on a 21 ft run. Gaps between the tongue and groove sections were then covered with smaller beams. The room is not quite finished yet. Every one of my beams required compound miter joints which I did with a cordless circular saw. The material is easy to work with. Final fit was made after cutting using a file to get each joint just right. I hung all of the beams by myself, too. Even the larger sized 16 foot length. Great product! I am getting lots of compliments. :) –Dave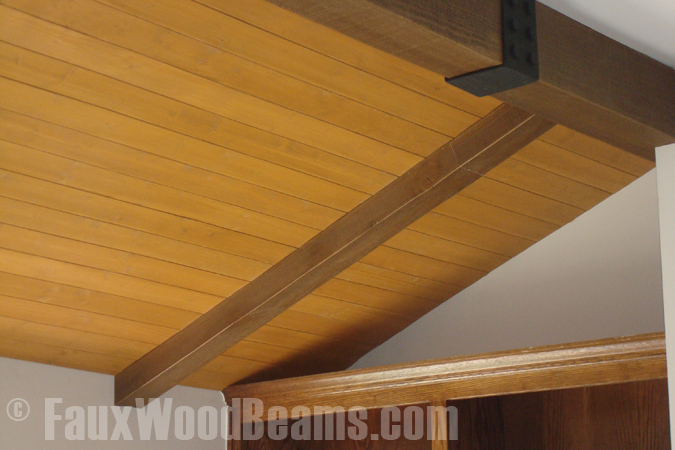 Vaulted ceiling application
Below are a couple more before and after examples.
Do you have drywall or sheetrock ceilings that you'd like to transform with a rustic touch? Let us know!