DIY With a Twist: TV Armoire Turned Bar Cabinet
BarronDesigns.com customer Connie recently sent in details of this incredible DIY project she completed - transforming an old armoire into a show-stopping bar cabinet using Colorado Stacked Stone panels.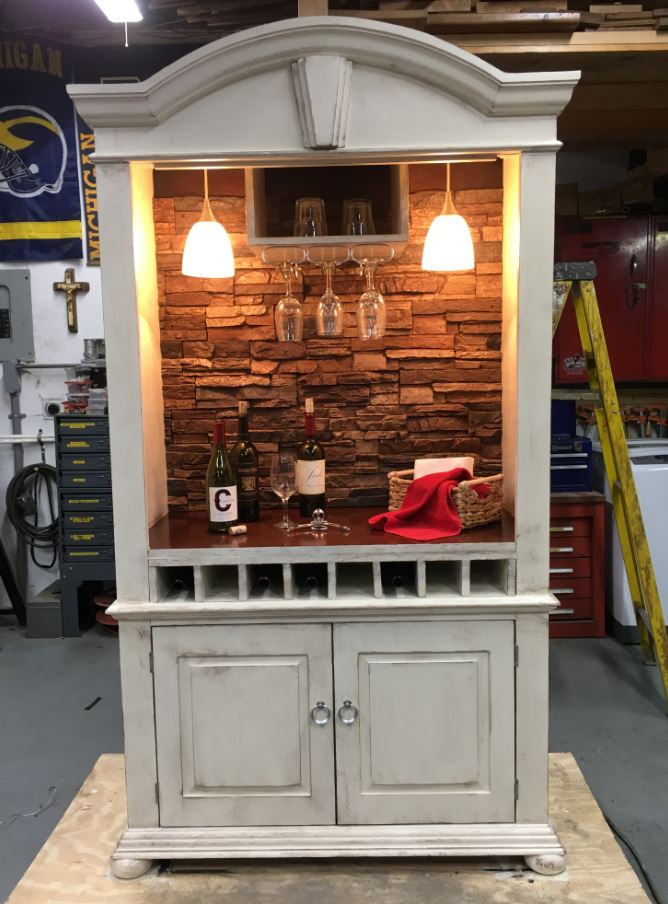 Bar cabinet finished with Colorado Stacked Stone Panels in Sierra Brown
Go back through months of our blog and you'll see a plethora of stunning faux panel projects that have transformed the interior and exterior of dozens of homes and businesses. One application that's less common is the use of our stone style panels on furniture; so when we receive pictures of our products being used that way we're always excited to share them with you.
"This is an up-scaled bar cabinet we did for some friends," Connie wrote to us, "It was a really fun project to do. My husband and I started out with a second-hand TV armoire. We removed the top doors and the country accent over the opening. Then, we made an art-deco-style overlay to compliment the furniture already existing in our friends' home."
BEFORE: Connie started with a secondhand TV armoire
"The art deco piece consisted of cutting, stacking and gluing some wood to the shape that mimicked accents on their dining room set. My husband, Skip, then built in the wine slots, a box for the glasses, and wired in brushed nickel pendant lights. There's a light switch mounted on the ceiling just inside the opening of the cabinet. The paint is off-white satin, with a dry brush faux finish to distress it. The counter area is a refurbished table top."
Mid-makeover
All of those details in themselves would have made for an amazing project, but Connie writes: "The back stacked stone is what put this thing over the top. All color decisions revolved around the stone. It was so easy to cut and mount. Skip cut the stone panel with a table saw, and attached it with screws to the back supports he had added. A few small details like the brushed nickel wine glass holders were mounted, and lower door hardware, again mimicking the hardware on our friends existing furniture. Your panel worked great and gave us the look we wanted, without adding the extra weight to the furniture piece."
The end result is incredible, and it's difficult to believe that the upscale bar was originally that boring cabinet.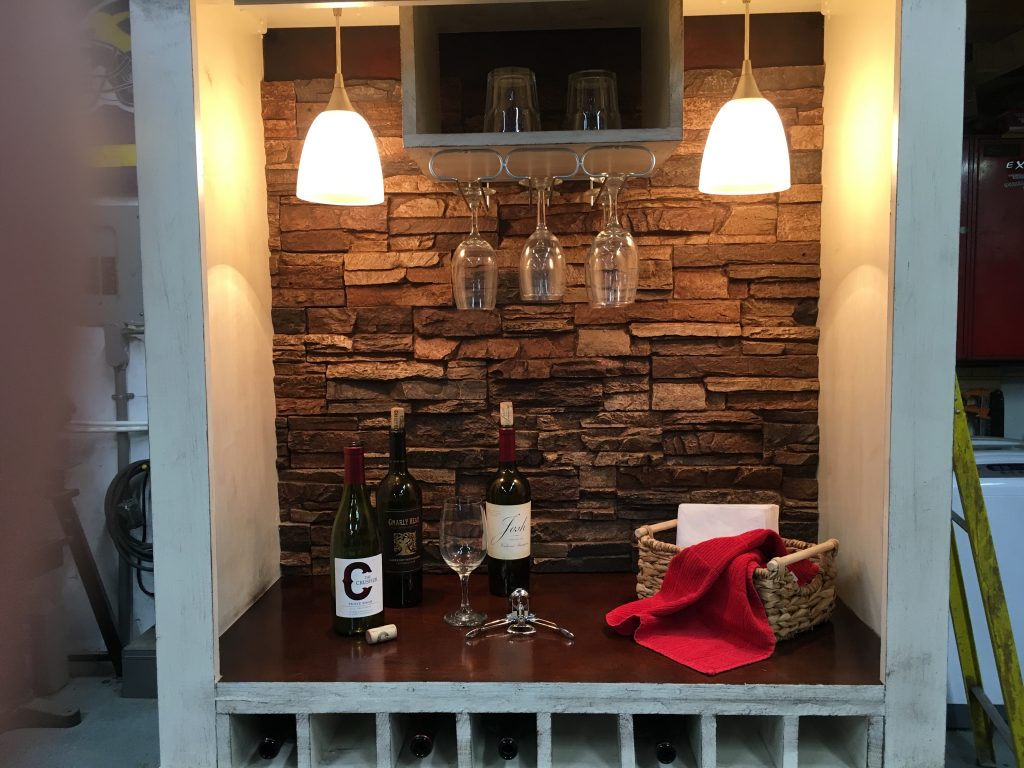 Connie's husband made the wine racks and added working brushed nickel lights.
In addition to creating a stunning piece of furniture for her friends, Connie has really caught the bug when it comes to transforming and refinishing furniture - especially with our products.
"The panel was so easy to work with, and we look forward to trying your other product styles in future pieces. We're really looking forward to transforming more cabinets and using other faux panels in the future! Currently we are working on a Red vintage Chevy cabinet, using real Chevy parts for the accents. The possibilities are endless!"