Barn Board Style DIY Outdoor Shower Wall
Recently, we featured an incredible outdoor kitchen project completed by Barron Designs customer Russell Ott. This week, here's a shot from another DIY project he finished with the same materials as the kitchen -- creating an outdoor shower wall with Reclaimed Barn Board Shiplap panels.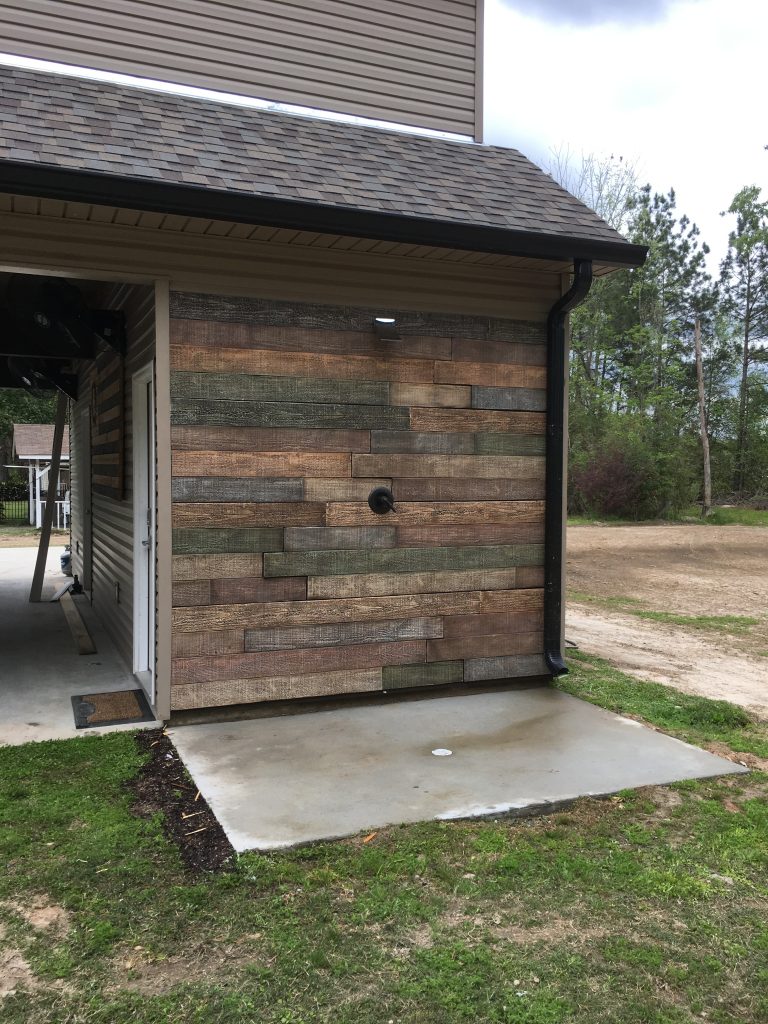 Russell is transforming his home's exterior project by project, and with the Barn Board Panels, he's doing an incredible job making all of the exterior features look uniform and unified - tying the whole 'look' of his home together. This outdoor shower perfectly matches the outdoor kitchen, and together they combine to give his pool and yard a million-dollar, custom-built look; for a fraction of the price of the houses you see in Homes & Garden magazine.
In this instance, the project was elegant in its simplicity. Russell has a concrete slab with a drainage spigot, and a single wall containing a shower head and faucet. He installed the Shiplap Barn Board panels to make it look like the wall was custom-made from lengths of vintage, weathered timber.
Made from lightweight and durable polyurethane, the panels are waterproof, insect proof, and will not fade or rot.
In addition to costing a fraction of what it would have done to buy real reclaimed wood, Russell's outdoor shower is incredibly practical because the panels are made from tough and durable polyurethane, which is 100% waterproof and resistant to insects, rot, warping and cracks.
It's actually better than the real thing when it comes to an application like this; in which the planks will be constantly exposed to water and the elements. In real reclaimed timber, the aging process would have already compromised the integrity of the wood - making it susceptible to rot and mold. With our polyurethane replica, the 'closed cell' polymer is completely impervious to moisture and will continue to look as good for years, if not decades, despite constant exposure to water and the elements.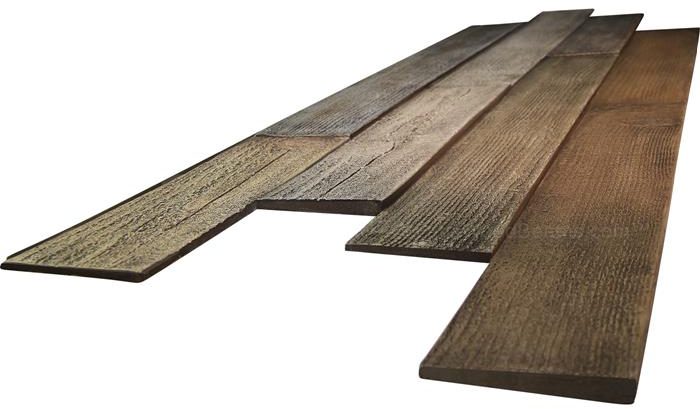 The panels join together like a jigsaw puzzle, for a guaranteed seamless finish.
In the case of Russell's outdoor shower, he attached the Shiplap panels directly to the existing wall with construction adhesive and screws. They slot together effortlessly, for a completely seamless appearance. The only challenges were leaving space for the faucet and shower head, but because our panels are made from polyurethane, they can be effortlessly cut to shape with a regular wood saw, making minor customizations like that extremely easy.
One thing that Russell did to really enhance the project was to offset the different rows of panels -- cutting them at different lengths as they were installed one on top of the other. That prevented the wood pattern from being repeated; and made the wood appearance that more realistic.
We think the finished outdoor shower looks fantastic - and even more so with the way in which it ties into Russell's kitchen project. He's already promised to use our faux beams for his next installation; and we're excited at the thought of sharing those pictures with you here too.