In the summer months, as temperatures rise and days get longer, most of us like to spend as much of our spare time outside as we can. It's also a nice time to do things with friends. To combine both activities, we decide to go out with them.
So we choose to meet at a local restaurant or bar, but end up back indoors when we do. We also spend more money than we would have liked to. We have fun, but wonder if it would have been nicer to just prepare a simple meal at home and enjoy a few drinks in the yard.
DIY Outdoor Bar Project
Building a DIY outdoor bar in the backyard would make summer evenings like that possible. More fun, too. If you have a deck or patio in your backyard, it's an ideal place to build that kind of bar. Entertaining your friends at home will be even better than before, and they'll love coming over to spend time with you.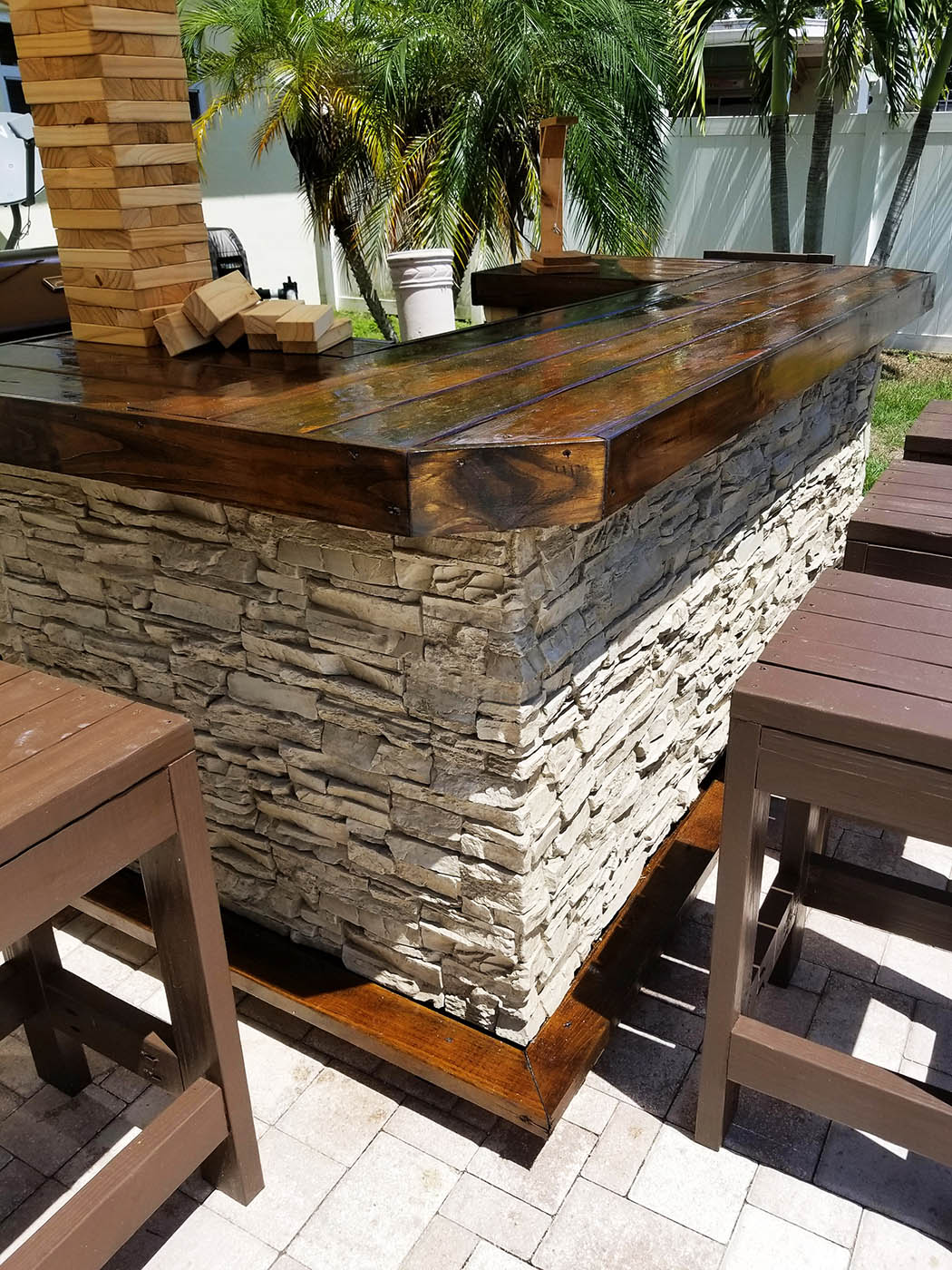 With faux stone panels, your outdoor bar project can be completed in a weekend. So building it now would still give you the rest of the summer to make the best of it. Opportunities for quality time entertaining your friends at home would multiply.
Our customer, Karl from Newton, PA was building an aluminum frame for his bar and grill project. Originally, he planned to use stone to fill the frame. When he realized how heavy the stone was, though, he started to doubt that the light frame would support it. That's when he decided to look for a alternative solution. After a quick search on the internet, he discovered one.
"It was a matter of minutes before I discovered faux panels and my samples were on the way," he said.
After receiving his samples, he decided the panels would be perfect for his outdoor bar. Once his panels all promptly arrived after his order, he followed the easy installation instructions and put the bar together.
"The product was easy to work with on the straight runs and took a little work on the corners, but just like wallpapering a room, only I could see the joins. Add granite tops, stainless steel pendent lights and it's time to party outside on my deck, with built in bar and grill."
You can get ideas for outdoor bar projects of your own from our exterior project design ideas page.