Infinity Mirror Top DIY Home Bar
Return customer and expert DIY'er Ricky sent us these photos of his newly-built home bar, made incredible with an infinity mirror top and Colorado Dry Stack panels.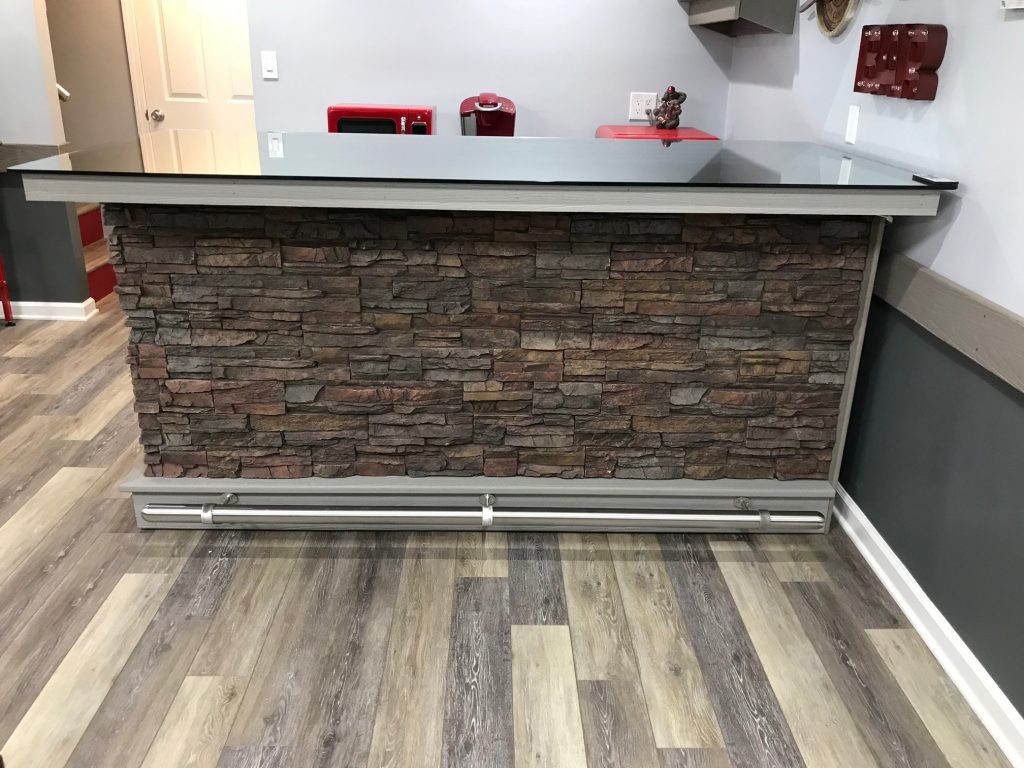 Ricky has been working on a finished basement project, and he purchased our stacked stone column wraps to conceal the support beams in the basement. But he had something more in mind. In his email to us he wrote: "I wanted a matching look between the columns and the bar, so I ordered your Colorado Dry Stack panels in Earth."
He used the panels to finish the exterior of his bar, and ordered a little more than was needed, which ended up being fortuitous. "I also used remnants of the panels from the bar to put on the side of a matching cabinet I built behind the bar."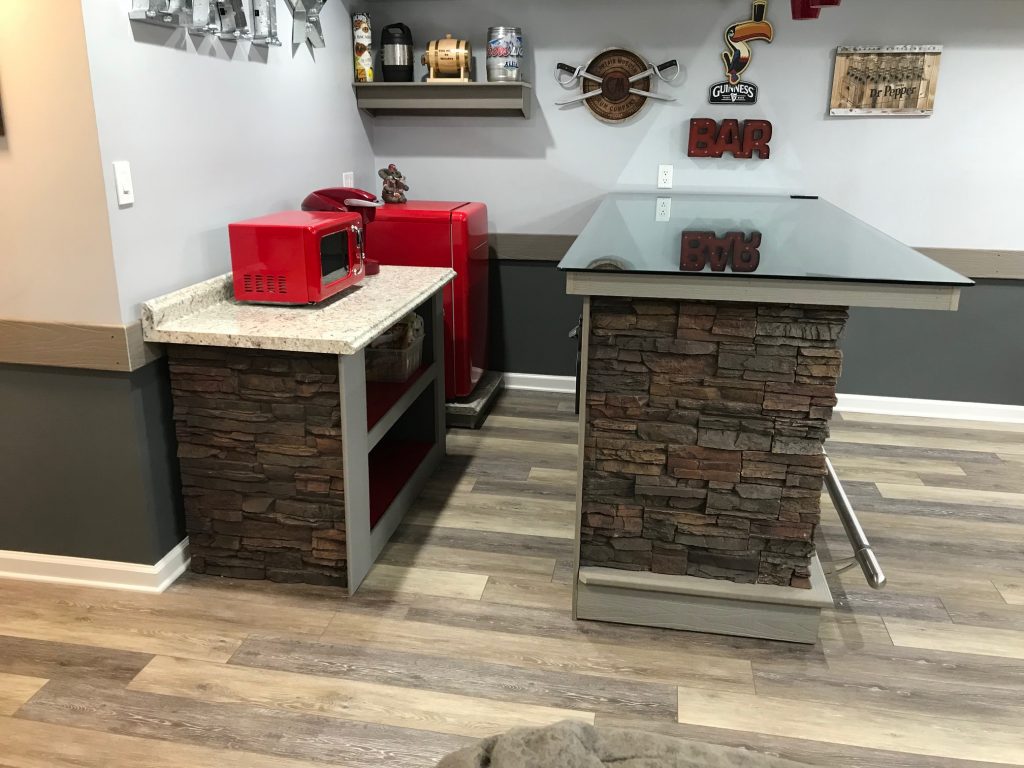 Ricky covered his bar cabinet with the extra panel pieces.
In the light of day, Ricky's project seems fairly standard. He cut the panels to fit using regular carpentry tools, and then installed the veneer directly to the flat surface of his bar and cabinet using construction adhesive. However, when the lights go off you can see Ricky's design expertise at work; because his bar is anything but ordinary.
"I believe you will see that I went beyond what most others have done," Ricky modestly admits. "I built an infinity top for the bar."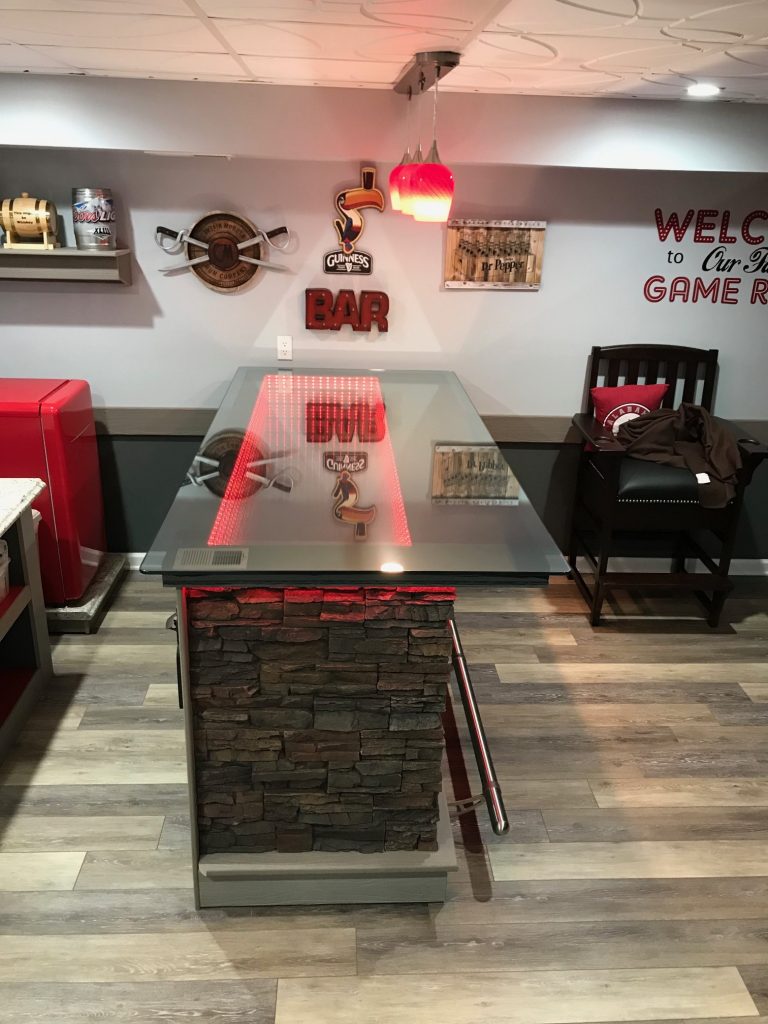 What's an infinity bar? It's a clever design made using LED lights and mirrors, which creates the illusion of an infinite, empty space in the center of the bar. Look through the clear bar top, and you'll see an endless column stretching into eternity beneath...
...although in reality, it's a space that's just a few inches deep.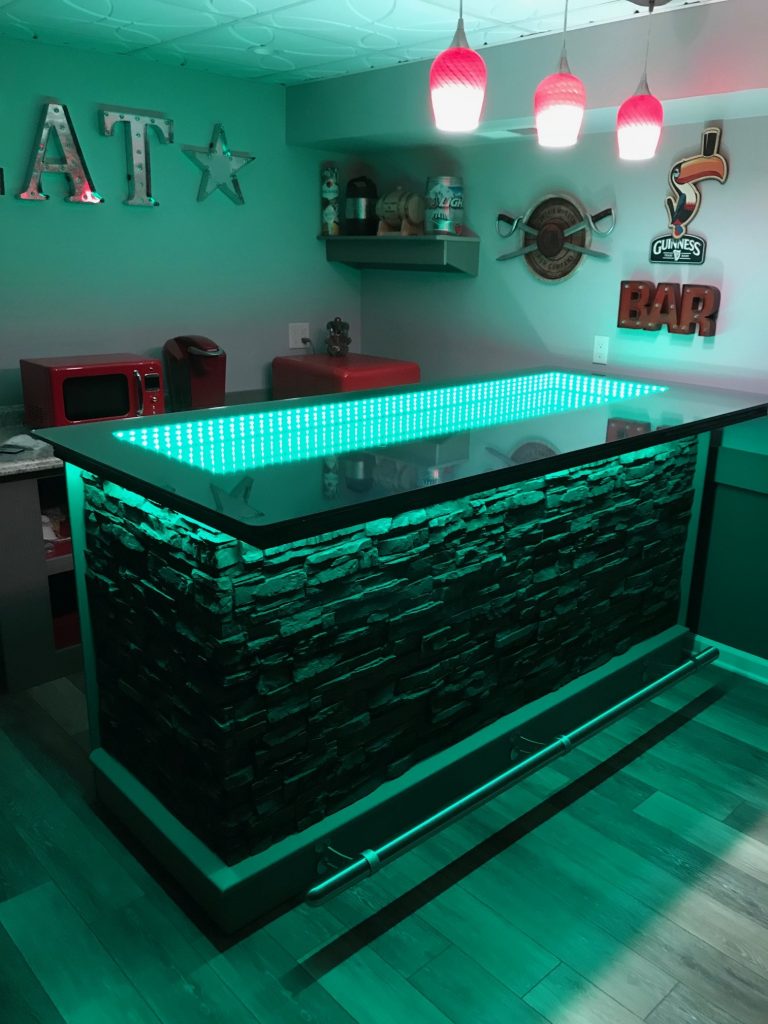 Color-changing LED lights alter the bar's atmosphere in an instant.
That design element alone is a pretty incredible sight - but Ricky went again a little further by using color-changing LED lights. We've written before about how color-changing LEDs are a great complement to our panels, and this is another demonstration of that.
"The colors really set off the stone," Ricky writes - and you can see that in the pictures he sent. The lighting highlights the vivid three-dimensional texture of the panels and can instantly change the atmosphere of the basement simply by changing the color.
We like this project because of how clean and modern it looks, but we love it because of the extra touches Ricky added. Project like this really excite us and it's great to have our products play such a key role in bringing them to life.