Holiday Season Decoration Ideas - DIY Chimney Surround
As the holiday season gets in full gear, many homeowners like to come up with decorative chimney surround ideas that express the season's cheer. Decorating with festive wreaths, ribbons or lights may call attention to the fact that the chimney unadorned is unsightly or in need of an upgrade.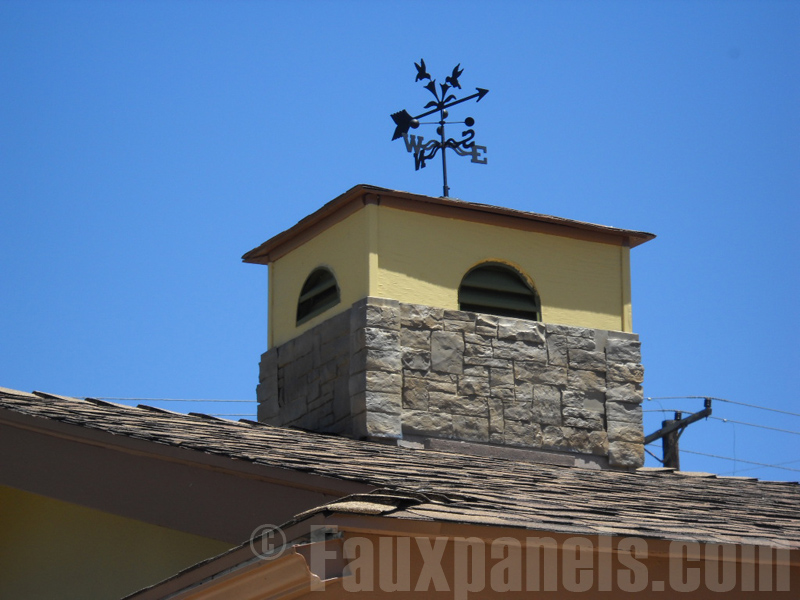 A faux stone chimney surround adds a touch of character and style to your home's exterior design.
A fresh look of real brick or stone would do the trick, but many are deterred from hiring a mason, due to the high costs and time consuming installation process. This is why many homeowners are turning to faux brick and stone panels to build chimney surrounds. Unlike real stone, faux is highly durable, lightweight, resists the elements and very easy to install.
Why risk your safety and strain your muscles carrying heavy stone or brick up to your roof when you have a much more convenient option?
Regal Chiseled panels make a gorgeous chimney surround.
The panels offer a safer alternative for completing your DIY chimney design. In addition, with such a wide variety of styles and colors to choose from, these panels make it easy to create all kinds of looks. From traditional brick to stacked stone and all the variations in between, you'll easily find a style that suits your taste.
The customers below have successfully revived the visual interest of their homes by installing faux panels on their chimneys. As you'll see, they were impressed with how easy the panels were to work with.
| | |
| --- | --- |
| Before photo of Ron's home exterior | The visual appeal of Ron's home was enhanced once he installed his faux brick chimney surround. |
Our log home in Northern Michigan has been under construction for the past 8 years. We have noticed too much wood on the exterior of the house and thought we should break it up with some rock or stone. We were going to go with cultured stone but due to the weight of the real stone and the possible damage of our new standing seamless steel roof, we found Barron Designs. We decided to go with the tan stone wall panels to put a new face on our chimney.
| | |
| --- | --- |
| Many chimneys are in need of an attractive surround. | The look of real stacked stone did the trick |
We were very impressed with the durability, the irregular stone look, which gave a more rustic look to the home that we were looking for. The panels were very easy to work with and simple to install. Our home is built on a hillside in which three sides of the home has large decks. We are so pleased with the way the chimney turned out, next year we are going to use faux stone panels and caps to stone panel all the post columns of our decks.
Thank you Barron Designs for such an easy to work with great product! -Ronald N., Wetmore, M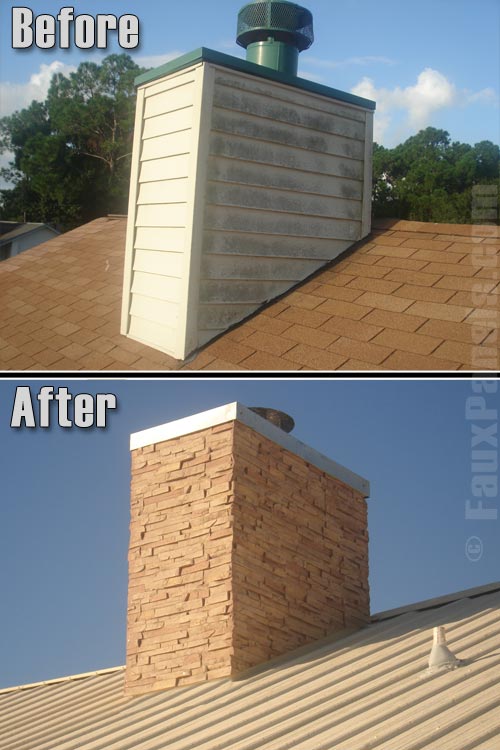 Colorado Drystack panels make it easy to transform an unsightly chimney
We've just completed our home exterior refinishing. Our faux panels are not only on the front of our house but also now surround our old chimney. Not a single day has gone by that someone hasn't commented on how incredibly great the house looks. –Rita R., Chicago
See the additional images below of other chimney surrounds our customers have sent us. If you're as impressed as we are, imagine how your chimney can benefit.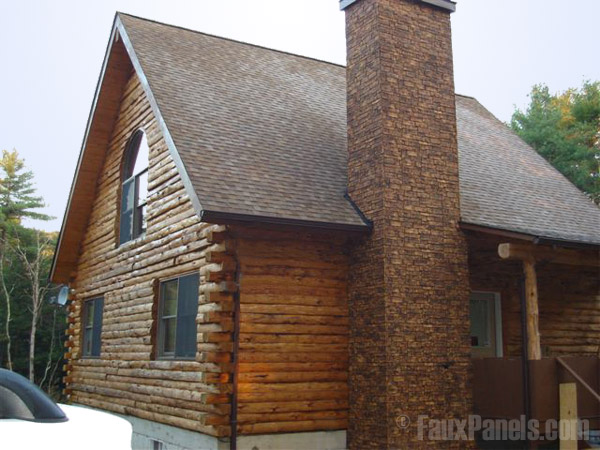 This log cabin's beautiful chimney surround was made with faux panels.