Beautiful Gable Remodelling
A Florida homeowner crafted incredible decorative gable trusses for his new home's beautiful exterior.
The other day, I was chatting to a long time reader of this blog, and she complained: \"You're always focusing on 'simple and elegant' projects, and saying 'less is more.' I want to see something spectacular." So, just for her, I'm delivering - and with a stroke of luck, a FauxWoodBeams.com customer recently sent in photos of his new home that perfectly deliver on what our disgruntled reader was calling out for.
These photos come from Ocala, Florida - where despite the housing market crash of 2008, the craze for building new homes continues unabated. There isn't going to be another home like this one, though - a beautiful Tudor-style manor with towering dormer windows and a vaulted porch. It's a truly beautiful home - and made even more so through the use of our Custom Hand Hewn Beams in Burnt Mocha.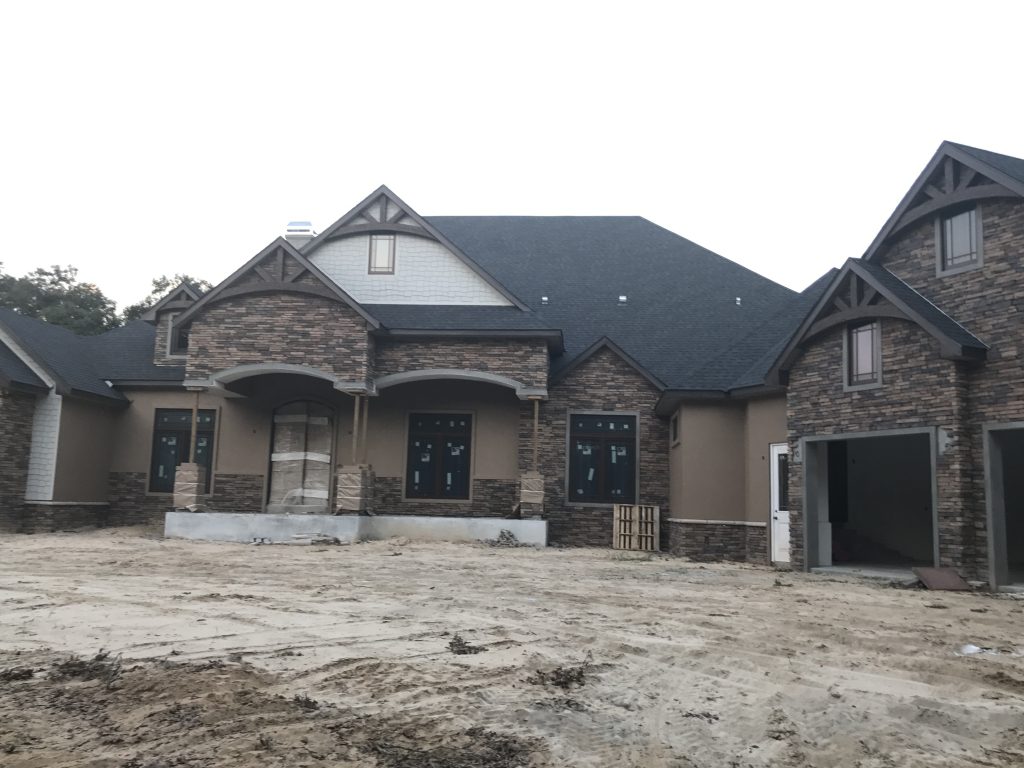 The 'Tudor' style of home-building has its origins in the 'Tudor' era of England's late Middle Ages. England was richer and more prosperous than at any time in the previous thousand years, and that was demonstrated by an explosion in architecture that pushed the limits of what Medieval building materials were capable of. Homes and buildings were often characterized by brick ground floors, exposed structural timbers and second, third and sometimes fourth floors finished in plaster or stucco, with exposed beams.
This style had a resurgence in the 1930s, during which modern homes were built with stylistic cues taken from the Tudor period - and that's the style of this particular home. The white siding of the dormer window contrasts with the brick of the ground floor, highlighting this style of design. The only thing missing would have been the beams.
Timber beams aren't common in home-building this days, because they're expensive, impractical and would be a terrible idea in a climate like Florida. Hurricanes, high humidity and a plethora of borrowing insects make timber and wood one of the least practical building materials to use in the sunshine state (and one of the reasons why there are so few historic buildings there.)
But our enterprising home-builder had taken that into consideration - and that's why he decided to 'go faux.'
The homeowner researched period timbers as inspiration for this stunning curved truss.
One of the advantages he had was that any timber he wanted to use with his home didn't need to be structural - the load-bearing materials of the house were modern beams and steel. Therefore the option to 'go faux' was purely decorative. So he researched how real timber beams would have been used on gables like his dormer windows and porch, and set his sights on recreating those with faux wood.
The eventual decision was to craft a multi-piece truss to cap the end of the overhanging roof line - with long, straight timbers fitting flush against the roof, and a curved timber with shorter supports spanning the gap underneath. It's a design very much in keeping with historic wooden trusses - yet, once again something 'better than the real thing' because genuine arched and curved beams are incredibly difficult to get hold of.
One a design had been decided on, the next step was to order the pieces. Fortunately our world-class customer care team was on hand to help with this, and the homeowner eventually decided to build his trusses out of the Hand Hewn style arched and straight beams. We helped him plot out the design the beams, order what was needed, and then the rest was up to him.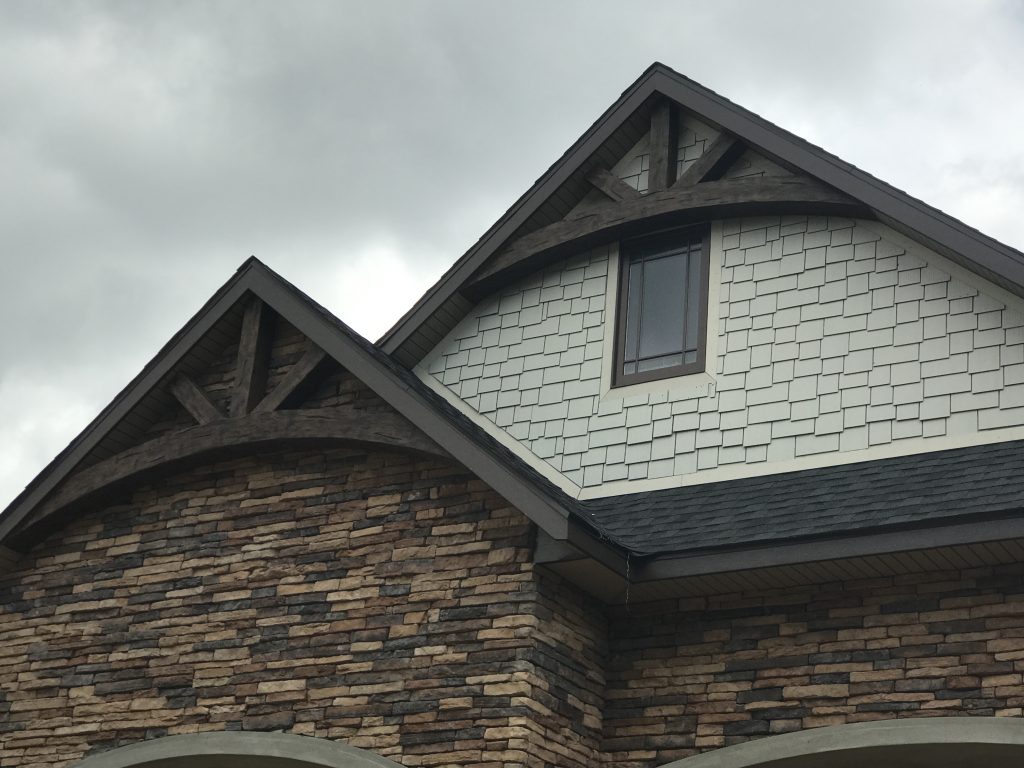 The Tudor style inspired this beautiful new home.
But that part, while not simple, is straightforward. Using regular construction tools, the homeowner's contractors assembled the trusses ready for installation. Our beams are molded from a high density polyurethane foam which can be cut and drilled with regular tools, and mounting blocks inside make it easy to assemble a rigid, solid assembly. At that point, the final step is to mount it on the roof itself using mounting blocks drilled into the roof studs.
And as you can see from the pictures - the results are amazing. This is certainly not a 'less is more' project, but we simply love it. Even better than that, the decision to 'go faux' means that these trusses will continue to look as spectacular for many decades to come. They won't crack, fade or warp in the Florida sunshine, and they're impervious to water, mold and borrowing insects.
We're thrilled to see our products used in such a bold and striking way - and it certainly proves that my mantra of 'less is more' doesn't always hold up to scrutiny.