Fireplace Design Sense
The corner fireplace ideas seen below are all accented with different styles of faux stone; the panels providing an easy and beautiful way to achieve that cozy mountain retreat look.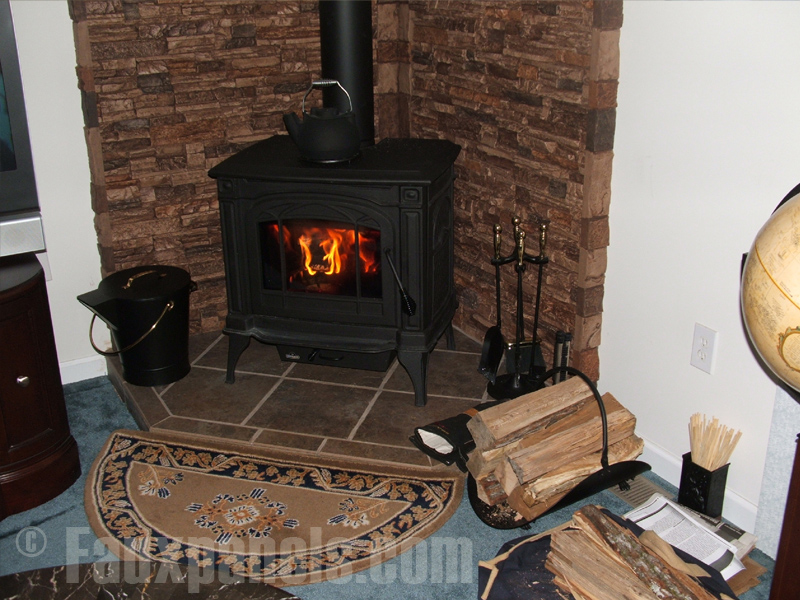 A corner wood burning stove backed by Stacked Stone panels in Sierra Brown
You might already have a built-in wood burning or gas fireplace accentuating a corner in your home, and would like to cozy it up with the look of stone. Maybe you're even looking to add a new electric fireplace to your bedroom or living room, and know that the look of stone would add a lot of beauty. You know that adding real stone to the design would be costly and involve a lot of heavy lifting. Cutting such tough material to custom fit the design wouldn't be easy, either.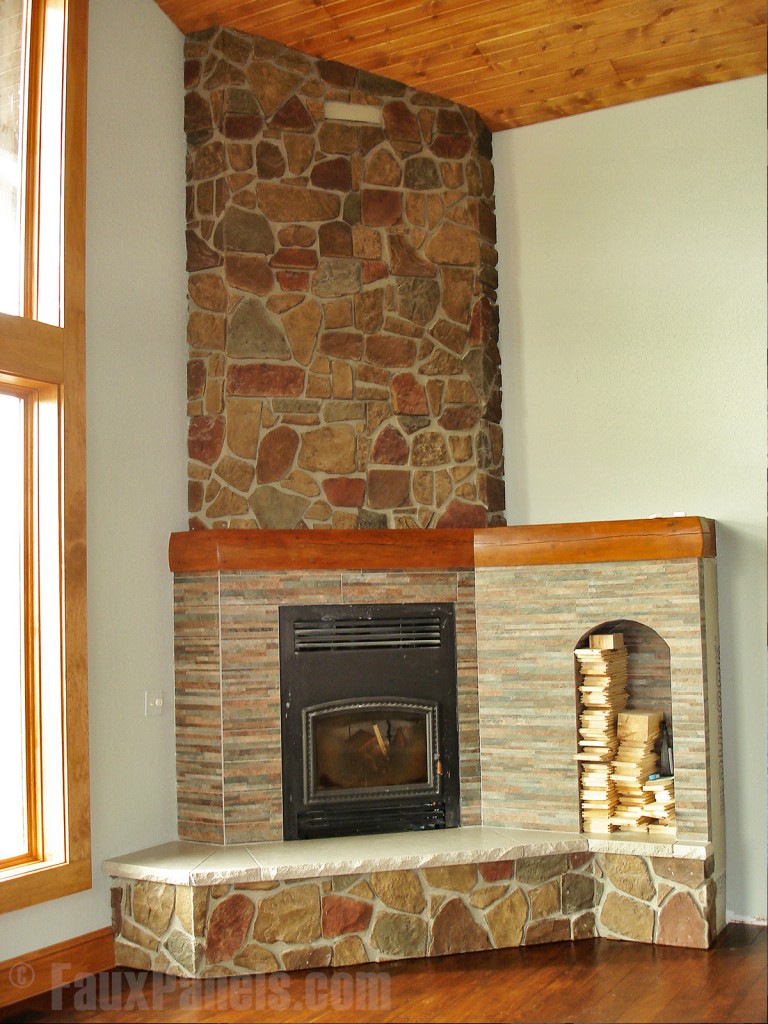 A corner fireplace gets a cozy mountain feel with Fieldstone panels in the Harvest color.
With stone veneer, it's easy enough for practically anyone to bring the comforting look of real stone to fireplace designs in corners. This is a reason one of the most popular uses of our panels is for fireplace designs. Lightweight, durable, and easy to install, they make it easy to create this kind of beautiful corner accent.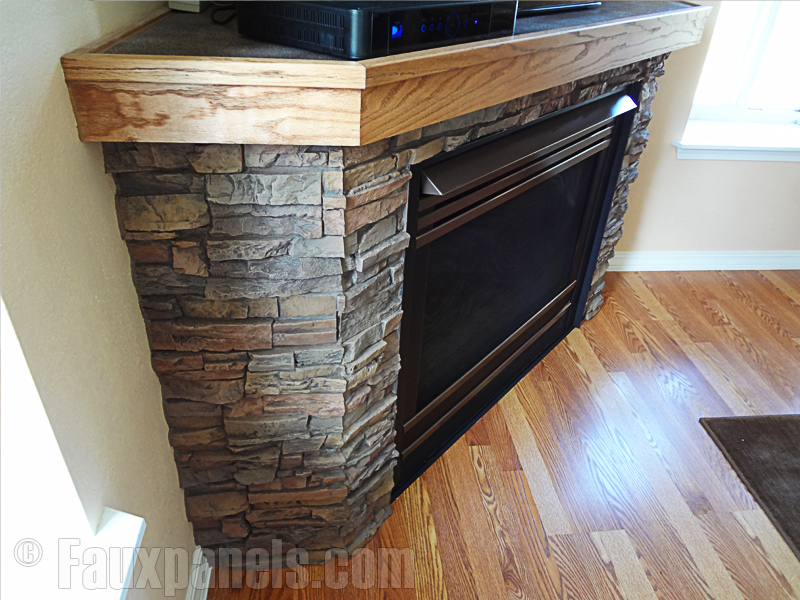 A corner fireplace surround created with Regency Stacked Stone panels in Earth
Mitering the panels so that that they fit nicely into a corner is easy to do, as well. You can watch video on this link about how to miter a faux panel. Cutting the panels to size is easy to do, as well. All you need is a simple wood saw.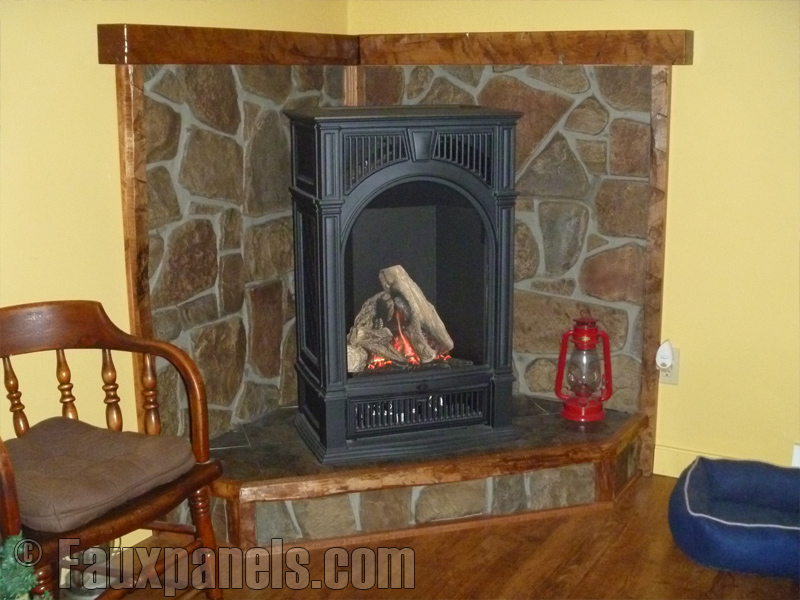 Faux Fieldstone panels are a perfect way to enhance the look of corner fireplace designs.
Most of the wall panels from Barron Designs are also available with the fire-rated option, making them safe for use near fireplaces and other areas that are exposed to similar heat. Thanks to this, the panels are perfect for using as surrounds for gas and electric fireplaces. The strikingly realistic look of genuine stone will let you create the look of a truly classic fireplace.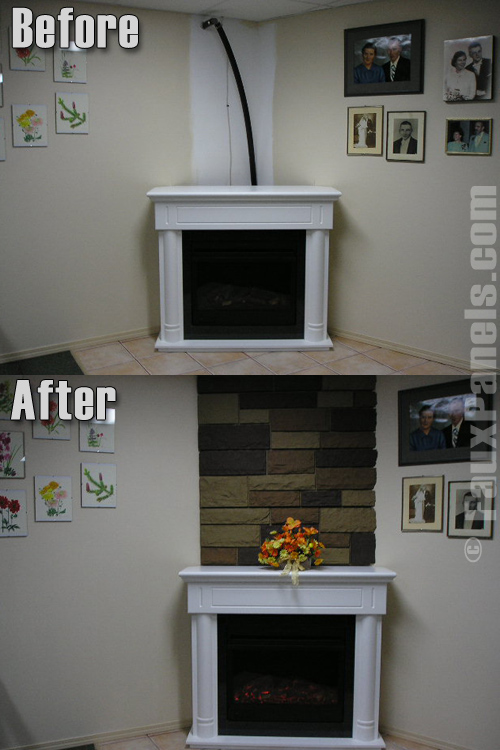 This corner fireplace gets an aesthetic boost with Windsor Random Rock panels in New England Mocha
Once you have your new fireplace installed, you'll have the gorgeous look of stone accentuating the design, along with a cozy new hearth that will make you feel even more at home on a cold, wintry night.
Have you used faux panels from Barron Designs to realize your own fireplace ideas? Be sure to share the results with us if you have!