When Carrie and Doug moved into their new fixer-upper, they were faced with a pipe problem in the bathroom - and found a cost-effective solution.
Covering Up Ugly Pipes with Beams
These ugly, exposed pipes were a bathroom disaster
Doug and Carrie, from Wilmington, DE, love flipping houses.
"To us, the appeal isn't just the money - although that's nice!" Doug explains. "We also enjoy the whole process itself; the sense of achievement from turning something drab into something dramatic."
But flipping houses isn't always straightforward - as their latest project demonstrated.
"We followed the golden rule of flipping," Doug explains. "We bought the cheapest house in the best neighborhood; and when it came to renovating it, we certainly got our money's worth of challenges."
Doug and Carrie's 1940s ranch-style home hadn't seemed to have been updated for decades; and what problems had been previously fixed were done with less than perfect solutions.
"For example, in the bathroom they'd replaced the old lead and copper water pipes with PVC ones a few years ago; but instead of running them behind the drywall, they'd left them running exposed along the ceiling instead! It looked terrible!"
Not only did it look terrible, but the cost of ripping down the drywall and replacing the pipes threatened to cut a big hole in Doug and Carrie's renovation budget.
Fortunately, they had a solution.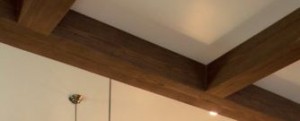 Installed, the beams cover up the exposed pipes beautifully.
"In one of our previous flips, we'd used your faux wood beams in the living room - so we knew how light, affordable and easy to install they were," says Doug. "What's more - we knew they were hollow inside, and that gave us an idea."
Doug and Carrie checked out the measurements and worked out that they could use our beams to neatly and easily slide over and cover the exposed piping.
"It wasn't in our original vision for the home, but we purchased some of your custom Aspen beams to finish off the bathroom and they actually made a great addition to the ceiling."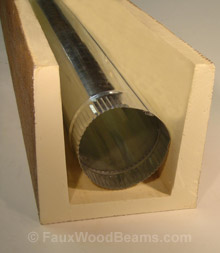 Pipes and vents fit seamlessly inside u-shaped, hollow beams.
Because the beams are molded from tough and durable polyurethane, Doug was able to cut access holes for the t-shaped pipe junction using nothing but a regular wood saw - and the result was easy to slot over the exposed pipes and hide them completely. Using caulk and a saw, Doug was also able to connect other beams to create a ceiling framework that looked stunning.
"The beams attached to the ceiling with wooden mounting blocks and screws," he explains, "and from start to finish the whole project took me less than a day to install."
As a result, the ugly exposed pipes were hidden and for a fraction of the cost of reinstalling them and putting up replacement drywall.