Faux Corbels Ideas
Have you thought of ways you can accent your home or business's interior without spending too much? Polyurethane corbels offer a small yet fabulous touch to beams, walls, ceilings, mantels and more to give any room a little more charm.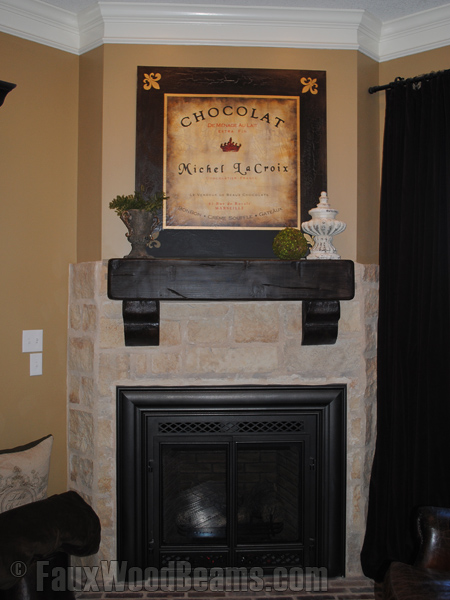 Add corbels to your mantel designs and get a charming look.
The wide range of decorative corbel styles we offer makes it easy to find the right one for your interior design. Each style has the unmistakable appearance of authentic wood grain. Made of a robust polyurethane material, and crafted from molds made of actual wood, these corbels have a durability that allows them to withstand wear and tear over the years. Thanks to this, they make a wonderful architectural accent. Termites will leave them alone, as well.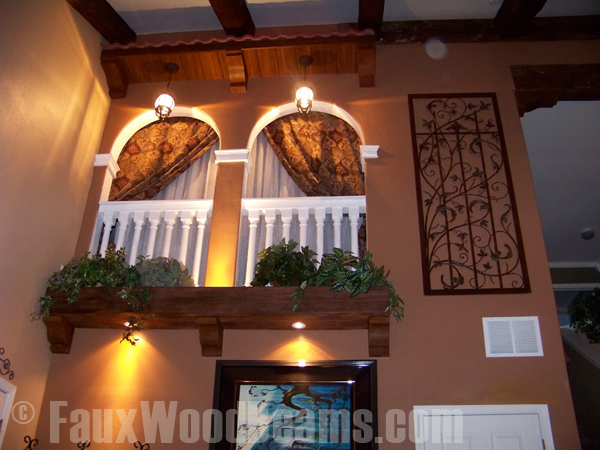 Now that winter is here, it's a great time of year to look around in your home to see where corbels could enhance the space. Weighing much less than real wood, the corbels are easy to install, and make for a fun DIY project. All you'll need are screws and simple construction adhesive.
Most of the styles are easy to install over existing structures, and nicely enhance mantel designs, kitchen cabinets, ceiling beams and shelves. The customer testimonials and images below demonstrate the versatility of interior corbels. You'll see how they add a subtle, yet dramatic effect to a space.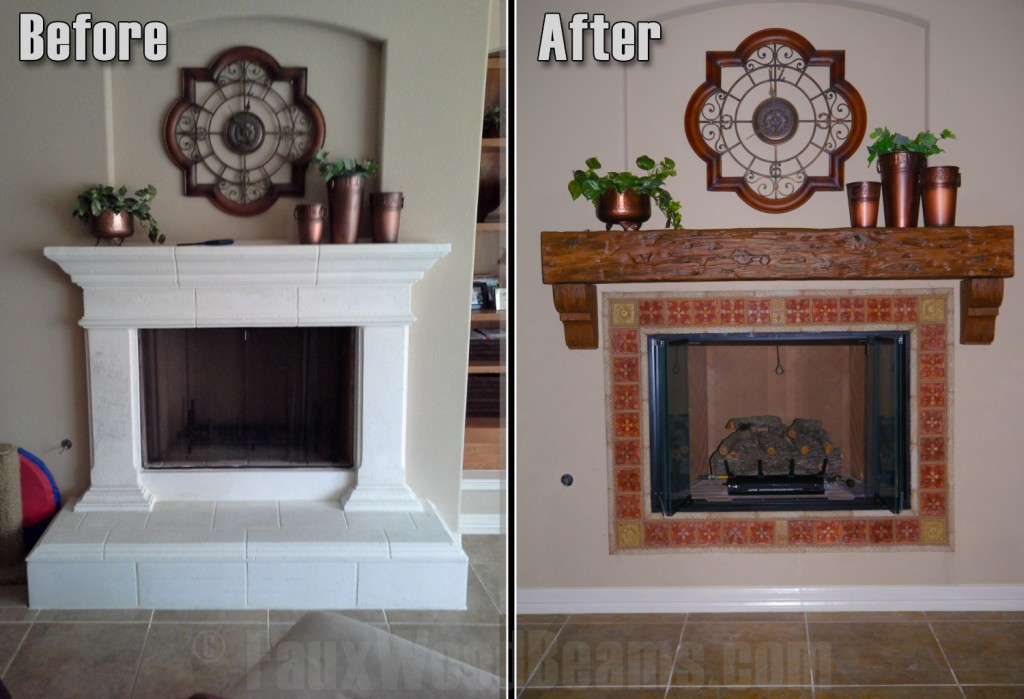 I just finished installation of your faux wood products and am so happy with the results. I replaced a cast stone fireplace surround with your Tuscany Mantel and Timber Corbels, both in walnut. I'm sending photos of the project before, during, and after. My husband thinks the new mantel and corbels look like they always belonged in our family room. The installation was so easy, and I did it all by myself. -D. Hansen, Spring Branch, TX
Once again, I have the pleasure to write you about the exceptional impact that your products are making to our living room. In my latest project, I have utilized sawn corbels and a left over piece of beam to frame our interior staircase. Sheet rock was simply cut away from an underlying beam and the faux beam was slid into place. This was a very easy job requiring only minor adjustments and took about an hour. I also split off the faces of another partial woodland beam to back fill behind the ceiling beams, since they originally had a small gap that I wished to see filled. We added a granite/marble floor and now the room really feels warm. The other products used in the past include two kinds of corbels, a mantle piece for a shelf, and a flat sheet for the roof of the overhang. I have a faux rock wall on the opposite side of the room planned for next year and am looking forward to completing my old world look. Those who have seen the results can't believe them! Thanks -Jack M., Moses Lake, Washington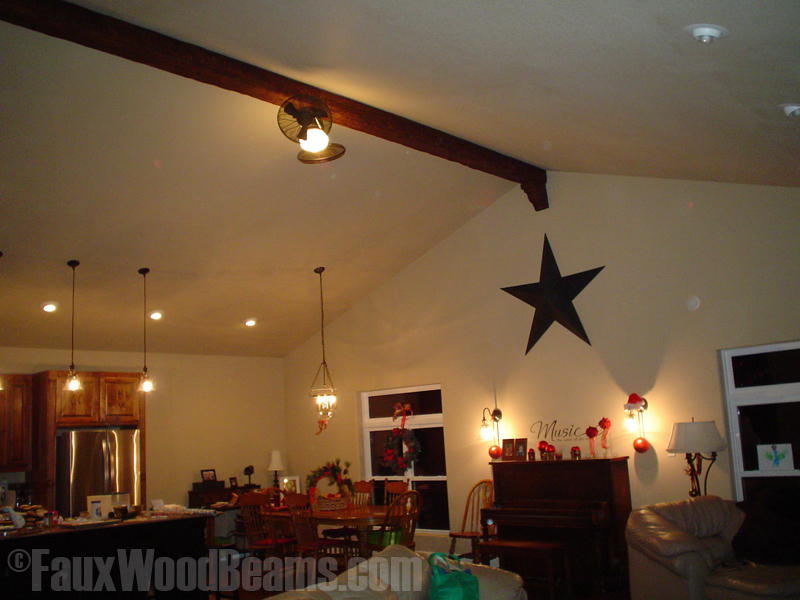 We installed a timber beam with corbels in our vaulted great room and we are very happy with the results. We used scrap lumber and attached 2 x 6 pieces across the peak using long wood screws. I held the beam in place and my husband attached the beam to the support lumber. We used 2 beams and connected them in the middle around our ceiling fan. The colored caulk worked great and you can't tell it isn't one solid beam. The corbels installed the same way and were the perfect finishing touch. Everyone that walks in the front door immediately comments on the beam and they never believe us when we tell them I held it up while my husband attached it. An affordable, perfect solution for our large room. Great product! -Tanna S.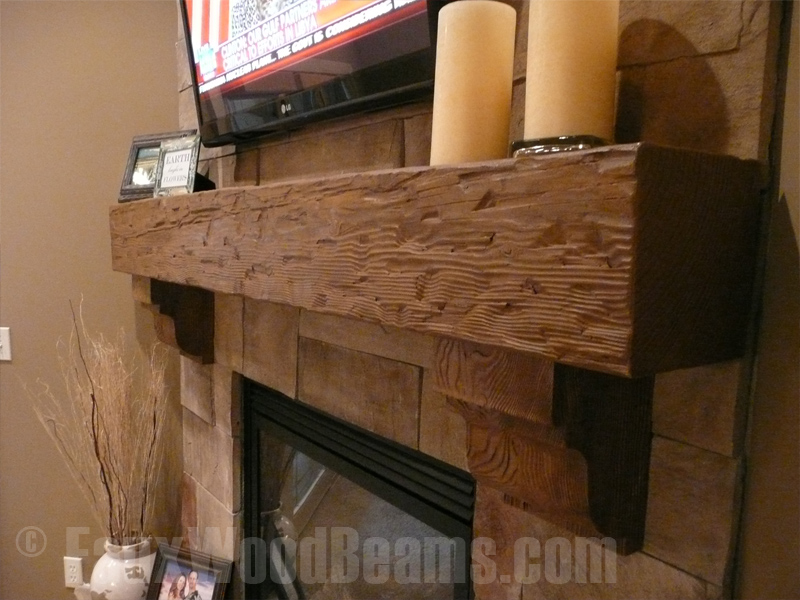 We have attached before and after photos of our mantle. We are very proud and know you will be too! We purchased your Tuscany Faux Wood Mantle in Walnut, along with the matching Woodland Corbels in Walnut. As you can see, it makes such a statement and really compliments our Colorado Stone Fireplace and Hearth. -Shelby & Brad P
Wanted to install a mantle on my bare brick fireplace, but mantles are expensive! Then I thought I'd just buy two wood corbels, and make my own... but they're expensive, too! Google led me to fauxwoodbeams.com, and I ended up with a gorgeous (in my opinion) fireplace mantle at a very low price! Extremely easy to stain and install, and no one can believe the corbels aren't real wood. Just have to fix my screw holes, did a bad job puttying. –MeggieMo, Media, PA
After coming back to the USA after my first trip to England I realized how young our homes were. I didn't think I could capture that old world spirit in my home until I found this product. The rustic beams and corbels allowed me to bring a historical look to my interior. You don't have to be a carpenter to install this product. In an afternoon, I was done. What a difference! -DMP, Southern, California
Can you think of other places in your home where you'd like to see corbels?