Your front porch has a lot of responsibility; it makes the first impression on visitors as they arrive and plays a significant role in providing your home's "curb appeal." While front porch columns play an important role — namely, supporting your porch roof — they also can make or break the look of the porch and your home in general. If you're looking to update the look of your home, front porch column wraps or column covers from Barron Designs can go a long way toward making a lasting impression.
When it comes to updating your front porch columns, you have many different choices available. You can reinvent your front porch completely and give it an entirely new look, or you can choose to add some new elements to the existing appearance but give it an overall refresh or update.
After you've defined what you want to accomplish, you can then decide whether you're better off with a column wrap or a column cover. Let's take a look at what each one offers and how to decide which product is best for your front porch design project.
Column Covers or Column Wraps: What's the Difference?
At a glance, there's very little difference between a column cover and a column wrap. Both can bring the look of rock or stone to your design and give it that little extra "pop" to make it more modern or eye-catching. The main difference between them is in the way that each one is installed and the process required to add them to your home.
Column covers, also called column sleeves, are molded out of high-density polyurethane. That means they're both lightweight and durable. While they are much lighter to handle than real rock, stone or brick, they also can add more structural support to the beam or column they're placed around. Polyurethane is eco-friendly and much less expensive than stone or brick, while at the same time being easier to cut or work with.
Column sleeves or covers are molded in one single piece without any seams. Instead, they have a hollow center that allows the column cover to simply slide over an existing column or post.
They come in many different styles and colors and include stone and brick veneer, which allows you to buy covers that perfectly match or complement the look of your front porch.
Stone column wraps serve much the same function but are designed differently than column covers. Column wraps are easy to install and are fitted around the existing column. However, instead of being a single piece of polyurethane, wraps are made in interlocking sections and can be placed around the column using glue and screws.
Like sleeves, column wraps are offered in a variety of styles and finishes to allow you to create the look that you're hoping to accomplish.
Choosing Your Front Porch Stone Column Wraps or Covers
Deciding between front porch column wraps and column covers will usually come down to the extent of your front porch renovation project. Since you need to be able to slide the cover over an existing post, they are best used when there's a large renovation taking place. For example, if you need to replace the roof of the porch, or if the existing columns will be replaced completely, it's a good time to install a stone column cover. They are also ideal if you're adding columns to your porch for the first time and want it to be installed as part of a new addition.
However, if you're simply trying to improve the look of your existing columns and want an easy and affordable way to do that, stone column wraps are a quick fix that will last a long time. Since they are designed to be fitted around a structure, you don't need to be concerned about having to do a major overhaul of your porch — but it will still give the porch a complete face-lift.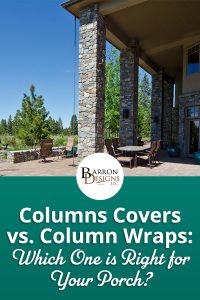 How to Wrap Your Front Porch Columns
Whether you're going with front porch stone column covers or choose to go with stone column wraps, you're going to be pleased with how easy it is to transform the look of your home. Both of these can be done either by professionals or by a do-it-yourselfer, although porch column covers require a little bit more expertise. However, the faux column installation is made easier by the fact that both the column covers and wraps are lightweight and easy to handle, which means the job usually can be completed with just two people. They're easy to lift, place and install and offer a long-lasting, weather-resistant solution for your home.
Our stone and brick column covers and wraps are moisture- and UV-resistant to help them stand up to the elements, and, unlike real stone masonry, they're also resistant to fading, chipping, cracking, splitting and deterioration. Our special manufacturing process gives your front porch the look of real stone masonry without the additional cost or weight of heavy stones and bricks.
If you're trying to decide between front porch column wraps and front porch column covers, look at what solution is the best fit for your individual project. In some cases, it might make sense for you to combine column wraps and column sleeves on the same project, and our wide selection means that you can find exactly the right solution for your home.
Once you've installed your column covers or column wraps, you'll be excited to learn that they don't require maintenance to continue looking great for years to come. Whether you're looking for brick, stone or rock column covers, there's one that fits your individual taste and can help give your front porch a brand-new look in just a quick weekend project.
Find the style of stone column wraps or column covers that best suit your project, then give your front porch the new look you've been dreaming of. It's the one time in life when you really do get a second chance to make a great first impression!