In the past few years, one trend we have noticed is that church ceiling designs with our decorative beams, in lieu of real wood beams, are gaining popularity. Like our other customers have realized, installing real ceiling beams comes with too many hassles and frustrations. With faux beams, however, none of those inconveniences exist.
Decorative Beams in Church Ceiling Designs
As Thomas W. of Trinity Baptist Church in Benton, Arkansas noticed, our beams feature a hollowed, U-shaped channel within. This made it easy for him to build a cross on the wall of the chapel with our Timber beams, as you can see in the picture below. Instead of having to hire a crew to create a real wood cross, he was able to fit the beams to wood mounts he attached to the area on the wall that he traced out. By the time he finished, he was so happy with how real it looked and how easy it was to accomplish.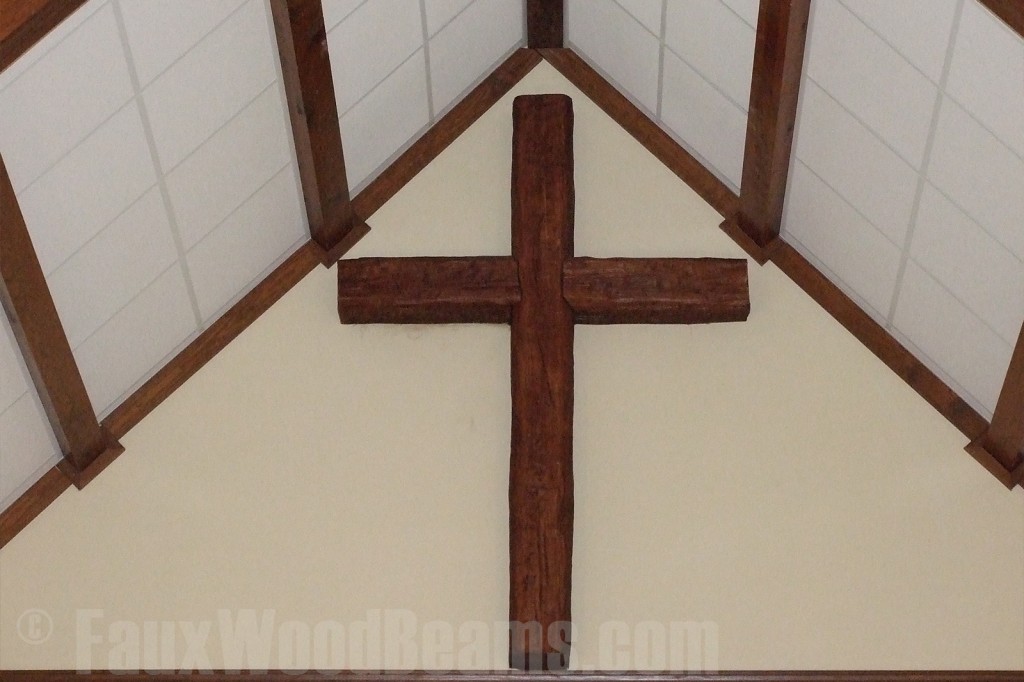 Trinity Baptist Church in Arkansas used Timber beams to build a cross.
Fairhaven Memorial Services of California and St. Stephen's Catholic Church in Texas also took advantage of the ease of installation and affordability of our beams. St Stephen's was happy to let us design their ceiling system, after they sent us images and measurements. They were pleased to find that the flexibility of our custom beams fit all their design needs, where real wood would more likely have not.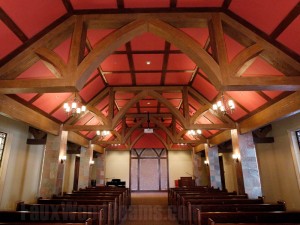 Decorative wooden beams create a captivating church ceiling design at Fairhaven Memorial Services in California.
For churches, what are the problems posed by real wood?
One is that real wood beams are expensive. In many cases, prohibitively so. Church remodels can be put off for years so that funds can be raised for real beams and professional installation.
Real wood beams are also very heavy, which makes it much more time-consuming and difficult to get them installed.
Real wood is also susceptible to termite damage, deterioration and rot over time.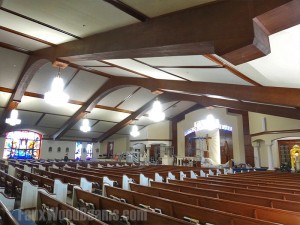 Woodland beams installed in St. Stephen's Church in Midland, TX.
Faux beams, on the other hand, eliminate all of those problems. Made of maintenance-free polyurethane that doesn't crack, split, or fade, these beams are extremely light weight, and easy to install. They are also carefully crafted from molds made of genuine wood, so that the texture, color and detail of real wood is perfectly mimicked, and never goes away.