The holiday season is far behind us but we've got some festive \"before" and "after" pictures we can't wait ten more months to share!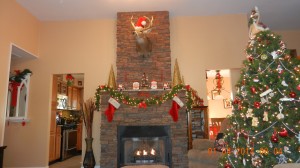 AFTER: Festooned with festive decorations, this fireplace looks magnificent.
Christmas Fireplace with Simulated Stone
Ann Marie and Bill, from Long Island, NY, recently sent us these awesome pictures of their festive fireplace. It doesn't have decorations on it all year - but it was the perfect way to show the comparison with what went before, and what they managed to create using our faux stone panels.
In her email accompanying the pictures, Ann Marie explains:
"We watched all those D.I.Y. Shows that used your Faux Panels and thought it was time to try it ourselves."
"We used the Regency Stacked Stone in Earth finish. Where the Fireplace sits now used to be the stairway to the basement. My Husband is very handy, and moved the stairs so we could put the gas fireplace in that same spot in the living room."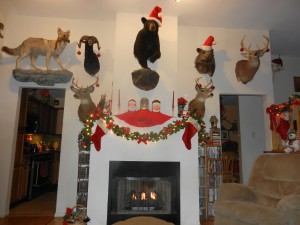 BEFORE: This fireplace was constructed where an old staircase used to be.
"That was years ago, though - and all this time we desperately wanted the rustic look of stone for our fireplace; but couldn't figure out how to do it because of the weight of the stone, and the expense of masonry."
Because their fireplace was literally built on the site of a former staircase, using actual brick or stone would have been impossible.
That's where the appeal of our faux stone panels comes in. Because they're made from tough and durable polyurethane foam, they weigh a fraction of what real stone would; and can attach directly onto drywall with regular construction adhesive and screws.
Even better, they're available fire-rated -- perfect for using on a fireplace -- and can be cut to size with a regular wood saw; which makes installation a simple and straightforward process.
"We couldn't be happier with the outcome," Ann Marie writes. "Please find attached a photo from last Christmas, and one from this Christmas to show you the difference."
You don't need to take our word for it - the pictures prove for themselves how great our faux panels look.
"We highly recommend your product to everyone," Ann Marie signed off. "It's not only easy to install, but it's so realistic and so beautiful. Thank You!"
Thank you, Ann Marie and Bill, for sharing these pictures!