Want another stone siding option? Our line of Versette Stone Veneer Panels could be just the thing, as one New Jersey homeowner discovered!
AFTER: Neal's entryway looks stunning after he spruced it up with our Versette cultured stone panels.
Chic New Siding with Versette Panels
Neal P. from Point Pleasant Beach in New Jersey recently sent us pictures of his home's awesome curbside transformation.
"The siding on our house was over 10 years old & needed updating," he wrote, attaching photos of his project. "The new home builds in our area all include stone or brick entryways etc. and I have looked for a masonry product I could install myself for several years."
BarronDesigns.com was obviously on Neal's list of vendors - but it wasn't until he came across our cultured stone products that he knew he'd found what he was looking for.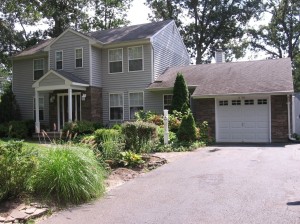 Neal used Versette to improve the look of his garage as well.
"When I came across the Versette Ledger stone it was exactly the look I wanted but was still skeptical that the samples I ordered would not live up to the pictures I saw online. I was very surprised at how much it resembled authentic stone!"
Our line of Versette stone products differs from our faux stone panels in one significant way.
Instead of being made from tough and durable high density polyurethane foam, our Versette range is actually made from a cement-base with lightweight aggregate material, colored with iron oxide pigments so that they're indistinguishable from real stone - even to the touch!
BEFORE: You can see how dated Neal's original porch was before he worked on it.
"The installation video seemed simple enough for a do-it-yourself homeowner, so I ordered it," Neil continues. "I had it up in a week (working around my job) and I can't tell you how many people stop, admire and want info on the product."
"As you can see from the pics, I used the extra to make a new lamp post to match! It definitely updated the house & added to its value. We are very pleased to say the least. Awesome product!"
We're excited that Neal was so thrilled with the results - and we agree with him that they look fantastic. Leave a comment to let us know what you think!