Enhancing Ceiling Designs with Beams and Panels
One of the watchwords of FauxWoodBeams.com is 'less is more.' But rules are made to be broken.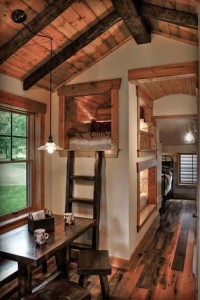 landsenddev.com posted this picture, which features a 'wood' ceiling made using faux wood beams and panels.
Talk to any designer and they'll tell you that subtlety is key. Sometimes just adding a single element to a room - like a single ceiling beam, for example - can totally transform the look, while remaining subtle and stylish. You want people to look at the room and think 'this looks nice', rather than: "Gosh, look at that beam."
But sometimes, rules need to be broken - and one great example we've seen of that is creating ceiling treatments using faux wood beams in combination with products from our sister site, fauxpanels.com.
One product in particular is the Reclaimed Barn Board panels which are especially beautiful and look vividly realistic. Pairing those with our faux beams can produce an incredible ceiling system that looks exactly like a real, hand-crafted timber roof.
The trick is to first install the panels onto the roof surface. The panels are made from the same material as the beams - high density polyurethane - and share the same characteristics. They're lightweight, durable, and effortless to install.
On a flat drywall ceiling, you can install them with regular construction adhesive and screws. The panels slot together for a completely seamless finish - and the edges can be cut to size with a regular wood saw. The final fit will be absolutely snug, and look incredibly realistic.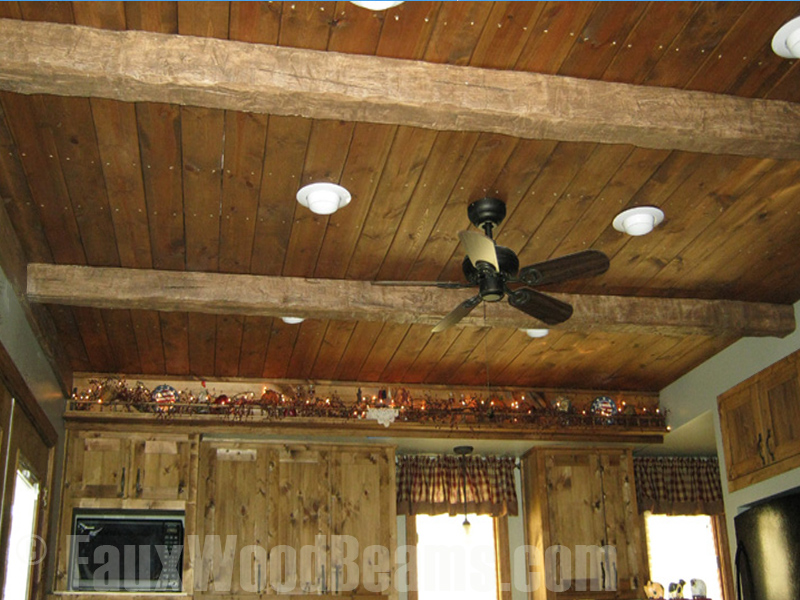 This is another example of the style of ceiling you can build by combining beams and panels.
You could leave it at that, and have the finished ceiling resemble one made with planks of timber. However, an even more dramatic look is to criss-cross the installed panels with the beams. Choose a beam that matches the color of the panels - or buy them unfinished and stain them yourself - and the beams will look like they're supporting the planks, and the entire roof is made from real, authentic timber.
Installing the beams is simple and straightforward, but obviously involves an additional step because you'll be installing the beams onto the panels, not sheer drywall.
All that means is that you'll have to use longer screws to attach your mounting blocks through the panels, right into the ceiling beneath. Then mount your beams normally, and they'll sit snugly across.
In combination, the beams and panels create a stylish and vividly realistic ceiling that looks just like something you'd find in a historic house or cabin. But at a fraction of the price of real wood - not to mention being infinitely easier to install - it's a stylish look that any homeowner can achieve.