Home Remodeling Improvement Ideas with Wood Ceiling
If you're considering buying some of our reduced-price Custom Timber Beams (and Mantels) this November, you haven't got much time left - so here are some ceiling remodeling tips and tricks to help you get started.
Through 11/28/17, we are offering a 15% reduction on the price of our new, improved Custom Timber Beams and Mantels. There's only a few days left to take advantage - so we encourage you not to wait for ordering!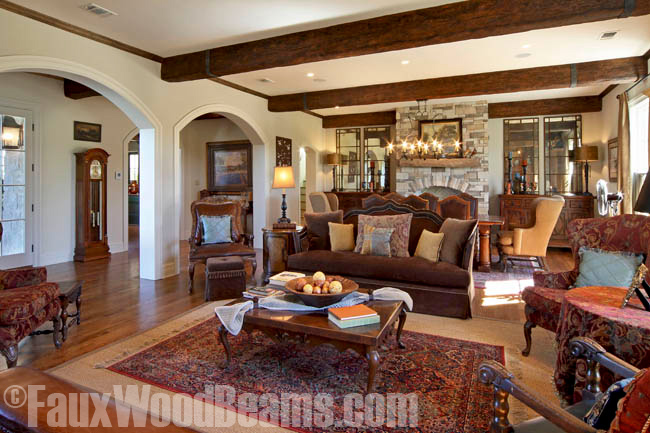 One comment we hear again and again from many of our customers who've finished their faux beam project is: "I wish I'd done this months ago" - and that might be what's holding you back from seizing the opportunity. Even though our faux products are a fraction of the price of using real wood, and infinitely easier to install, there's always a psychological barrier in place when embarking on a major investment in time and money; which is why many customers say it took them weeks from deciding to complete a project to actually doing it.
Here's some advice that has helped many homeowners feel more confident about embarking on their new faux project:
1 - Planning is everything.
If you're a child of the 80s, you'll remember Hannibal from The A-Team saying "I love it when a plan comes together." And if they were able to build a tank or a helicopter from barnyard junk, putting up a faux wood beams should be straightforward in comparison.
The key is planning - installing beams or mantels is never something you should just do on the fly.
The first step is the most general. Once you've twigged to the idea of installing beams on your ceiling, or a mantel on the fireplace, start thinking about why, and what gave you the inspiration. This can help you decide on the specifics - like the style, size and placement.
For example, if you want to add beams to mimic the look of exposed timber supports in a historic home, that's great! But once you've embraced that as your inspiration, it's time to do some research and planning to see how real beams would look in a home like yours. Research on the Internet and find pictures of historic homes with real exposed beams, and work out which way they run (across your ceiling, or the length of it) and how many beams there are. You want to make your design mirror the authentic version as much as possible.
2 - Talk to the Experts.
Once you've decided on the scope of your project, and made some specific decisions - like how many beams you need and what size - it's time to talk to the experts. One of the reasons that FauxWoodBeams.com is America's leading manufacturer and supplier of faux wood products is because our customer care team is second-to-none. Our customer care experts collectively have decades of experience with our products, and have helped thousands of customers order what they need.
Call 1-800-651-4223 to speak to someone on our team, and from there discuss with them your ideas, what products you think you'll require, and they'll help craft your order to make sure you get everything you need. They'll also be able to advise you on installation methods, tips and tricks to make things look good, and how best to ship our products to you. Many of our satisfied customers have mentioned their customer care representative by name - crediting them with making their project a success.
Planning and preparation really are the keys to success - and should make the final step incredibly straightforward.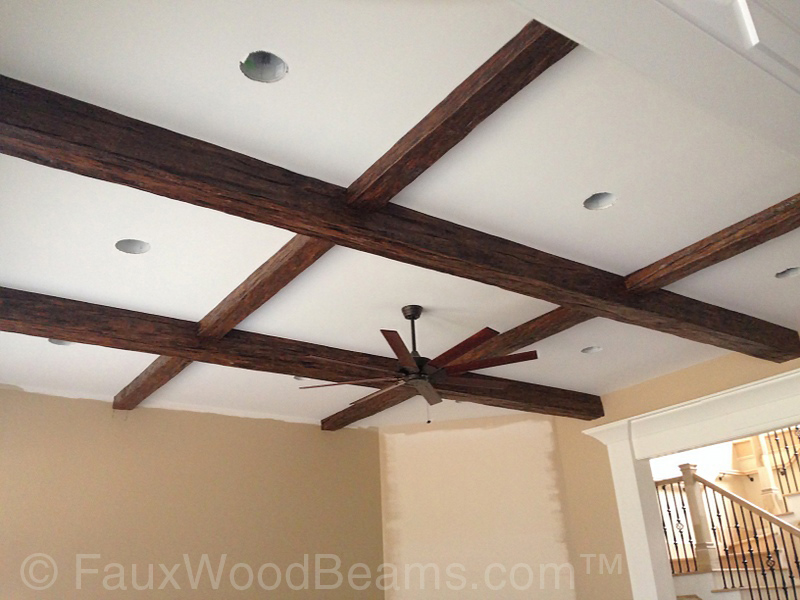 3 - Schedule time for installation.
Ordering the parts you need is one thing. Installing them is another. I still have cupboards full of things I've bought from Home Depot but never actually found the time to install! Don't let that happen with this project.
We very strongly recommend scheduling a time period to focus exclusively on your project - don't just 'get to it when you can.' Maybe this is a holiday weekend, or carving out six-hour periods over the course of a week while the kids are in school. In any event, use that time to focus on your remodel - and nothing else.
In the immortal words of Parks and Recreation's Ron Swanson: "Don't half-ass two things at once. Whole-ass one thing."
By being focused and disciplined with your time, you'll complete your project in much less time than you'd ever have expected; and have the satisfaction of a job well done. It takes a lot of discipline, but it's a tip that's been credited by many of our customers of being a big help.
.So many people say they'll get to a project 'one day' - but that day never comes. Our photo galleries are filled with pictures from customers who didn't wait until 'one day' and have beautiful faux wood fixtures as reward for taking that initiative. We'd love for your project photos to join theirs!
So while our November special offer continues, take the plunge. Order your Custom Timber Beams or Mantels, and seize the opportunity to complete that project you've been thinking about for weeks now.