Fireplace Design Ideas - Faux as a Choice
FauxWoodBeams.com customer Gurpreet bought a mantel from us for his real stone fireplace. The project photos he sent us answers this question pretty definitively: "Does faux wood still look real next to real stone?"
If you're old enough to have ever ordered something off the back page of a comic book, you'll know that a lot of times, things that sound "too good to be true" normally are (I'm still salty about the $2.99 X-Ray Vision glasses I ordered in 1991, for example. They didn't work!)
That's why one of the most frequent questions we get from new customers - despite our hundreds of product photos and dozens of testimonials - is "are your faux wood products really as realistic as you say they are?"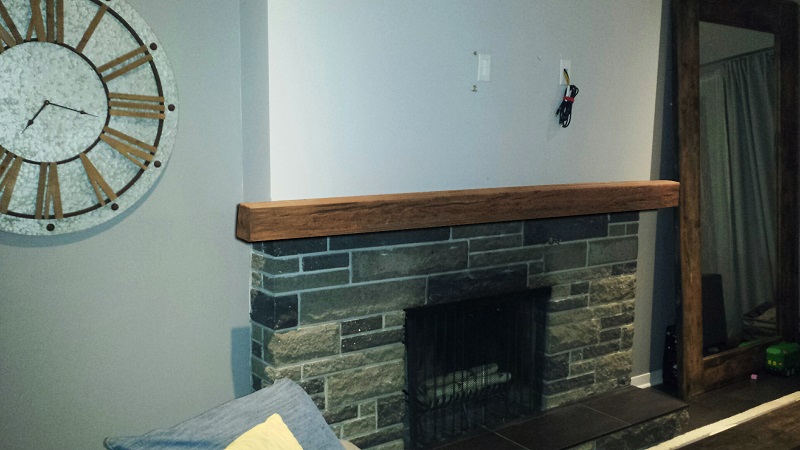 Gurpreet's mantel looks vividly realistic on his real stone fireplace.
That's a question that we normally solve by offering a sample of our products - so customers can see the incredible realism of our molded products for themselves. That convinces most customers to make the investment in faux - and they're not disappointed with the results.
But another concern, along the same lines, is "how realistic do your products look compared to the real thing?"
We're proud to say you cannot easily tell the difference - and one great example of that is how Mary and Adam used our products to repair the authentic timber from their 230-year-old home in New England - directly putting 'faux' up against the real thing, and proving how perfectly it blended.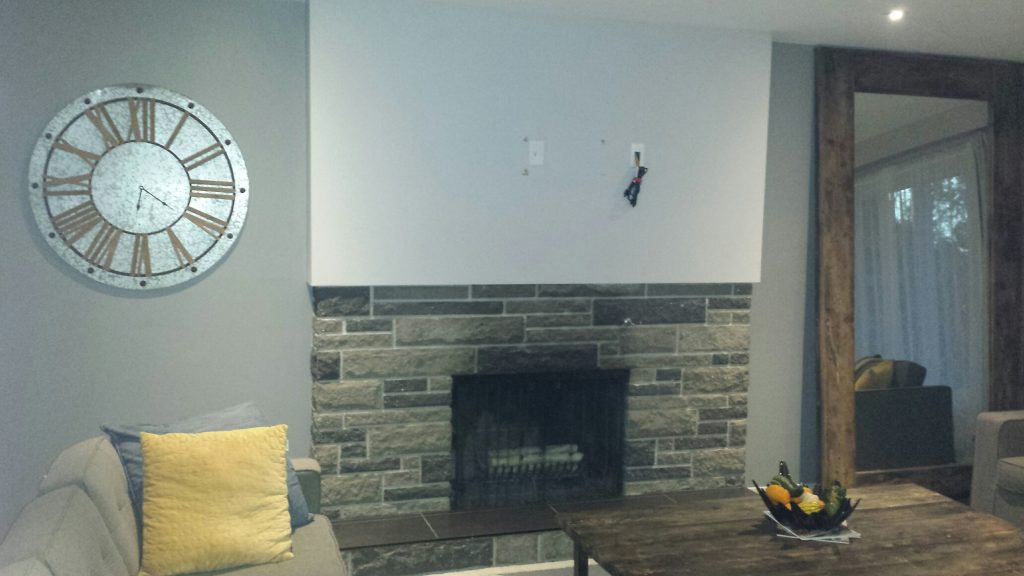 BEFORE
Gurpreet's project demonstrates how faux wood passes the test when paired with real stone.
As you can see from the BEFORE and AFTER pictures, the fireplace is beautiful - made with stone bricks, with a granite hearth and wrought iron flame guard. It fits in beautifully with Gurpreet's beautifully decorated home, which features a significant amount of wooden furniture, and tile flooring.
Gurpreet could have gone the route of ordering an 8-feet-long length of timber, and installing a 'real' wood mantel - but there were a number of reasons why that wasn't a practical choice. First off, it would have had to be installed above the stone fireplace and sheetrock and studs can't support the weight of an 8-feet beam, which can weigh anywhere between 60lbs and 100lbs. Secondly, faux costs a fraction of what a real timber beam would.
Instead, he ordered our Custom Timber mantel - and in his email to us makes it very clear he's glad he did.
Because the beams are hollow, they weigh a fraction of what real wood does - so Gurpreet was able to carry and install the beam himself. It attached to the studs above the stone fireplace with regular mounting blocks, and the installed mantel remains sturdy enough to support a reasonable amount of weight, such as family pictures, vases and the odd book.
But the kicker are the looks. Molded from from polyurethane foam, Custom Timber Mantels capture each grain, knot and chip of real wood in a tough and durable finish.
So once installed, you'd never know that Gurpreet's mantel isn't real wood - not without going over and rapping it with your knuckles. Even though the mantel is synthetic, it blends perfectly with the real stone of Gurpreet's fireplace; proving that our products don't just look realistic in isolation.
It saved Gurpreet a ton of time, money and hard work, and one can definitely argue that it was one of those situations where "too-good-to-be-true" actually delivered above and beyond expectations.