Imitation Wood Beams - Light On Pocket
All across the United States, thousands of our customers have installed imitation wood ceiling beams to renovate their homes, indoors and out. They've been very satisfied. One thing we've noticed is how contractors and remodeling professionals also love these affordable building materials that allow them to create super designs for much less money and time than real wood beams would involve.
| | | |
| --- | --- | --- |
| Imitation wood beams are affordable buildings materials, easily installed. | | The beams can also accommodate recessed lighting easily. |
There's a reason shows on channels like HGTV and DIY Network use our products. With limited budgets, tight deadlines and viewer expectations to meet, the convenience and versatility of imitation wood is a one of a kind.
In fact, many professional contractors have taken notice of the advantages of our beams. An increasing number of them actually prefer them over real wood.
There are various reasons professionals prefer this material, but there are a few in particular that stand out. Below, we'll take a look at the top six reasons.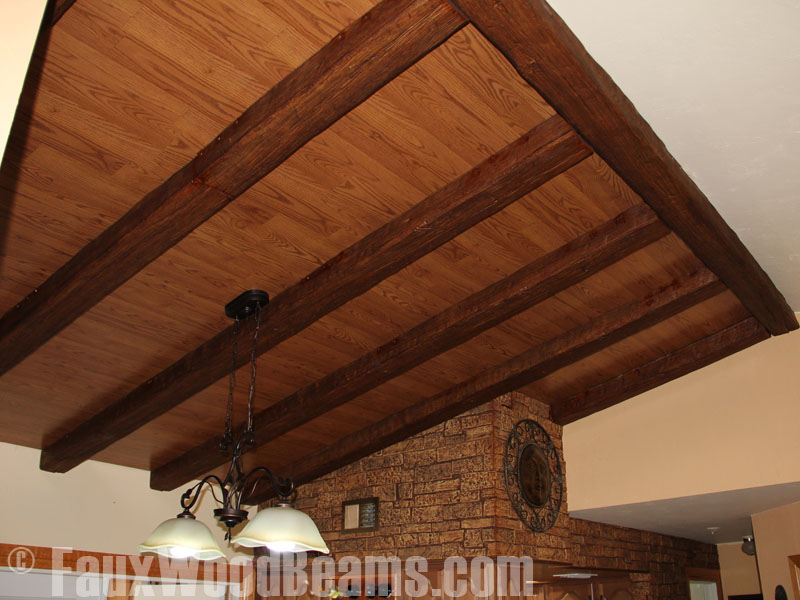 Imitation wood beams add a rustic comfort to interiors.
1. Ultra Realistic: Our beams are crafted from molds made of real wood beams. Their highly realistic appearance includes even the tiniest twists, grains, knots and tooling marks. Once they are installed, customers and contractors agree that they are totally indistinguishable from the real thing.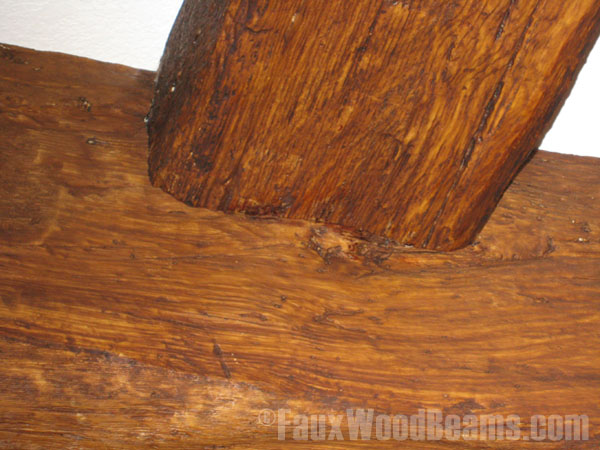 Close-up view of imitation wood
2. Lightweight: Real wood beams can be very heavy, often weighing hundreds of pounds. Faux beams, on the other hand, are so light that one person can easily lift them and carry them across a room. Thanks to this, it's easy enough for one contractor to finish design projects. Projects requiring real wood would usually require a whole team of professionals. In contrast, our beams are easily installed with screws and simple construction adhesive.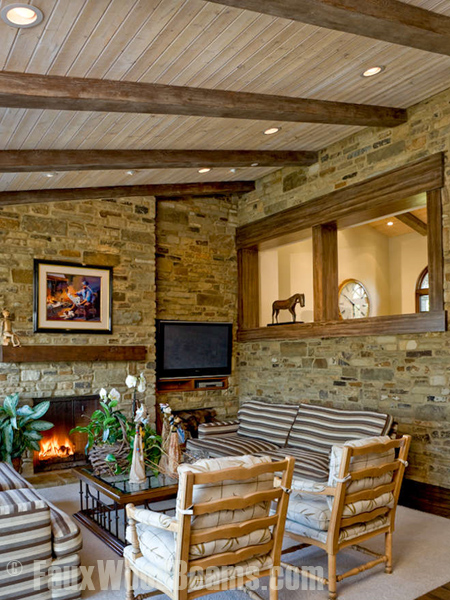 Raised Grain style beams installed in a cozy sitting area.
4. They're insect-proof: Pests like termites, carpenter ants or powderpost beetles can significantly damage real wood beams. This is not the case with faux. Made of highly durable polyurethane, bugs will leave them alone. Contractors appreciate this, because they know they won't have to worry about pests getting in the way of their work during beam installation.
4. Cost-effective: Our beams will fit your budget. Contractors particularly appreciate this, as it gives them the ability to set affordable prices for projects without sacrificing their artistic plan.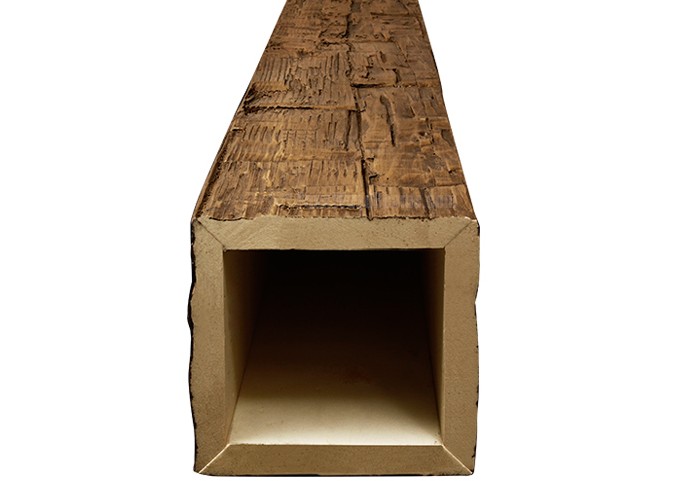 Imitation beams are durable and hollow, easy for running wires through.
5. They're hollow: Contractors and consumers love that beams are hollow, because this allows them to run wires or ducting through them. It also makes it easy to install recessed lighting in them.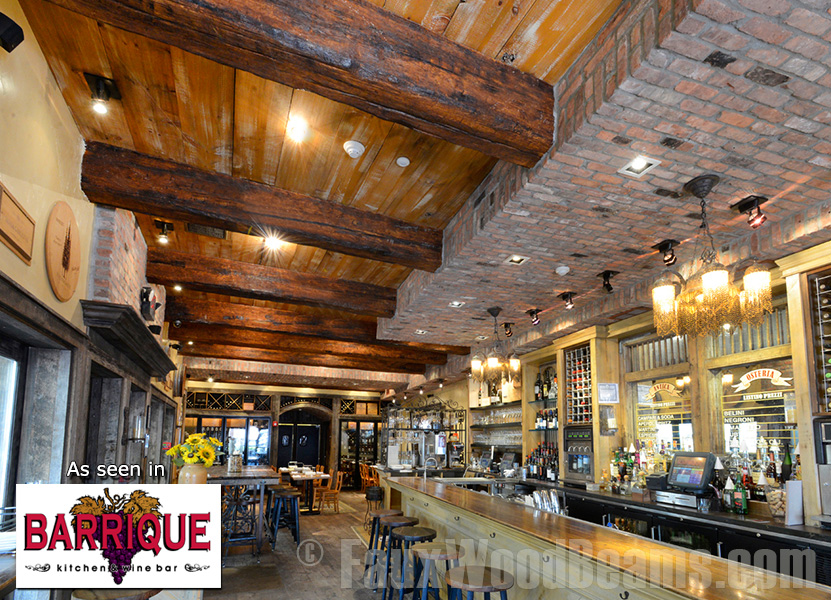 Timber beams beautifully enhance the decor of this restaurant and wine bar.
6. They're environmentally friendly: Polyurethane beams are preferred by contractors with an environmental awareness. Their use spares a real tree from being felled. Additionally, the beams are made with materials that are environmentally friendly. During their production, no greenhouse gases or harmful chemicals are emitted. Finally, the carbon footprint of transporting our lightweight beams is just a fraction of what it costs to transport heavy, real wood.