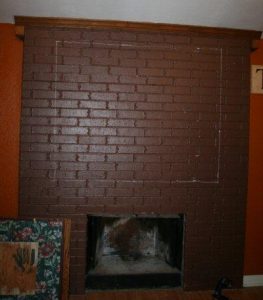 Dated brickwork, covered in drab paint, put customer Shana into a fireplace funk.
Even a modest remodel with brick or stone can cost a homeowner thousands of dollars, and take days or weeks of work. This is why FauxPanels prove especially popular with those looking to spruce up an existing feature of their home affordably and quickly. For proof of just how far a few of our panels can go, check out this exciting brick fireplace remodel, sent to us by one of our customers.
Brick Fireplace Remodel Featuring Ledgestone
Shana Doctorman, from Oklahoma, was in a fireplace funk. The centerpiece of her living room was a classic stone brick fireplace was that both dated to look at, and an impractical waste of wall-space.
Shana had a definite idea of what she wanted to do with the fireplace – but adding a new brick façade threatened to be too expensive and impractical to achieve with traditional building materials. Fortunately, FauxPanels.com had the answer.
Instead of adding a new real brick surface, Shana writes: "We used your Carlton Ledgestone Harvest panels."
Shana knocked through the brick wall to reveal the empty fireplace space behind, and used that to build a wall niche perfectly sized to accommodate a flat screen TV and cable box. She then framed that with just a few of the Ledgestone panels – cut perfectly to size with a regular wood saw and mounted in minutes with wood screws and a power drill.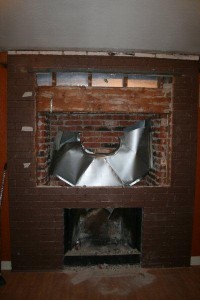 Knocking through the brick wall gave Shana plenty of room to build an in-wall media center.
"I am thrilled with how it turned out!" Shanna attached before, during and after pictures and you can see for yourself how great the remodel looks. What was even better was that the entire project cost a fraction of what a professional remodel with brick and mortar would have done – and, arguably, looks every bit as good.
If you have a similar story to share, be sure to let us know. We're always excited to see how our customers make use of our faux stone panels, and would love to feature them here. Email your stories and pictures to info@fauxpanels.com.
Framing the new niche with the Ledgestone panels gave a beautiful contemporary look for a fraction of the cost of using real stone.