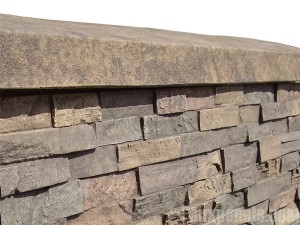 If the retaining wall in your yard is your pride and joy and the envy of all your neighbors, you can skip this tip.
In my case, my old railroad-tie retaining wall was so ugly, I finally had it ripped out and the whole yard re-graded to eliminate the need for it. But if I'd found this idea first, I would have given it serious consideration. I do believe it would have cost a heckofalot less.
Beautifying An Ugly Retaining Wall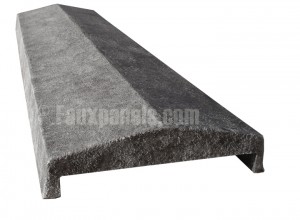 The idea is to turn that ugly stack of railroad ties or poured concrete or masonry blocks into a nice faux stone wall. You know stone veneer works great outdoors, but you might not have thought of using it on this kind of wall.
The key to the project is not to just stick stone veneer on the front surface but to keep and enhance the look of a solid, thick wall. And you do that with wall caps. They absolutely make the whole project. They come in gray or tan to coordinate with just about any stone veneer you like, and they're available in two widths for thick or extra-thick walls.
The wall caps are made of polyurethane just like the faux panels are, with all the same advantages of light weight, easy installation, and durable good looks.
The fact is, this is a project that delivers a lot of bang for the buck, and for the time and effort you put into it. You transform ugly into beautiful for a very reasonable investment of time and money, and have a blast doing it. It would even be a great starter project for someone who's never worked with faux panels before.
Makes me wish I hadn't torn out that old railroad-tie wall.
Of course you only want to do this to a retaining wall that's stable and sound to begin with. If yours isn't, then you may soon have more serious problems than your neighbor's disapproving eye.

Get inspired by more outdoor renovation ideas on Barron Designs!