One of the ways in which faux beams are 'better than the real thing' is the ease in which light fixtures, fans and other hanging elements can be installed with them (but not on them). Here is a quick guide to how to achieve that stunning look.
One important characteristic of our beams is that they're hollow. This design makes them ideal for concealing pipes, vents, wires and cables -- a feature not possible with a real solid wood beam. Faux beams are made from lightweight and durable polyurethane, a material that can be trimmed using regular woodworking tools and that adds another layer of versatility. If you beam installation will be including a hanging fixture, there are some things to consider. Most importantly - while our beams are rigid and strong, they're not designed to be load-bearing. You can't mount a light fixture or fan directly to the beam itself. Instead, you can drill holes in the bottom of the beam to pass mounting hardware
through
the beam; safely securing it to the ceiling studs.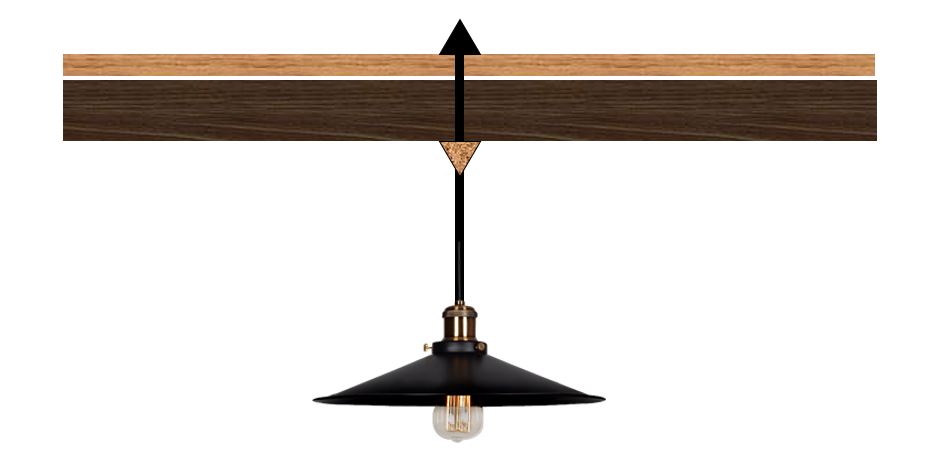 The fixture passes through the beam and is secured to the ceiling stud above. The advantage is, of course, that the beam will hide all of the related wires and cables; enabling a flush-fit to any mounted hardware. A mounting cap will finish off the look - fitting flush with the surface of the beam - and the end result looks absolutely seamless. Check out these pictures of faux beams with ceiling fans and chandeliers, and you can see what a stunning design idea it is: