Farmhouse Style Basement TV Wall
Customer Rob Padgett from beautiful Peachtree, GA sent in pictures of his newly remodeled basement, complete with a TV wall that adds to the farmhouse-style charm.
It's one of the best projects we've seen for a while, and we're excited to share it with you here.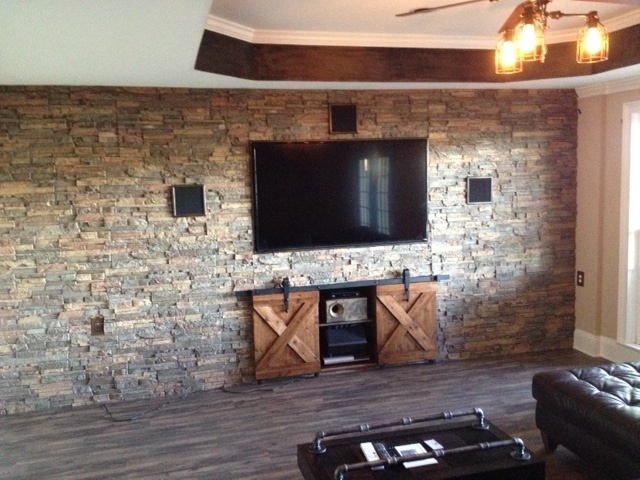 Rob's challenge was turning his bland, utilitarian basement into a cozy recreation and relaxation room. In the end, he decided on a timeless farmhouse look; and chose to use our Somerset Dry Stack panels in Pecan color to help bring it to life.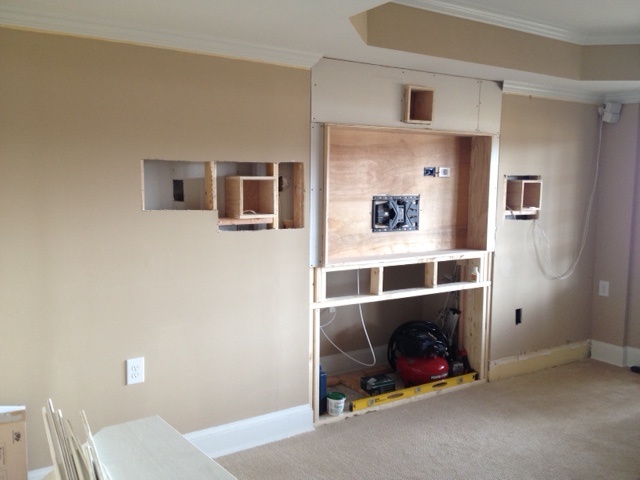 BEFORE
Simply installing our panels on his wall would have gone a long way towards getting the look Rob wanted. Molded from high density polyurethane, the panels are vividly realistic and as you can see from the pictures, give the impression that the entire wall is made from hand-stacked stone.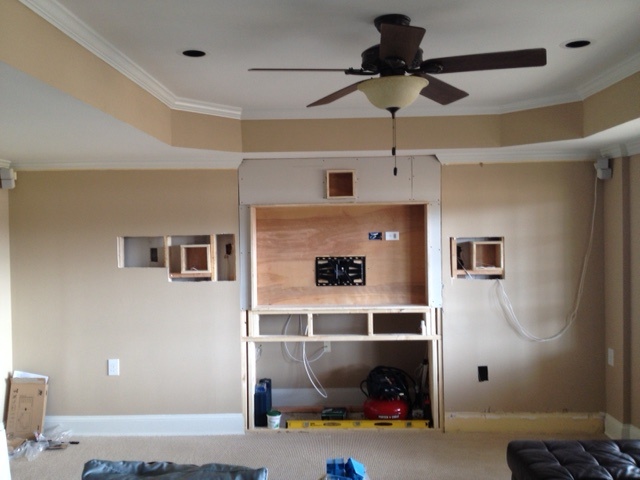 BEFORE: Rob carefully installed his media center before adding the panels.
But what Rob did that really impressed us was create a media center nook in the center of that wall; and finish it to look like a centuries-old wooden hideaway.
To achieve this look, Rob carefully measured and cut out spaces for the flat screen TV, speakers and a recessed cupboard for his cable box and other equipment. Because our panels can be cut to size with a regular wood saw, it wasn't difficult for him to do; but it took a lot of precision to get it just right.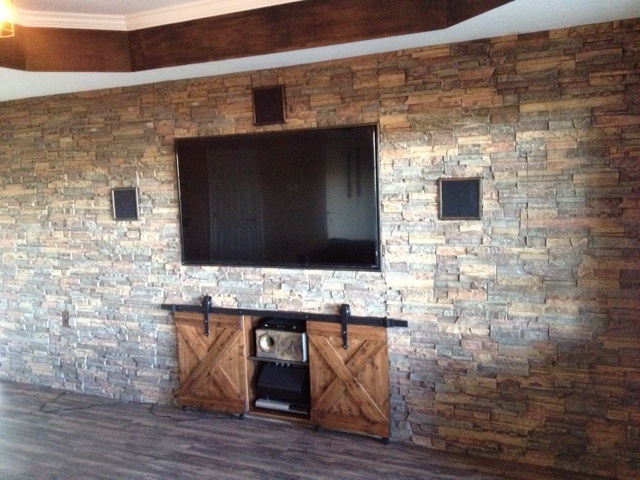 AFTER: The holes for the speakers and outlets were easy to cut with regular woodworking tools.
Next, Rob installed the panels directly onto the drywall with construction adhesive and screws. Somerset panels slot together, to ensure an uninterrupted stone pattern, but what Rob did to really give it a professional look was slightly offset each 'row' of panels; so the brick pattern wouldn't be mirrored directly by the panels above or below. It's a simply technique; but an incredible one for ensuring a realistic finish.
Finally, Rob installed the speakers and outlets over the holes he'd cut in the panels; resulting in a totally seamless finish and the impression that the TV and accessories are practically built into the wall itself.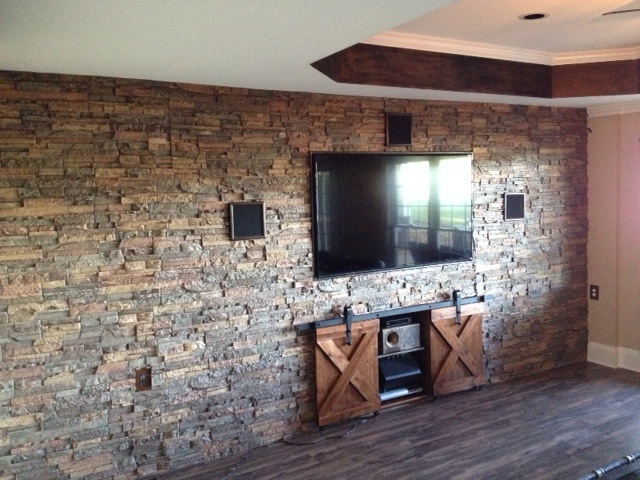 We love the cupboard with the mini barn style doors.
The pièce de résistance, though, was the little cupboard the Rob installed. He added wooden sliding doors with cast iron rails to it, and the result is nothing short of stunning. It's the final detail which really brings the project together and turns a nice, standard panel project into something worth writing about.
As you can see from the photos, Rob's basement now looks like a slice of history. The juxtaposition of the stone wall and wooden cupboard with a modern flat screen and speakers is delightful. You could almost imagine that this is where Georgia's early settlers would have watched their TV! It's a real testament to Rob's eye as a designer, and it's one project we're especially proud to feature here.
What do you think? Let us know in the comments section below.