French-Style Underground Tavern Themed Redesigning of Basement Area
Kimberly transformed her basement into a French-style underground tavern - and it looks fantastique!
The French word for basement is "sous-sol" - literally "under the sun" - but they have a much more evocative term for cellar, which they describe as a "cave" (pronounced like the English word 'carve'.) To Francophiles, that word instantly conjures up imagines of darkened jazz clubs beneath the cobblestones of Paris, or stone-lined cellars stacked with wine beneath elegant French chateaus. If you've ever seen one first hand, you'll know how amazing they look.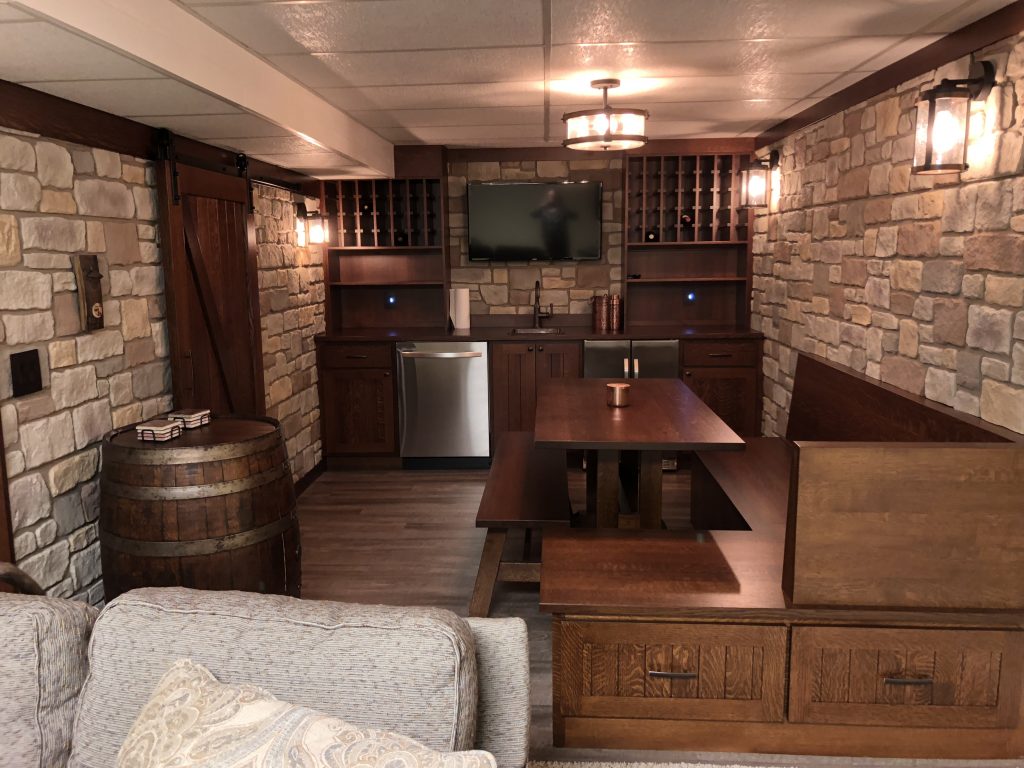 Kimberly's basement feels like stepping underground in Paris, or Bordeaux.
One place you might not expect to find a French-style cave is in America - especially in a pretty, modern home built using contemporary materials. But thanks to the ingenuity of homeowner Kimberly Wirtz - with a little help from Hampton Cobblestone panels in Summer Tan color - that's exactly what you'll find.
Creating a unique design for finished basements isn't always easy. Many homeowners take the path of least resistance, as the space often gets used as a kids playroom or TV room. But Kimberly wanted something more - and was inspired by the idea of an underground tavern.
To that end, she sought out a plethora of beautiful dark-wood furniture and fixtures - like a sliding barnyard door, fitted dark wood cabinets, and a breakfast nook that wouldn't look out of place in a Belgian monastery. Her pièce de résistance was finding an old oak barrel, like the ones filled with Burgundy or Bordeaux, and her concept started to come to fruition.
Hardwood floors and brass light fixtures nearly completed the look - but it needed something else; and that's where the panels came in.
Molded from real cobblestone, the panels vividly recreate its shape and texture. Kimberly used those to cover the basement walls, and voilà! Suddenly everything came together, and Kimberly's project became one of the most eye-catching we've ever featured here.
Of course, our panels only make up part of the entire project - but it's the sort of concept that couldn't really be pulled off without all of the elements working in unison. We think Kimberly's eye for design is incredible; and are thrilled to have our product be part of this incredible basement transformation.