We offer a range of products beyond just synthetic wood beams and planks. These pictures, sent to us by a FauxWoodBeams.com customer from Vermont, highlight the stylish versatility of our synthetic beam straps.
Artificial Beam Straps Give Real Wood a Custom Look
The look of wood beams and planks helped add an old world touch to this upstairs bedroom.
When Rod and Juanita F. were renovating their home, they wanted to give their modern house an old world look.
So in the upstairs bedroom, they used real timber beams and planks to build an apex crawlspace and storage on the outer edges of the house.
The classic wooden look gives the home the character and atmosphere they were looking for; using framing wood along the edge, where the wall and the ceiling meet.
But a challenge Rod and Juanita immediately faced in completing the project was covering where the real wooden beams met.
Unlike our faux wood beams, real wood isn't always available the full length that customers need; and hiding the joins where two beams meet isn't as simple as it is with our synthetic wood products, because natural wood is rarely a consistent size.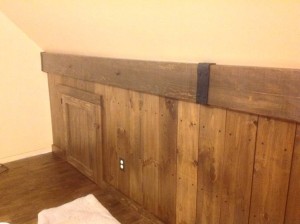 Our rubber beam straps helped cover up seams and joins.
But Rod and Juanita figured out a faux wood solution to their real wood problems - and ordered some of our rubber beam straps to cover the joins and seams.
Molded from malleable rubber, these beam straps perfectly mimic the look of the old iron beam straps that used to brace and support traditional wooden beams. The advantage is, of course, that they don't require a blacksmith to install!
Here's what Juanita wrote, when she emailed us pictures of the beam straps in place:
"We used the smallest width bands in the corners and your standard middle size strapping band where the logs meet in the middle of the wall. Using the bands in the corners allowed us to cover up the raw edge where the wood meets the wall, finishing it off."
"We also devised a little different way to attach the rubber. Besides using your recommended adhesive, we also used small brads with a brad pusher to mount the rubber. Worked pretty slick since the brads were small and their heads disappeared below the surface of the rubber when mounted. This helped hold the rubber until the glue set. "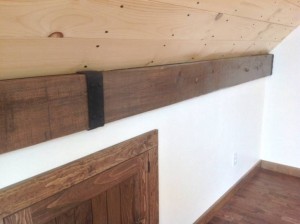 "The bands really completed the look and pulled the project all together with this old world look."
We think the end result looks AMAZING - and it's nice to see how our rubber beam straps can be used on real wood, as well as our synthetic wood products.
In her email, Juanita wraps up by saying: "Thanks for providing such great products that allow homeowners to design and implement changes to their own homes with style and ease."
You're welcome! Thank you for sending us pictures!