Reclaimed Wood Beams - A Solid and Cheap Alternative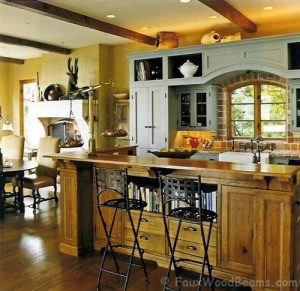 Salvaged wood beams add a rustic touch to this sunny kitchen.
If you're not sure about using faux wood beams but don't want to cut down any trees (or can't afford the high cost of a solid wood beam), what can you do?
Consider reclaimed wood beams.
Instead of being made of polyurethane like faux beams, these beams are made of wood rescued from old barns and similar buildings. So instead of just tearing down a great old building and trashing it, the wood is saved and repurposed as new building materials, thereby sparing trees.
The reclaimed wood is then cut into veneer pieces a half an inch to 7/8 thick, depending upon the wood, and then put over a substrate if used for paneling. If used for a beam, it's put together as a three- or four-sided box beam, which, like our other faux beams, is hollow inside.
These box beams are heavier than our high density polyurethane beams but not as heavy as a solid wood beam. Weight will vary according to the type of wood and the length of the beam, but a good rule of thumb is to assume that a reclaimed beam will be three times the weight of polyurethane beams.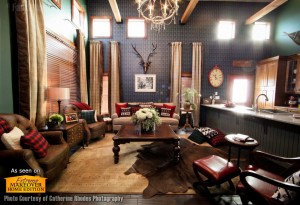 Reclaimed wood beams decorate a classic great room.
If you want a unique look, rescued wood box beams are the perfect choice. The beams won't necessarily match since the wood could be coming from multiple sources. Even the same species of tree grown in different areas under different weather conditions, with different water and soil mineral content will have a different appearance. Some will be darker or lighter, etc.
Salvaged wood box beams also tend to have nail holes and such. Not every piece of rescued wood can be used, but small imperfections like nail holes can lend character and unique beauty to the beam.
Because it's made of natural, aged wood, it won't take stain as predictably as unstained faux beams do. It's best to test a small area first to make sure you get the color you want.
Real wood box beams add unique beauty that comes from being rescued from old barns
It's also pure wood. Old lumber rescued from barns and such has never been chemically or pressure treated like modern solid wood beams have been. That means these types of beams might appeal to people with certain chemical sensitivities.
Because the beams are made of real wood, they are subject to the same weather and humidity changes, which means they can shrink, warp, twist or check. An elaborate truss design made from salvaged beams could have challenges that a polyurethane beam truss would never have.
The beams also have fewer size options, which means you might need beam straps to cover the seams where two beams are joined together. They can enhance the appearance of a design, but it depends upon personal preference.
So if you're trying to decide between reclaimed wood and faux beams, key points to consider are: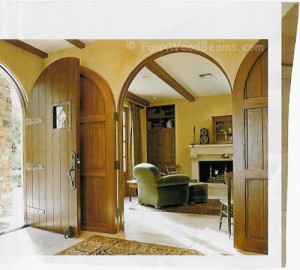 Real wood beams go beautifully with this home's wood trim and rounded doors.
1) Do you want a unique appearance or a consistent one?
2) Is it OK if your beams vary in color or do you want an exact match?
3) Does your renovation feature a conventional straight beam design or a truss?
4) Is the temperature and humidity in your area relatively consistent or are there extremes?
5) Do you like the look of beam straps? Or not?
If you like the beauty of natural wood, despite (or because of) its inconsistent and therefore, unique look, are doing a normal ceiling beam design, don't mind beam straps for longer length beams and have relatively stable weather conditions, then a reclaimed beam could be the perfect choice.
Real wood box beams add warmth and unique beauty to a bedroom design.
On the other hand, if consistency and uniformity of color and grain are key to your interior design or you want to build a truss (especially a complicated one) or live in an area subject to significant shifts in temperature and humidity, then a polyurethane beam might be the better choice. It won't react to extreme heat, cold, humidity or arid conditions, won't warp, twist or check and it takes stain evenly.
If your needs and taste split between the two sides, weigh which points are most important to you to break the tie. Salvaged wood beams can be the perfect way to add a distinctive look without cutting down new trees.
Take a look at the pictures below of how a customer of ours in Rehoboth Beach, DE used salvaged wood beams to give the interior of his beach house a stunning design.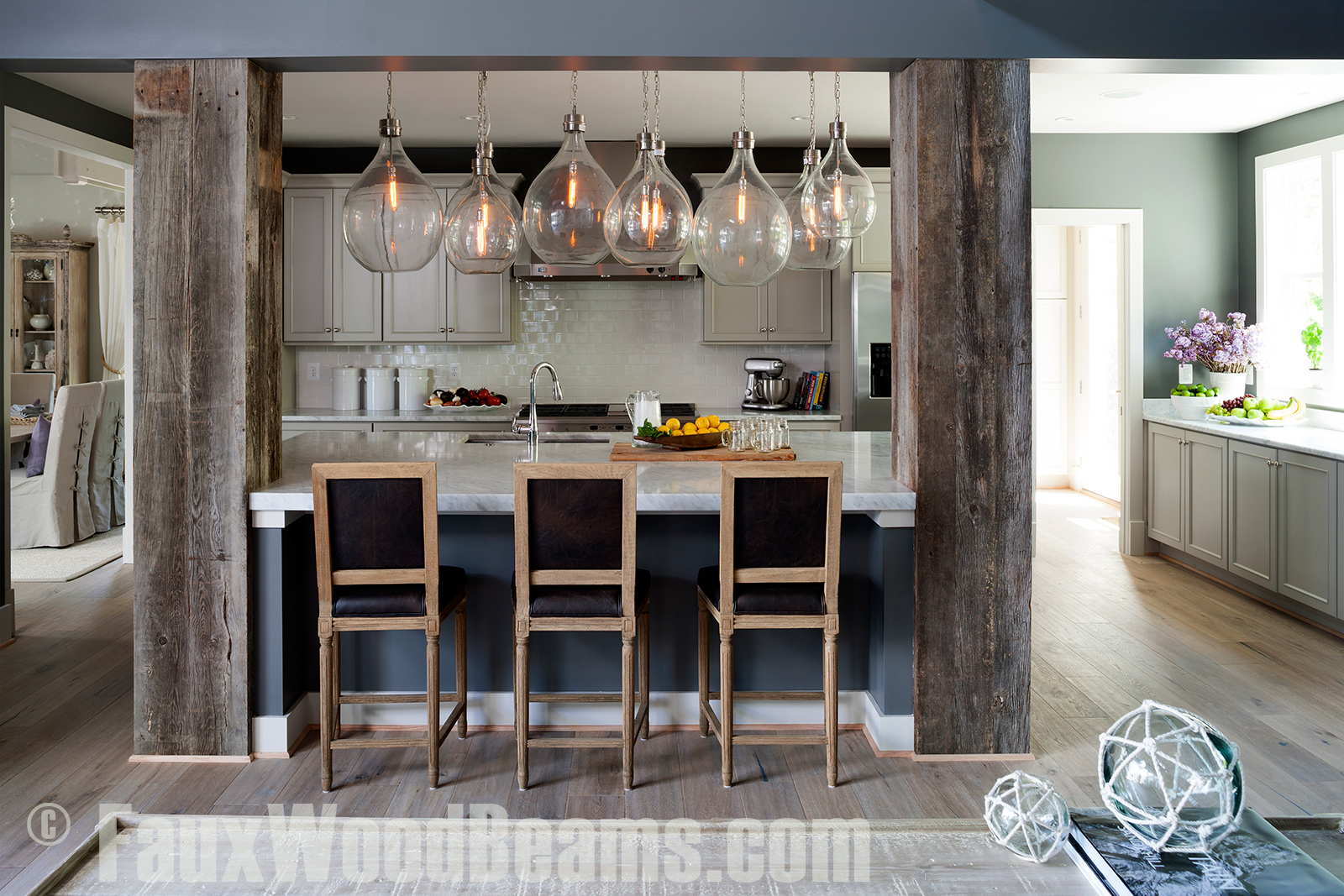 Reclaimed ceiling beams give kitchens a cozy, but captivating decor.
Reclaimed wood ceiling beams add elegant charm to interior designs.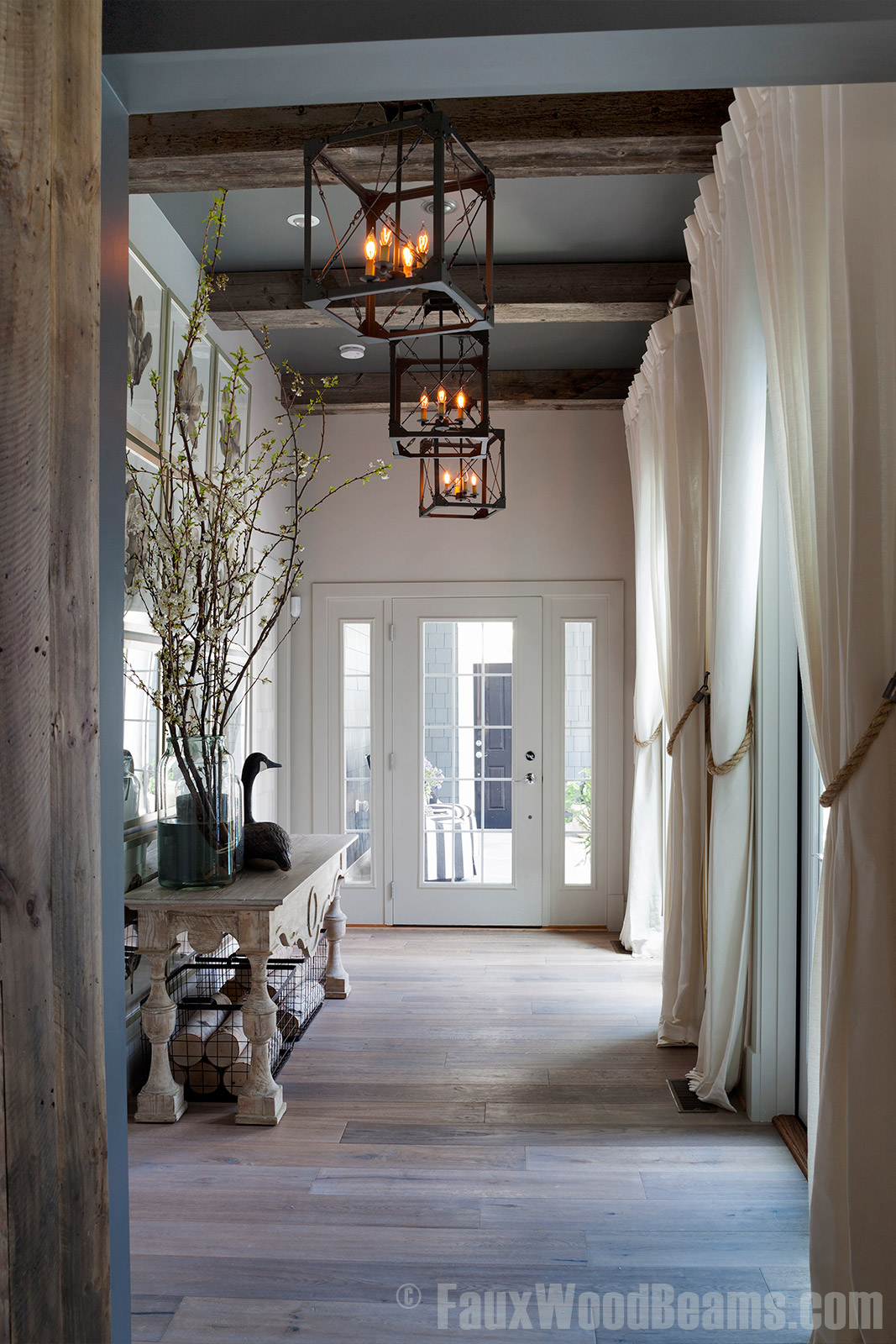 Salvaged wood box beams give interior spaces a relaxing ambiance.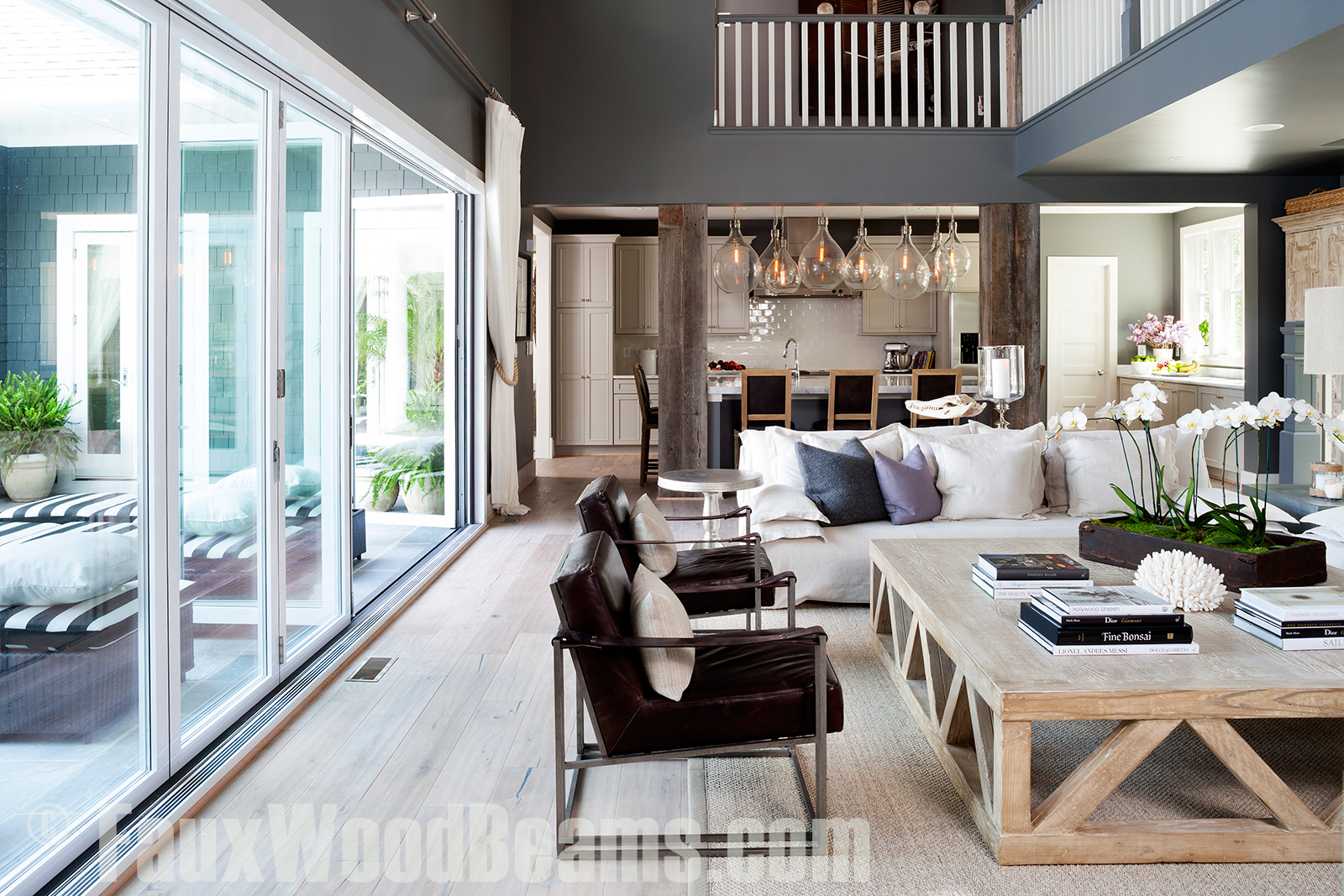 Reclaimed wood beams offer interior designs an inspiring flair that makes a refreshing difference.
Ceiling beams made of reclaimed wood are perfect design elements for your ceiling.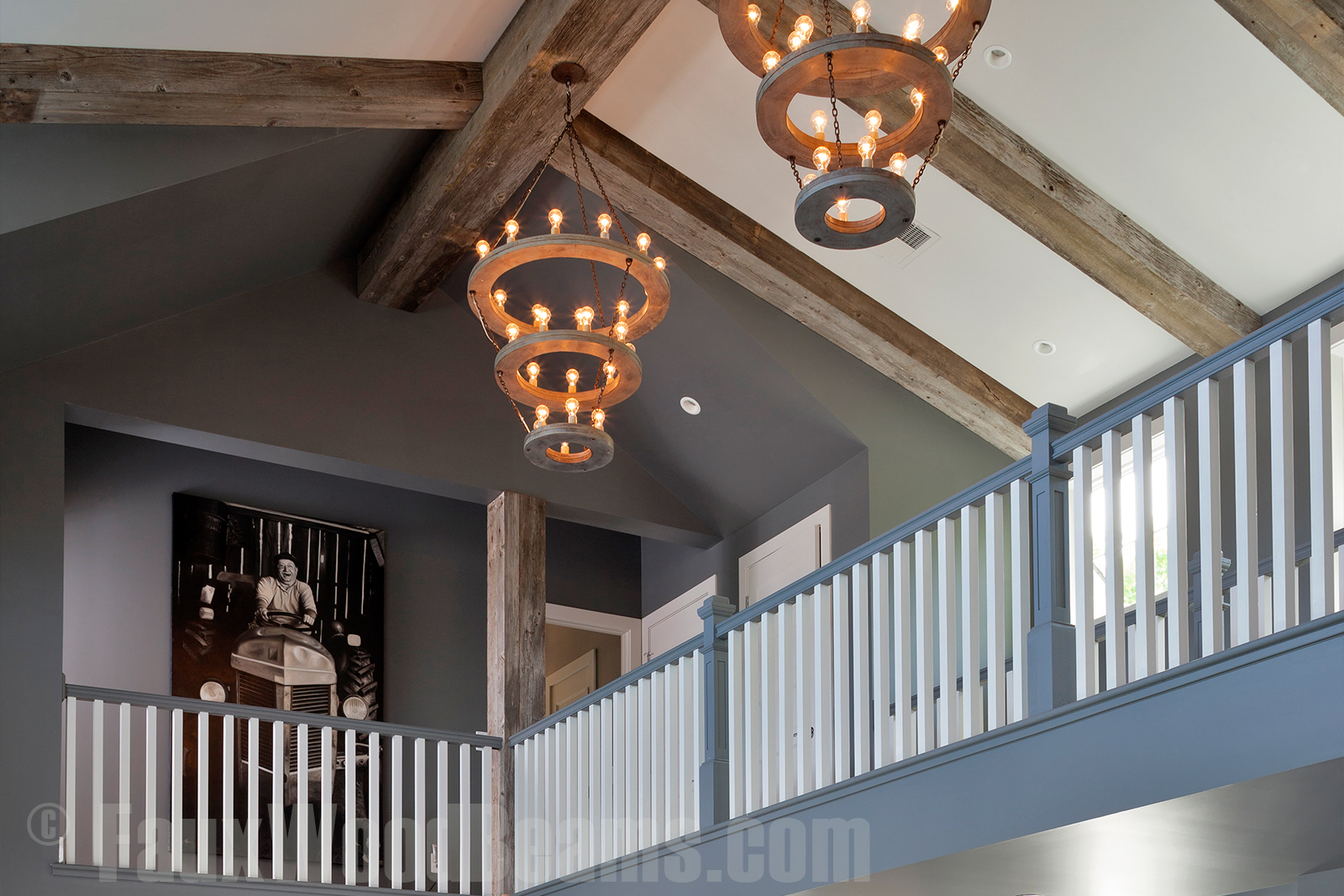 Salvaged wood ceiling beams are a simple and affordable way to transform interiors.