We're always excited to receive photos and letters from our customers, showing us the incredible projects they're created using our faux wood products. Pictures of one project that really blew us away were recently sent to us by Marketechs creative design studio – who used our faux wood beams and planks as part of an incredible museum project.
African Heritage Honored with False Beams and Planks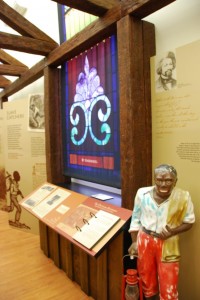 False beams are a seamless addition to the stunning displays of the Africa America museum.
The Central Pennsylvania African American Museum was built by the Old Bethel African Methodist Episcopal Church in Reading to recognize the incredible history and heritage of African Americans.
The museum features vivid displays covering slavery, civil rights and other pivotal moments in black history – and Marketechs used our false beams as a way to bring that rich history to life.
Our false beams and planks helped transform the interior of a relatively modern building (in terms of American heritage, anyway) into an immersive experience with historic style sure to capture the imagination of visitors young and old alike.
In the sections on the slave trade, for example, the beams visually mirror the creaking wood of the slave ships that would have ferried tens of thousands of slaves to the "New World" during the eighteenth century.
For everybody at Barron Designs, it's an incredible honor to have our products incorporated into such an important and inspirational museum. We're also proud of the fact that they serve that purpose so well.
One of the challenges of any museum is to take visitors out of the "here and now" and immerse them in history. Our false beams are vividly realistic, which helps with that goal, but also have some practical touches the museum no doubt found useful.
For example, unlike real timber, our beams are hollow – and can be used to run wires and cables through seamlessly, out of the eye-shot of museum visitors. Our beams are also ideal for mounting concealed lighting or speaker systems; which is great for building interactive displays and exhibits.
If you're in the area, we definitely recommend checking out the Central Pennsylvania African America Museum. It's located on North Tenth Street in Reading, Pa. – and you can contact their office directly by calling (610) 371-8713.