EnhanceThe Theme of Your Place Through Textured Accent Walls
Debbie Dennis from Frederick, Colorado sent us pictures of her new textured accent walls created with stacked stone style panels.
Accent walls are one of the most cost-effective and stylish interior design techniques available. The concept behind them is to use some kind of dramatic or stylish design element on a single wall in a room, and let that change the look of the entire interior.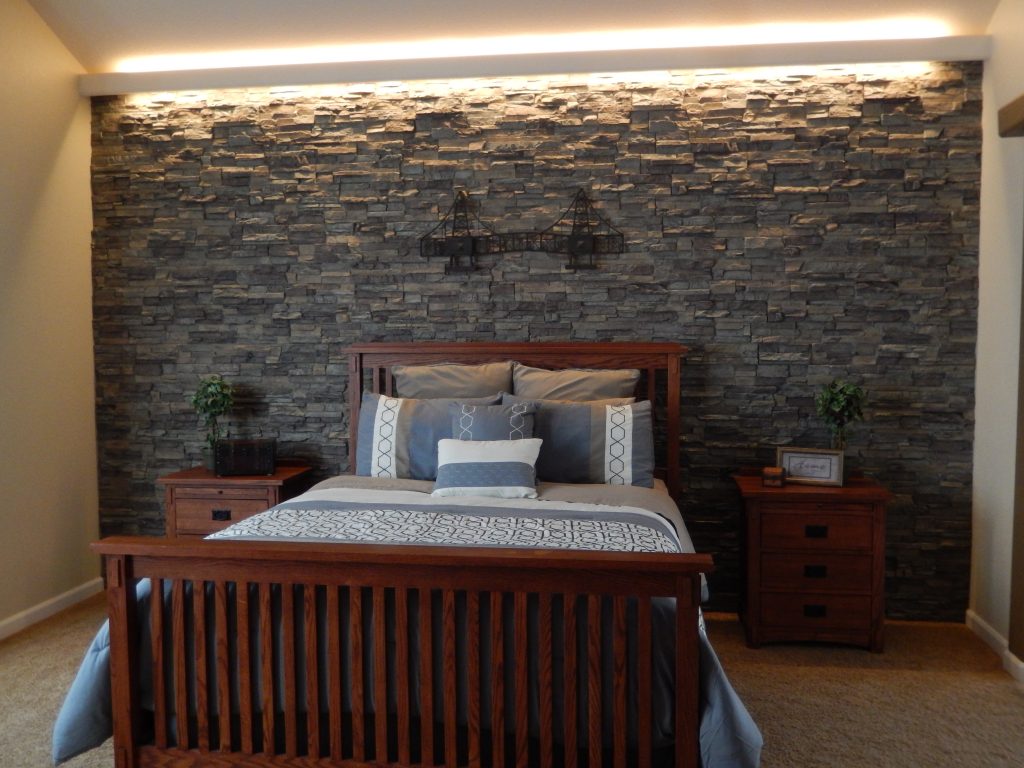 Adding an accent wall with the look of stacked stone gave Debbie's bedroom transformative texture.
It's a technique that's very popular in modern hotels, restaurants and storefronts - and it works on two levels. First off, it allows for a significant design statement without being overwhelming. Secondly, it's very cost-effective as you only need enough materials to cover a single wall.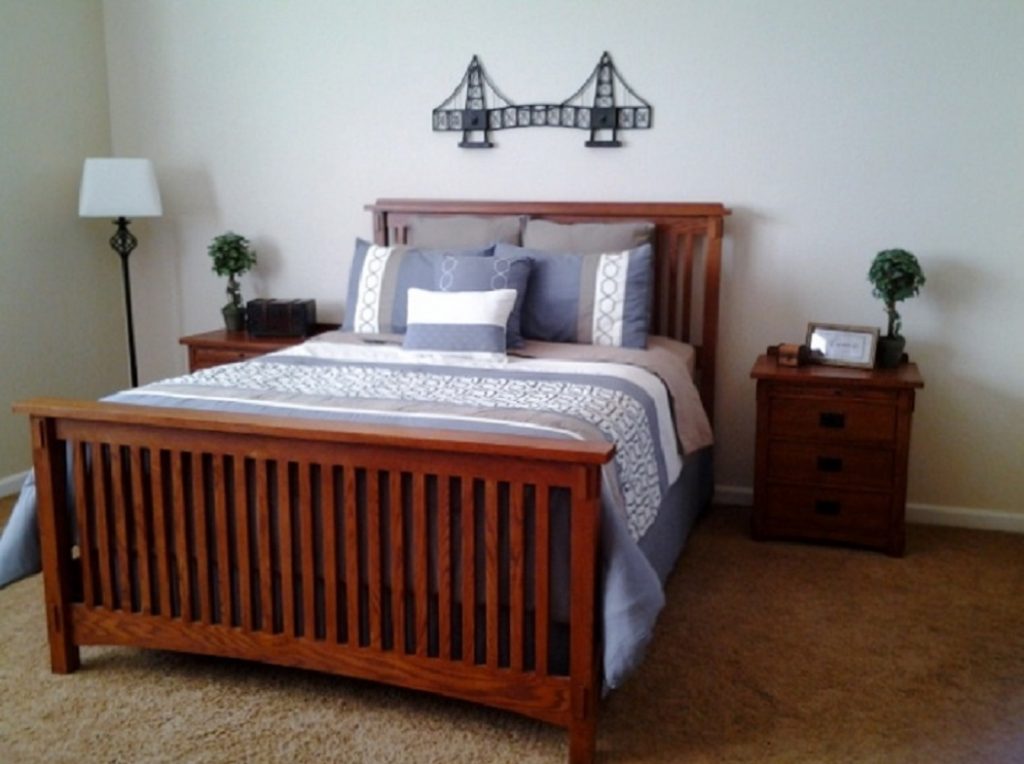 BEFORE: Debbie's bedroom was unremarkable prior to the remodel
The use of accent walls is also becoming ever more popular in people's homes - and these photos are really great examples of how our products can be used to make these types of walls in any modern home - stylishly and affordably.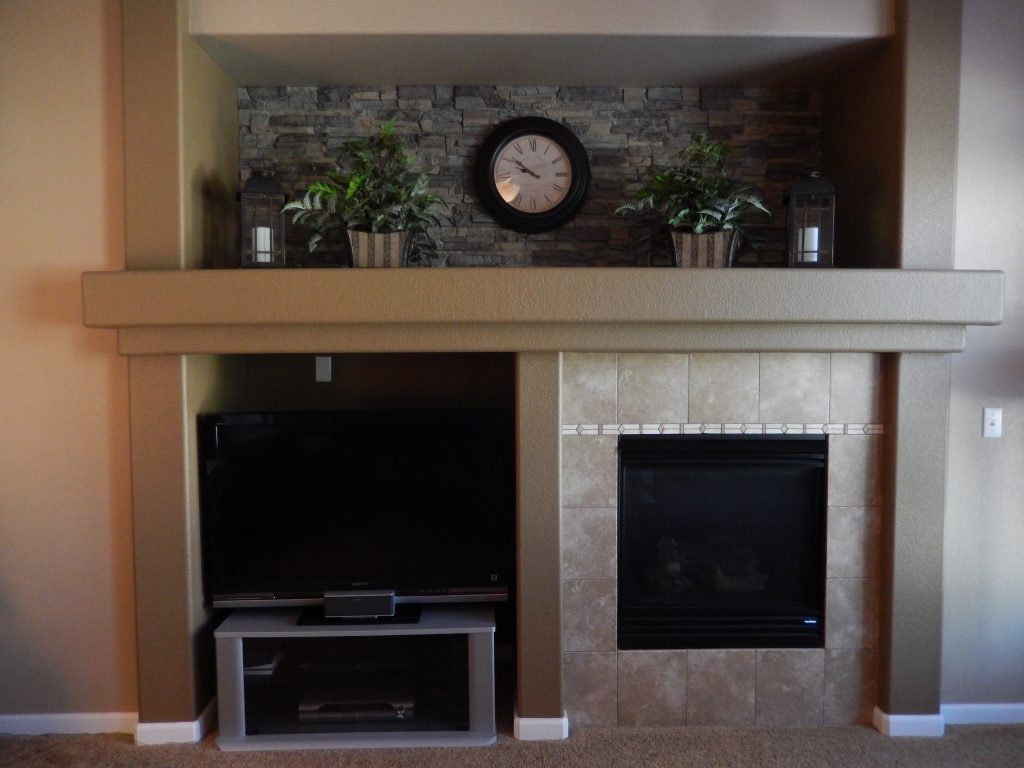 AFTER: Adding the wall paneling to the upper half of the family room alcove gave it a subtle yet significant shift in style.
In her email to us Debbie explained: "We used your Regency Stacked Stone panels in Misty Morning as an accent wall in our bedroom, as well as our family room. We feel the projects turned out beautifully, and really are enjoying the faux stone walls."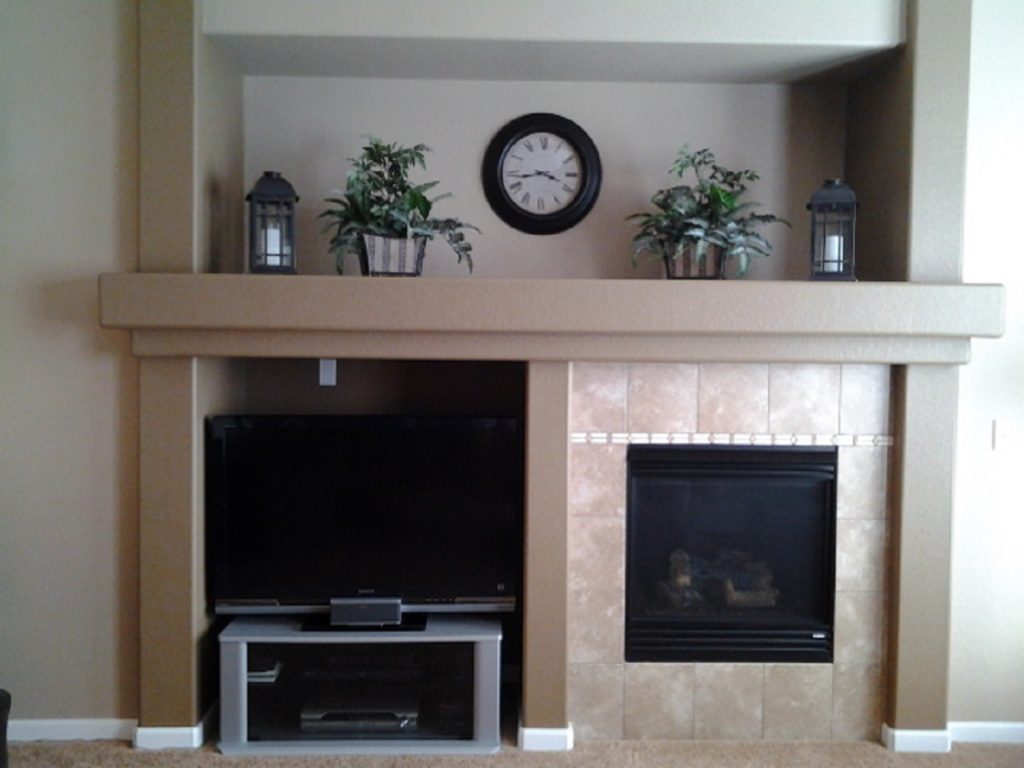 BEFORE: Again, the alcove was unremarkable before Debbie added the panels
Debbie's project is a great example of how to use accent walls effectively. In terms of scale, her use of the paneling is actually quite modest. She used them to cover one entire wall in the bedroom, and then fill in just a small alcove in the living room. That required just a small number of panels; far fewer than you might imagine to achieve a transformation this dramatic.
In terms of installation, the project was similarly straightforward. Our panels are flat, and install onto the existing drywall with nothing more than construction adhesive and screws. In the case of Debbie's project, multiple rows were needed to cover the entire height of the wall - and that was easy to manage because the panels literally slot together like a jigsaw, to ensure a seamless pattern in all directions.
The only challenge was to cut the panels to fit, and to offset each row from the one beneath it, to prevent there being an obvious replication in the pattern. Achieving both of these required nothing more than careful measuring, and then cutting with a regular wood saw. It's definitely something even the most modestly-skilled DIY'er can achieve.
Th end results of Debbie's project speak for themselves - and serve as a perfect illustration of what a big difference a small accent wall can make.