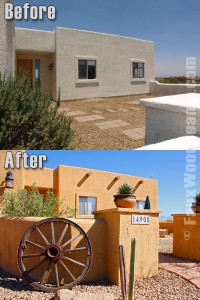 When pioneers first settled in America's southwest, they built houses using the same materials and techniques as the indigenous Native Americans.
That's why historic homes from Texas to California are often single-story ranches, with clay or adobe walls and flat roofs supported by huge wooden beams.
It's an iconic look, and one that many modern homeowners are keen to mimic.
Adding Southwestern Spice With Artificial Wood Beams
Modern house building techniques, however, don't rely on the thick, compressed walls or wooden beams that make this style of home so dramatic. That's why adding some southwest design flair to a modern home takes a little effort and a lot of originality. Here are some tips and techniques for achieving the iconic 'Santa Fe' look:
Exterior:
Stucco: Classic southwestern homes were traditionally built using a material called Adobe – a mixture of sand, clay and water mixed with straw or manure. Adobe bricks would be used to build the structure of the home, and then a plaster-like surface coating would be applied to cover the brickwork. You can mimic this look with modern stucco and reddish/terracotta paint.
Viga tails: The flat roofs of southwestern homes were held up with immense logs or wooden beams, the ends of which would stick out of the exterior walls giving the homes that iconic look. Although modern house building techniques don't rely on wooden beams any more, you can recapture that style with artificial wood 'viga tails' you attach to the exterior walls of your home, which give the appearance of protruding wooden logs or beams. Unlike the real thing, artificial viga tails won't split or crack, and are impervious to insects like wasps, hornets and woodworm.
Headers: Santa Fe homes traditionally had small windows, to keep the interior cool and dark. What windows they did have, however, were normally formed with a wooden lintel over the top. You can mimic this style with an easy-to-install faux header, which you can simply screw or glue above your window to give the appearance of a solid wooden lintel.
Shutters: Another classic design feature of southwestern homes were wooden shutters over the windows, which kept out the heat and the elements.
Interior:
Plaster: The exterior and interior walls of classic Santa Fe style homes shared the same Adobe surface coating, which you can mimic with interior stucco or plaster. If you're looking for a more modern look, a compromise is to simply paint your interior walls a sandy or terracotta color.
Ceiling Beams: One of the most dramatic features of classic southwestern homes are the immense, exposed wooden beams that support the flat roof. Obviously, modern homes don't have beams you can expose – but adding faux beams is an affordable and stylish alternative. They're available in a variety of styles, all made from light, easy-to-install polyurethane.
Fireplace mantels: Although the deserts of the southwest are brutally hot during the day, they can be punishingly cold at night. That's why fireplaces were a frequent feature in classic Santa Fe style homes. A good way to add an authentic feel to your fireplace is by adding a faux mantel. Our Yellowstone Mantel is a particularly appropriate choice – perfectly capturing the resilience of age of distressed old oak.
Lintels and headers: Windows, doorways and archways in southwestern homes used wooden lintels to support their weight. Modern homes don't need these design features, but you can add the look and feel of them with the headers mentioned above. These can be easily added above windows, doors and arches with screws and glue, and add that final finishing touch which really captures the southwestern flavor of classic Santa Fe homes.
Faux beams complete the Santa Fe 'look'
When it comes to turning your modern house into a classic southwestern home, the secret is 'less is more.' Just a few tricks with paint and faux products can create the look you're going for – going overboard, however, will make your efforts look inauthentic.
For inspiration, why not check out our photo gallery or testimonials – where you can see how other customers have used our products to transform their homes. Then, once you've finished your project, be sure to let us know about it.