Jim wanted to take coloring and staining our faux beams a step further to create a weathered wood look full of character.
A Weathered Wood Look in a California Home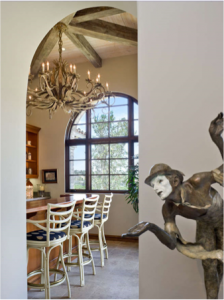 Beams with a weathered wood look are a stunning addition to Jim's dining room
Take a look at the photos Jim sent us of his southern California home and one thing becomes obvious; he's a man with a passion for attention to detail.
Which is why the fact that he chose our Raised Grain beams for his home makeover is a testament to how incredibly real they look.
But even though Jim wrote to us to say "your beams are so cool", when it came time to install them in his own home, he wanted to add a personal touch.
"We came up with a new method to paint your beams to make them look really weathered," he wrote, enclosing pictures.
"We had an artist and contractor build a blend of stains, sand, glue and grout in a two-step process to really make them look aged."
As you can see from the photos, the results are impressive.
Jim's trick was to order our beams unfinished. Made from durable, molded polyurethane they take regular wood stain and paint just like the real thing; allowing home decorators to get a unique look that perfectly matches the other colors in their home.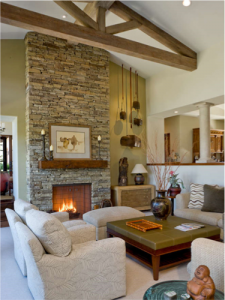 An elegant weathered wood truss livens up the living room ceiling
If you're not feeling artistic, our beams are also available in a variety of different colors; intricately detailed to perfectly mimic real wood.
Jim then took our beams even further. In his living room, he created a beautiful truss design; plus a stunning star-shaped arrangement over the dining table.
Because our beams are breathtakingly light in comparison to real wood – and you can cut them easily with a regular wood saw – the limits of what you can do with them are ultimately only limited by your imagination.
And imagination, it seems, is something Jim has in abundance.
Thanks for sending your pictures in, Jim!