A Stonewall Theme for the Front Door
One rule we'll repeat time and time again on this blog is that "less is more" - and you can see that philosophy in action in this deceptively straight-foward panel project involving a stylish new front door surround.
Fauxpanels.com customer Tina recently emailed these pictures - demonstrating what a massive difference a few Norwich Dakota Stonewall panels, in toasted Vanilla, made to her home exterior.
The concept of the project was as simple as it gets. The home had a freshly-finished new doorway, with the house wrapper still on it. Tina wanted something stylish and dramatic rather than traditional siding, and looked into our products to get some ideas.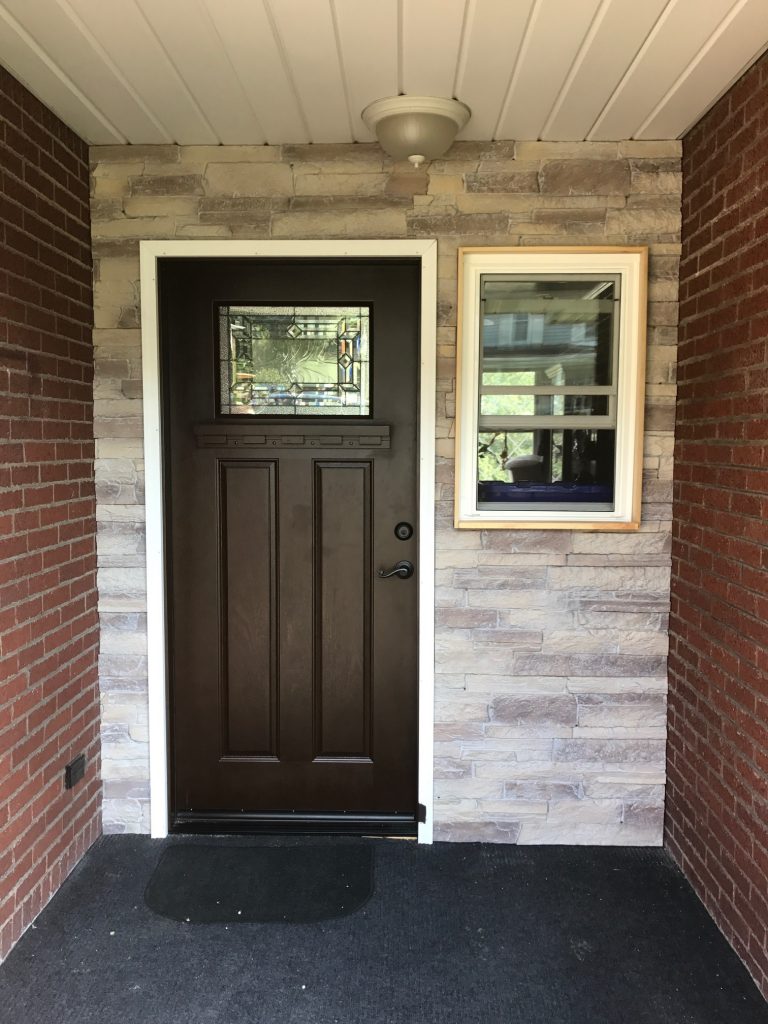 Door surround complete
In the end she settled on purchasing the Norwich panels, which recreate the look of stone walling in vivid, three-dimensional realism.
The space needed to cover wasn't extensive, so it only took a few panels to accomplish - but you can see for yourself in the AFTER picture that they look fantastic. The secret of Tina's success was choosing a subtle, understated texture that was very much in keeping with other homes in the area. The difference is, of course, that those homeowners spent thousands of additional dollars to use actual stone, whereas she enjoyed the same look at a fraction of the price.
The panels were also far easier to install. The biggest challenge was cutting them to fit flush with the doorway and window. That, fortunately, is very simple as our panels can be trimmed with a regular wood saw.
Before
After that, they attached directly to the wall surrounding the door - and because they're made from durable, closed-cell polyurethane, provide excellent coverage and protection against the elements, in addition to looking fantastic.
In just the space of a weekend, Tina added a stylish new element to her home - and it'll keep looking great for decades to come.
"It totally changed the look of our entry wall," Tina writes, in the email that accompanied these pictures, "and they were so easy to work with."
We think the completed project looks amazing - but what do you think? Let us know in the comments section below.