Exposed Wooden Beams Ceiling can Payoff
A recent article in the Las Vegas Review-Journal made a bold claim, but one backed up by anecdotal stories from our customers: Adding rustic decor details like exposed beams can add as much as 30% to your home's value.

You can see what a dramatic difference our beams make.
"No matter the look of a room's interior or the style of the decor, exposed ceiling beams can add depth and warmth to a home's ambiance... Starter homes with listings that featured farmhouse or rustic details, including exposed beams, sold for nearly 30 percent above comparable homes, according to a recent report by Realestate.com."
Of course, with modern home building techniques - especially in areas of constant development like Las Vegas - there are no structural beams to expose; which is where products like our faux beams come into play. Manufactured from lightweight and durable polyurethane foam, our beams recreate the look of real wood; yet at a fraction of the price and without any need to extensive installation modifications.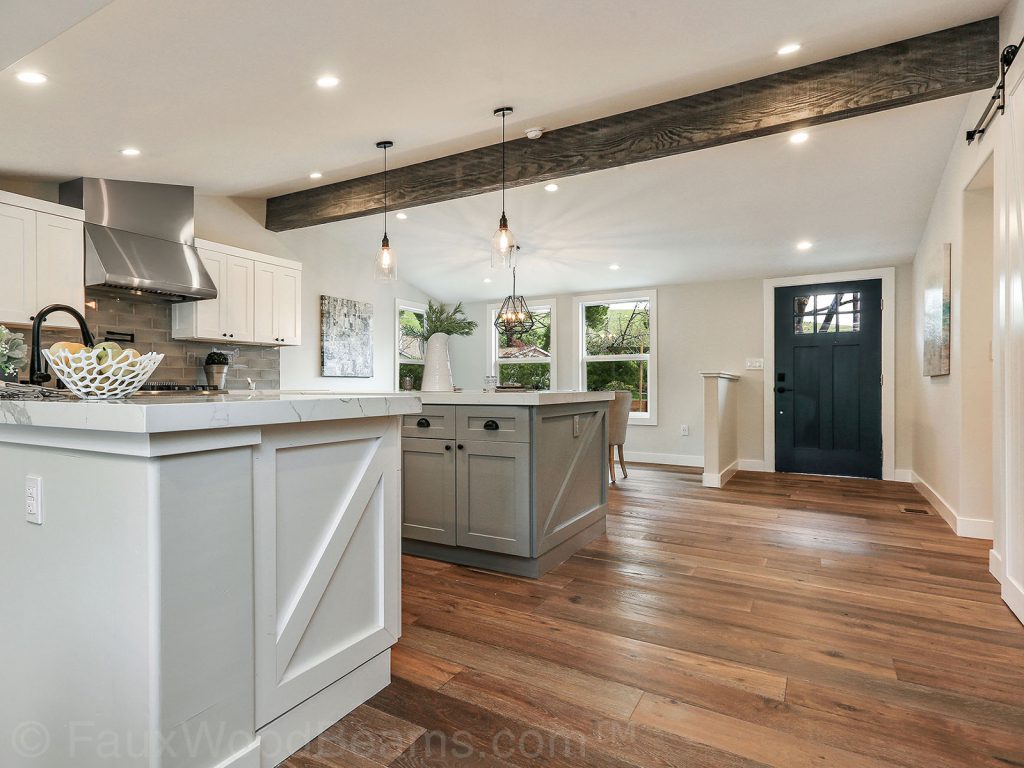 Even a single beam can transform a room
"You don't need a load-bearing wall as an excuse to install a stunning beam that runs the length of the room," reporter Kimberly McGee writes. She reports that people are "surprised at the ease at which the lightweight wood goes up, as well as the effect it has on a room."
"I thought it might look like an old barn in our living room, but it feels more open and cozy at the same time," said retired mechanic Joe, who was interviewed for the article. Retired schoolteacher Rhonda commented: "It flips that modern look a little, gives it more depth. There's a comfy feeling in the room now. It's a show-stopper for sure."
There are a variety of reasons why exposed beams make such a dramatic difference, but one common thread is that they 'frame' a room. Modern American homes tend to be quite large, and the huge expanse of ceiling can look overwhelming and wash out the features of a room. Framing it with beams helps establish a 'shape' to the room and paradoxically make the space feel larger.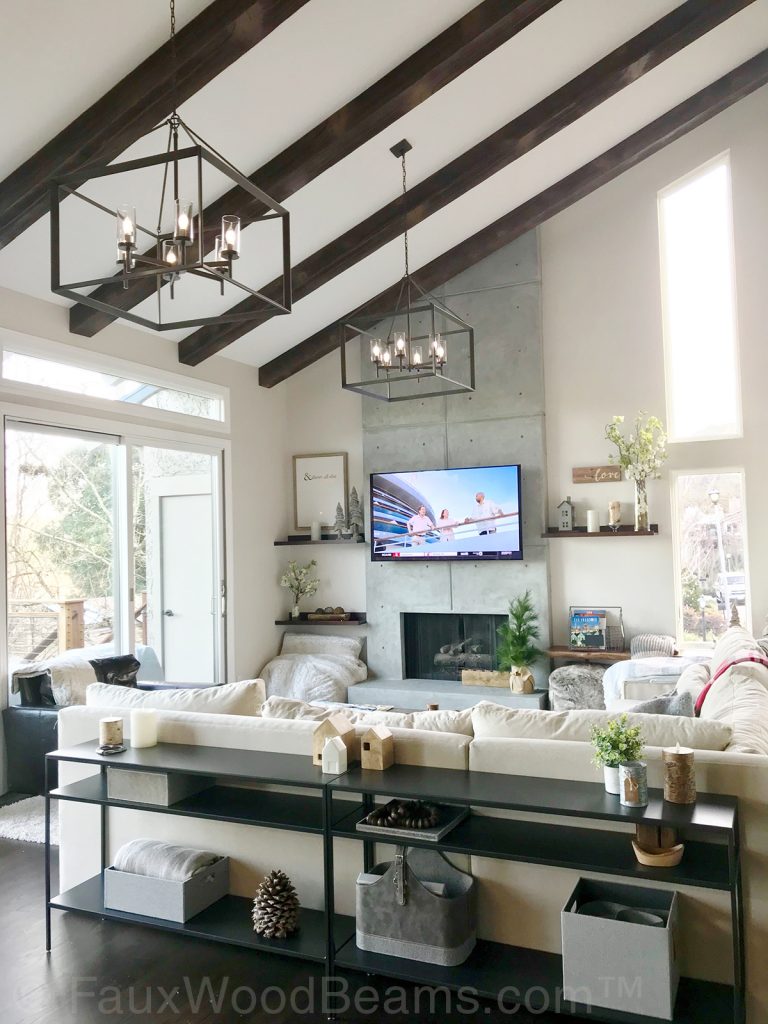 Even a modern style room can benefit from a rustic touch.
"A plain kitchen can turn into a dramatic gathering space with the addition of exposed beams," Kimberly writes. "A fireplace can become a standout decor piece in an otherwise bland room."
We couldn't agree more - and as you can see from this blog, we have literally hundreds of customer photos to demonstrate that fact. We had not heard the claim that rustic details could increase a house price; but it doesn't surprise us in the slightest. It's another example of the incredible value our faux wood products offer - beyond just the stunning style and look they can add to your home.