Rustic Wood Design Ideas
What our customers love about our heavily distressed wood beams is that they perfectly replicate the look of real distressed wood - complete with pronounced notches, nicks, and grooves - in such a striking way that it's impossible to tell the difference.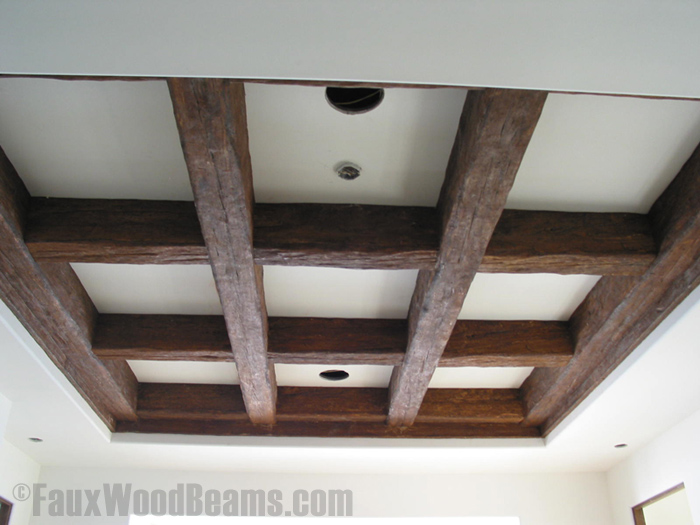 The especially rustic look they give to designs is impressive and aesthetically pleasing for both interiors and exteriors. Thanks to their tough, durable, yet lightweight construction, the beams will last throughout the years and continue to look great, while withstanding the wear and tear of time and the elements.
Custom Timber beam with decorative strap accents an entranceway
Showcased below are a few customer projects that used the distressed wood look to their best advantage.
The hand-distressed appearance of Custom Tuscany beams replicates the rich details of a Mediterranean ceiling design, and creates a gorgeous look that makes any room feel both cozy and cosmopolitan. Kelly of Wichita, KS used both the Arched style as well as the straight Tuscany beams to improve the ambiance of her kitchen, living room and dining room.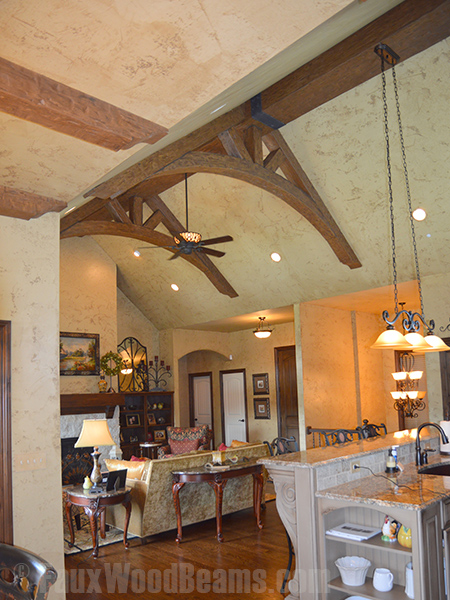 Trusses built with straight and arched Tuscany beams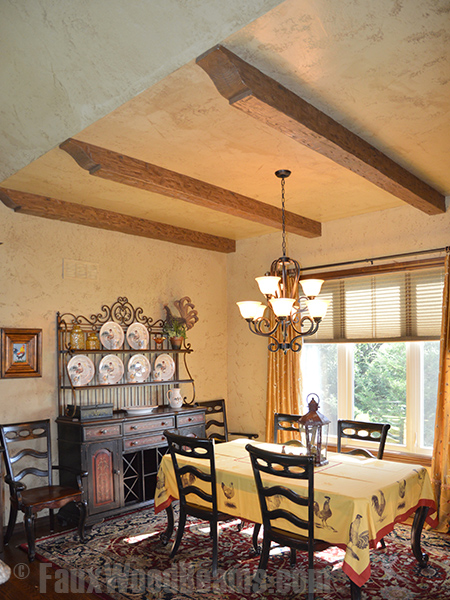 Kelly's dining room with Tuscany beams capped with decorative corbels
I thought you might like to see the pictures of my house after the installation of the faux beams you designed for my living room, dining and kitchen areas. As you can see, the beams are FANTASTIC! The beams look as if they were put in when the house was built and they really warm up the rooms. With the tall ceilings I have, it felt a bit cavernous in my living room especially, but now it fells warm and truly gives that rustic farmhouse feel to the room that I wanted. I can't say enough good things about how it looks now. Everyone who has come over to see them thinks they are real wood beams and ask me how much the "reclaimed lumber" cost. They are shocked when I tell them the beams are faux.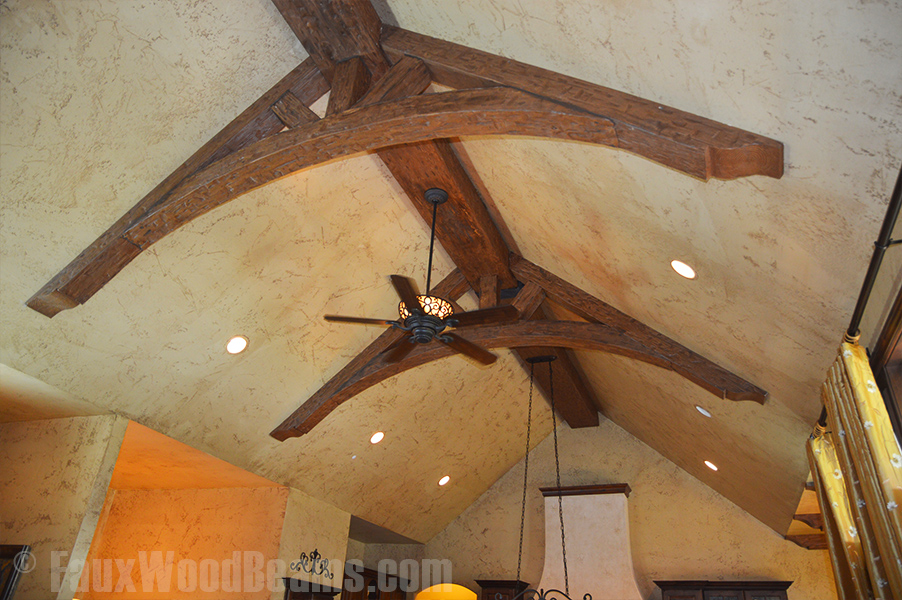 My contractor did a great job installing them—the trim carpenter that put these up said the video on the web site really helped him get it all together and that is was pretty easy to follow the video and the design you sent to put them up. Though I had to wait on the schedule because of my vacation and other jobs the contractor had going, once they started installation it went very smooth and they actually took less time than they thought. Thank you very much for all the help you gave me. My contractor is really excited about your product—he took the samples I ordered originally to select the beam style because he thinks some of his other customers doing remodels would be interested in this given the cost and ease of installation. Maybe you will get some more jobs, who knows.
Again, my thanks for your professionalism and quality design! -Kelly H., Wichita, KS
---
My new faux wood beams have provided my place the look I wanted. They look like real barn beams and even though they are surprisingly lightweight, the beam is strong enough to hold hooks for hanging objects.
When I finish re-painting the walls with color, my home is going to look fantastic because of the cozy farmhouse feel of the beams. The person who installed them for me said it was easy.
Ordering these was simple and the delivery was prompt. I am super happy with these. – E. Hunter
---
Custom Timber Ceiling Beams are a fantastic way to bring rustic visual interest to interior designs. Our customers love the way these beams have added a new depth and coziness to their homes. The look of genuine timber the beams have is impossible to tell from the real thing. Our customers, Carol and Jackie, both used the faux Timber beams for their remodeling projects and are thrilled with the results.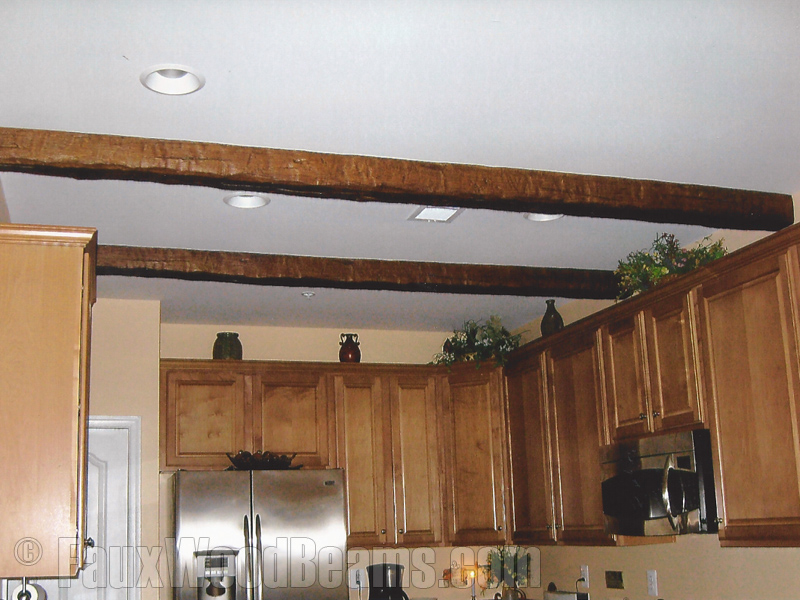 Custom Timber Beams will fit the dimensions of almost any ceiling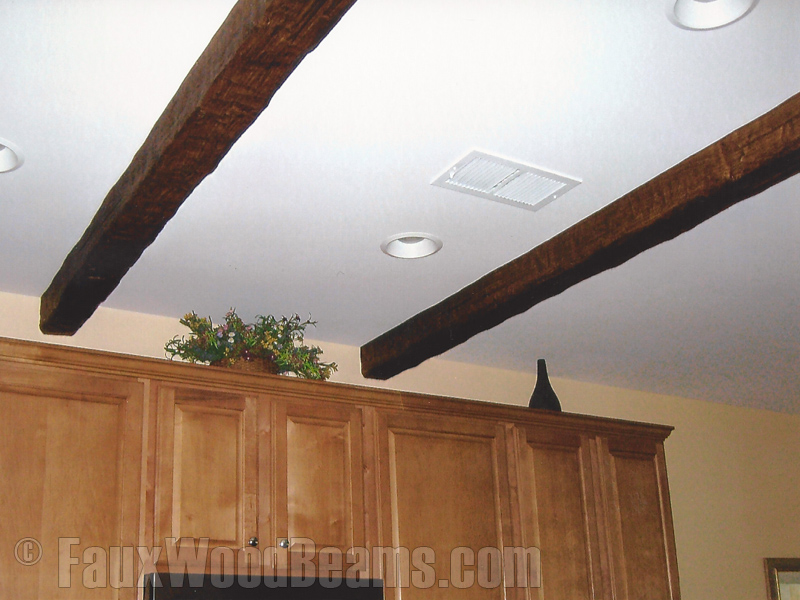 Custom Timber beams add rustic character to the kitchen
I received three Timbers from your company a couple weeks ago. The Timbers are in place and they look great. I have enclosed pictures before and after as was requested in one of your advertisements. I hope you can use them.
I live in a retirement community so my house is not huge. The Timbers bring warmth to my living area and kitchen. These Timbers are not just for big houses. My neighbors and family think my house is unique with this good decorating choice.
The Timbers arrived very well packed and no damage. A friend and I put them up in a day and a half. We are both seniors. Even senior citizens can do this. As the saying goes "measure twice and cut once". We took our time and had no problems. – Carol S., Taneytown, MD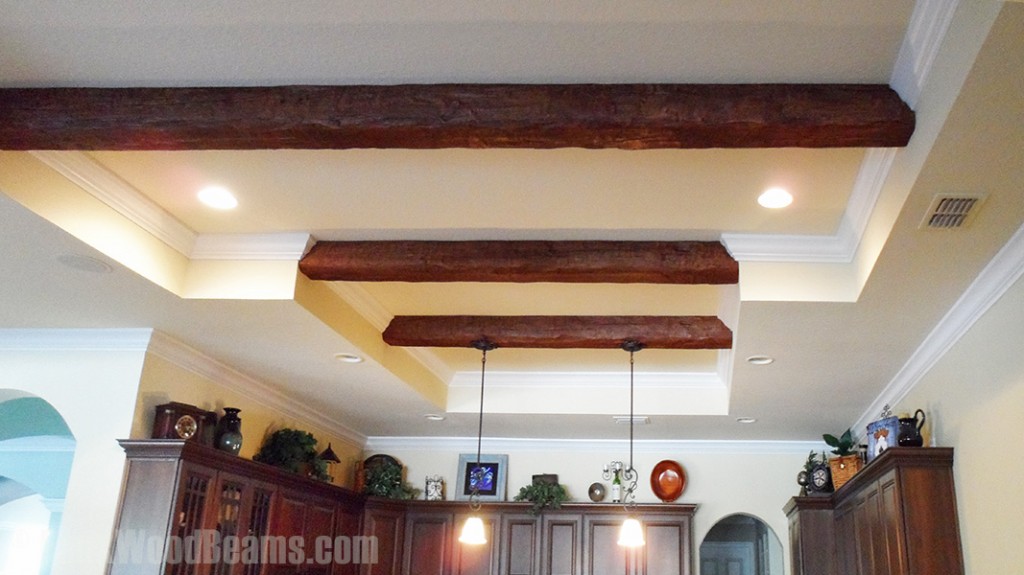 Custom Timber looking great on the kitchen's recessed ceiling
I told you I would send in pictures of my kitchen remodel. This is the wall with the matching island. I am so happy with your product and have tons of compliments. People want to know what it is, and where I got it. It's hard shooting a picture into the light, so had to have the blinds closed. Hopefully this will give you an idea. You have great customer service and everything was well packaged with no damage. -Jackie W.
In addition to being easy to install, these heavily distressed Custom beams are available in thousands of different size combinations. Thanks to this, there's a beam that will work for you, no matter what your design or room dimensions.