Floating Mantel for a Gorgeous Fireplace
A customer sent us pictures of his new floating fireplace mantel in the Custom Beachwood style, demonstrating how faux wood really measures up, even when paired with a real stone fireplace.
One common question when people are considering the decision to "go faux" is: How realistic are your products?
To us, the best demonstration of our products' realism is seeing how they look installed in homes and businesses. The large collection of customer photos we display on our website is a great resource to that end. But if you'd like a closer look, you can also order samples before you decide to buy. (The price of the samples is fully refunded when you place your next order).
These project photos sent in by Nathan Overturf show a Custom Beachwood Mantel installed on his fireplace/TV wall in his beautiful home. What we love about these photos is that they show how real the mantel looks, even in comparison to the real stone surround. When 'faux' still looks the part even when contrasted against something 'real', we think the quality of our products speaks for themselves.
In this instance, Nathan wanted a final element to finish off the look of his beautiful, bespoke fireplace project. He'd carefully constructed a fireplace in his home, and cleverly installed recessed shelving and a covered fireplace built right into the wall. He finished that with a stone accent wall, made using real stone (we might have suggested a more practical, affordable and fire-rated alternative from BarronDesigns.com - but Nathan's fireplace still looks great!)
After installing the fireplace and TV surrounded by handy recessed shelving and the stone accent wall, Nathan needed something to separate the gaping space between the fireplace and the wall-mounted television. A real wood mantel would have looked great against the stone, but the framing and construction wouldn't support its weight.
And that's where we came in. Nathan visited BarronDesigns.com and saw that our mantels not only look real, they weigh a fraction of real wood at a much more affordable price. After consulting with our helpful customer service team, he ordered the Beachwood mantel and secured it on mounting blocks drilled into the framing beneath the stone.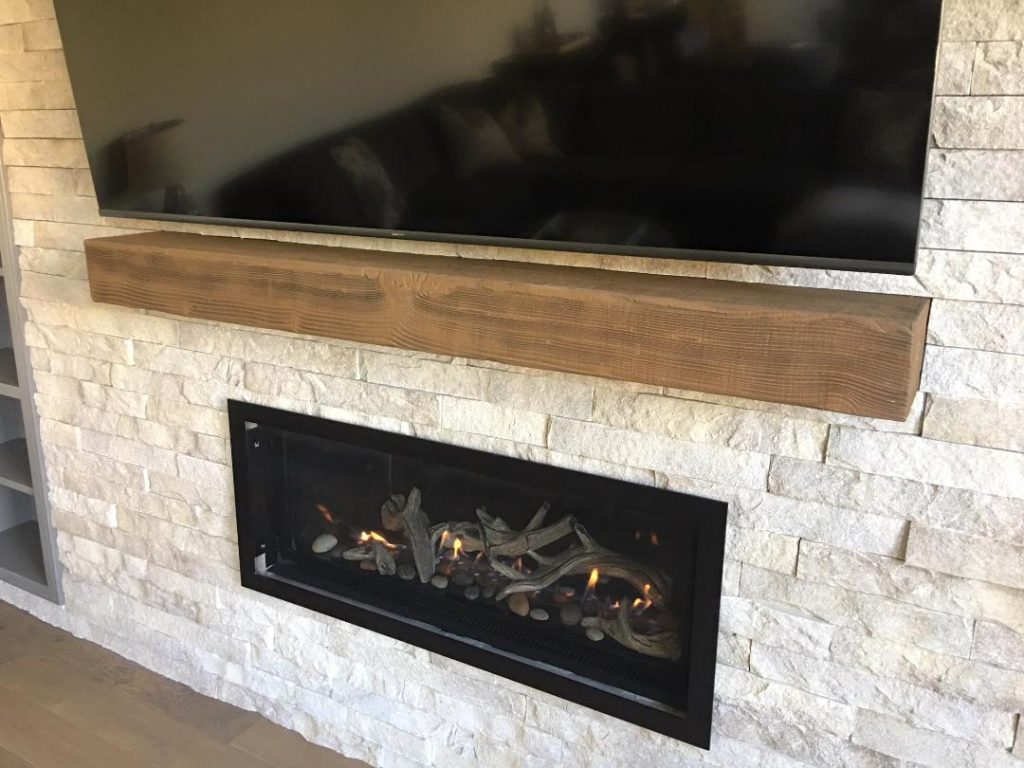 It's an installation process that takes less than an hour, and the mantel is functional as well as decorative - easily supporting the weight of pictures, vases and other modestly-sized objects.
The mantel was created using an innovative injection molding process that captures every knot, grain and imperfection from the original beach-weathered wood, and recreates it in a lightweight and durable polyurethane foam.
You can order our products unfinished, but Nathan selected the Walnut stain, and the end result looks so natural you'd have to reach out and touch it to know it was faux.
So, what do you think of Nathan's project? Do you like the mantel he chose? Let us know in the comments section below.