Jeff Wildermuth's project demonstrates how easy it can be to become a master installer of faux stone panels - and how a few stone veneer accents can go a long way in exterior design.
Minimal Stone Veneer Accents Go a Long Way
A strip of Somerset stone veneer added to the home's exterior
"I've become an expert in installing this stuff," writes customer Jeff Wildermuth, in the email that accompanied the stunning shots of his completed design. "I've just finished my project using your awesome product."
The product in question were our Somerset Dry Stack Pecan panels – plus matching corner pieces and columns. Jeff cleverly used them as accent pieces to the exterior of his stunning Florida home; producing an effect that's subtle and sophisticated.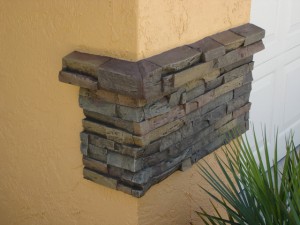 Rather than side his entire home, Jeff added small sections of the panels to detail areas like corners.
Jeff's trick was to use the panels to highlight specific architectural details, like the corners and siding.
As you can see from these after photos, just a few panels radically change the look of the house. It's this kind of effect that the panels are especially suitable for.
Because Jeff's home was already built, it would have been difficult and expensive to add real stone details like these (although not as expensive as building an entire home in dry stack stone!)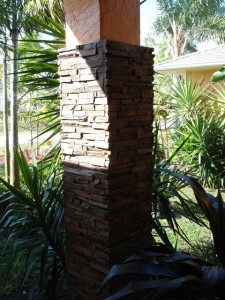 Covering the support columns with Dry Stack added a craftsman look to his veranda.
Instead, Jeff was able to install the panels directly to the existing wall, with a combination of construction adhesive and regular screws.
Using a standard wood saw – like almost every American has sitting in their garage – Jeff could cut the panels to fit and get exactly the look he was aiming for.
The panels' appearance comes from a molding process in durable polyurethane - capturing every nook, crevice and crack of real stone.
They are then intricately detailed with realistic colors; with a result so authentic looking people can only confirm they're not real when they actually touch them.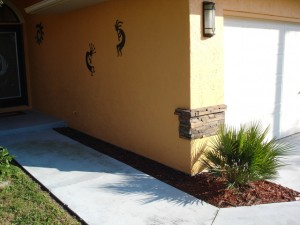 Subtlety is the key to Jeff's stylish and sophisticated exterior redesign.
But while the panels retain the look of stone, they're a fraction of the weight (and cost.)
That's why Jeff was able to install them so quickly – and so well. In fact, after getting the hang of connecting corner pieces and intersecting panels, there's pretty much nothing you can't do with them.
Although the project took a little longer than that, Jeff became an "overnight expert" at faux finishing!
What do you make of Jeff's home transformation? Do you like his "less-is-more" approach?