Using Faux Rustic Wood Planks to Complement Appearance
Many different customers of ours have discovered faux rustic wood planks as a way to add an exciting touch to their designs. With a colorful and highly natural look, they accentuate interiors as beautifully as genuine wood does. In fact, you won't even be able to tell the difference!
Add them to a ceiling for an elegant accent. Use them to touch up your store and create an inviting ambiance. Install them in places where using real wood would be difficult. They can also be installed right alongside real wood, and blend right in. The number of design possibilities offered by our planks is nearly limitless. Below see six examples of where the planks can do their magic.
1. Retail Stores
Creating a welcoming environment is an important aspect of retail store design. It's important that customers feel comfortable in a store and look forward to returning. Giving a cozy feel to a store is a good way to do this. A great way to add an inviting ambiance to your store is accenting the walls and ceiling. With faux planks, it's easy to do that. They are lightweight, easy to install, and require no maintenance or upkeep.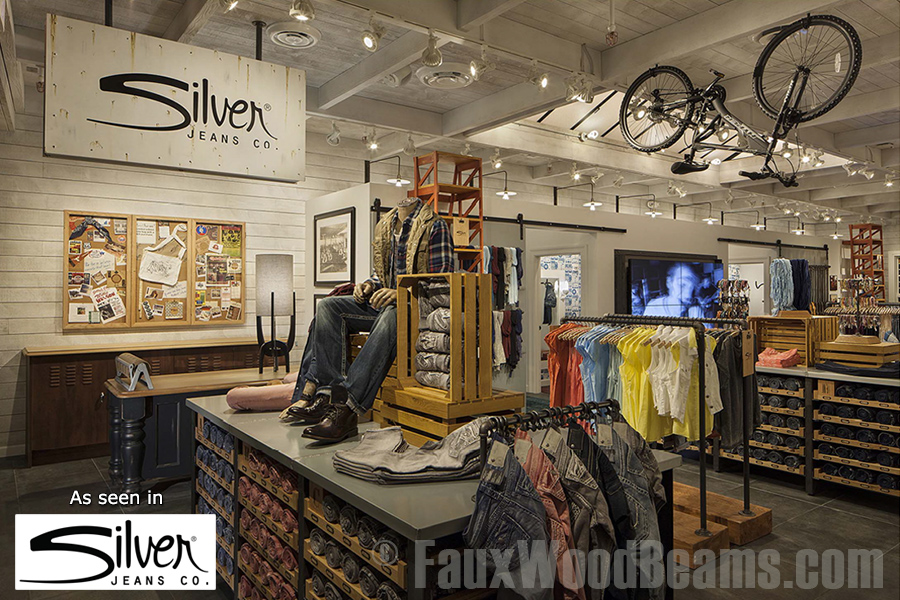 Faux rustic wood planks add an inviting ambiance to stores.
2. Apartments
In addition to looking great on the walls and ceilings of homes, the planks are also great for use in apartments and condominiums. They add a natural, relaxing ambiance to any room. If you're not sure how you can easily and affordably enhance the design of your apartment, faux is a fantastic alternative to real wood, which is heavier and not as easy to install.
Condominiums and apartments have a light, airy feel with fake wood ceiling planks.
3. Dens
Ceiling designs in dens should always reflect the special comfort usually associated with this kind of room. The planks are an ideal way to balance and bring together the cozy elements of such a space. Combining them with our wood beams and panels can also create unique visual appeal.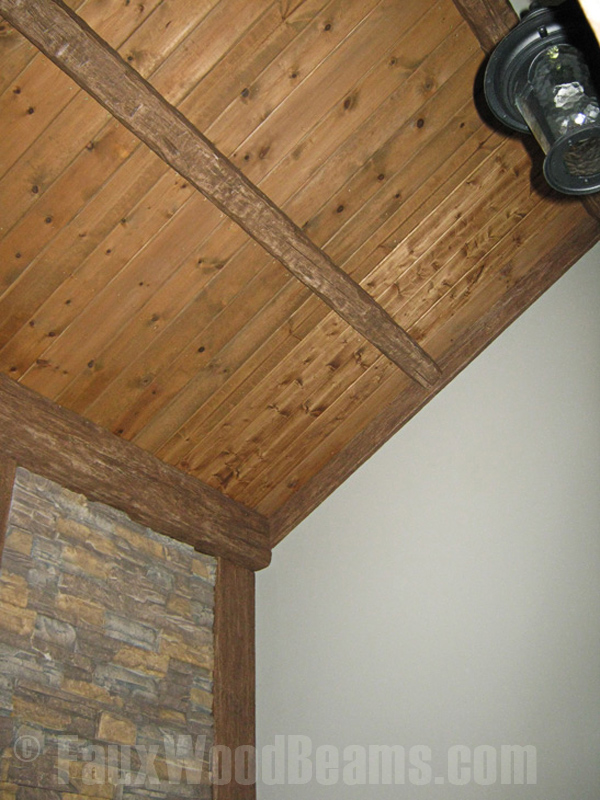 The planks add a relaxed element to den ceiling designs.
4. Kitchens
The planks are a wonderful addition to kitchen designs. Impervious to moisture, you can cook and wash up without worrying about the steam warping or cracking the material. Use them to add a rustic touch, and you will feel right at home in your kitchen.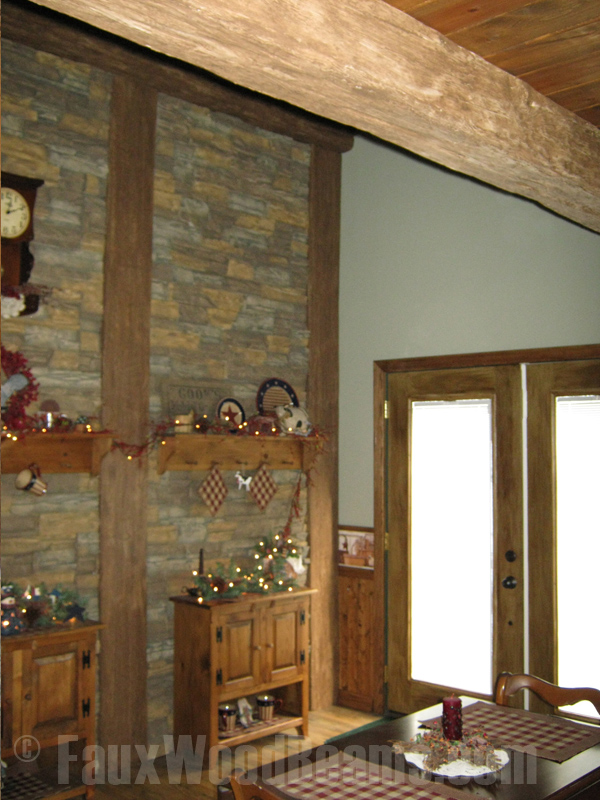 T planks blend beautifully with this kitchen's stone wall
5. Historic Homes
In addition to our beams and corbels, the planks are practical for remodeling historic homes. Using genuine wood to replace original ceiling and wall planks is expensive and labor intensive. Faux planks on the other hand, are easy to install and budget-friendly. It's also easy to match them with the aged wood you'll find in historic homes.
Faux planks can easily match the aged wood you'd find in historic homes.
6. Tudor Homes
On Tudor Revival homes, the planks can replace the half-timbers on the exterior. Weatherproof and constructed of highly-durable polyurethane, you won't need to worry about replacing them through the years, as is normally required with real wood. Never failing to to look great, the planks can easily last 20 years or more, and require no maintenance. They also don't attract wood-damaging pests like termites.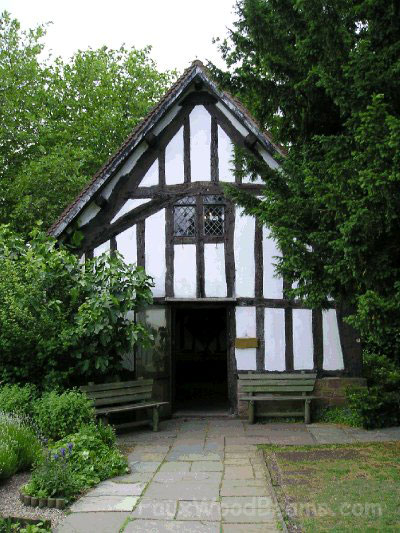 Faux wood planks easily replace the half-timbers on Tudor Revival homes.
For more ideas on how you can use planks to upgrade the look of your home, take a look at our Plank Design Ideas gallery.