While much of the time we spend decorating the exterior of our homes is focused on how it looks during the daylight hours, it often escapes us that the way it appears in the evening matters just as much. We can tend to forget that our entryways, gardens, front porches and siding aren't naturally illuminated at night like they are during the day.
To solve that problem, outdoor lights can illuminate and accent your home's exterior when it's dark out. The result will be an evening ambience for your home that makes you and your guests feel more comfortable and secure, while discouraging prowlers from invading your property late at night.
Below are five outdoor lighting ideas for your property that are well worth taking into consideration. We will look at how wall sconces, garden lamps, walkway lights, spotlights, and fake stone columns with cap lights all add to your property's evening curb appeal. Each will enhance your home's value, add comfort, and provide extra security.
5 Ideas for Outdoor Lighting to Help Illuminate Curb Appeal
The first idea is to use simple wall sconces as lighting fixtures on your front entrance. The light they provide is soft, but it creates a relaxing feel that's nice to come home to. Though the illumination they provide is subtle, simple wall sconces like the ones below are an easy way to add to your home's attractiveness when it's dark out.
Lights for your garden and lawn are also a tasteful way to give an evening facelift to your landscape. Available from numerous outlets in halogen bulbs, LED, and solar-powered lighting, garden lamps can keep your garden colorful at night, and even accent different spots on your lawn. Either way, they're a nice complement to your property.
Walkway lights are another simple way to brighten your landscape, add to its security, and bring a glow to its appeal. Line them on one side of your walkway, or on both. Either way, the ambience they create will make your home stand out in your neighborhood, and make a pathway you'll love walking on, day and night.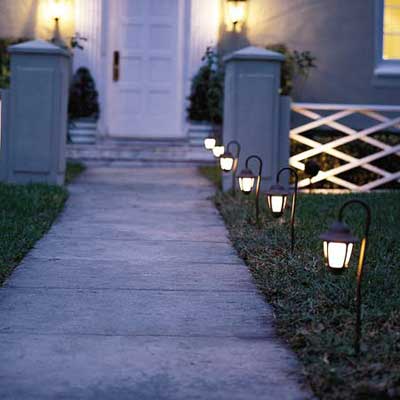 Spotlights are also a good way to create a dramatic effect on your home's exterior at night. Place them in parts of your lawn where they'll light up the parts of your house you'd like to highlight for dramatic effect. Spotlighting trees in your yard so that their shadows appear on your house is one way to easily create that kind of effect. Just make sure to use spotlights minimally. Too many will create glare, and potentially offend neighbors.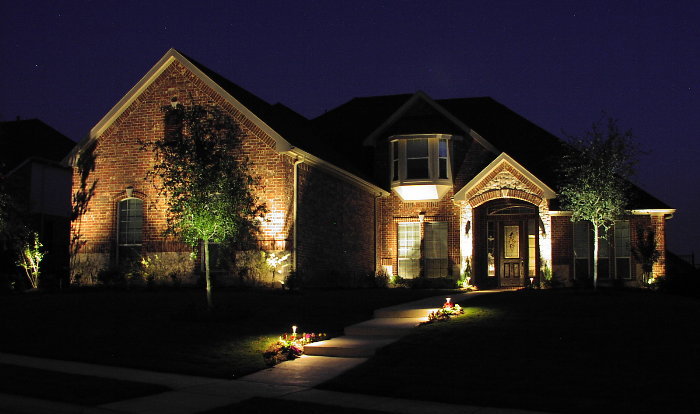 Another way to add eye-catching illumination to your property while increasing its curb appeal is with a Windsor Fake Stone Column. Possessing the realistic charm of mason-crafted stonework, these columns complement any landscape beautifully. Available as mailbox posts and as standalone accents, these columns are included with column caps fitted with solar-powered lighting kits that shine a delicate light on their elegant design at night.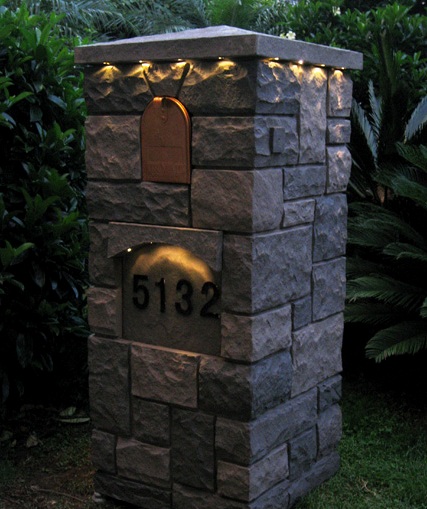 Outdoor lighting is a smart way to increase your property's allure, while also increasing your security and safety. By taking these five ideas for illuminating your home into consideration, you'll be on your way to maximized curb appeal.