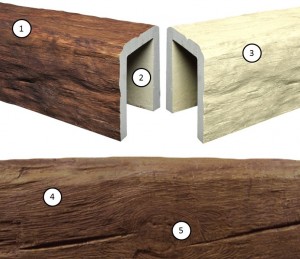 The 5 Features of our Faux Wood Beams
Here's a breakdown of five important design features from our range of faux wood beams.
5 Important Features of Faux Wood Beams
Our beams are manufactured from high-density polyurethane foam which makes them light, durable and vividly realistic. The lightweight construction of our faux wood beams are significant advantage over the real thing, because they can be transported cheaply, need only one person to carry them and can be held in place on a ceiling or wall with nothing more heavy-duty than regular screws.
Our false beams are hollow which means they can be used to seamlessly run cables and wiring through, or slot easily over existing structural features like steel beams or pipes. You can order our false beams 3-sided or 4-sided, with a removable fourth panel to give the appearance of a single, seamless beam all the way around.
You can order our products unfinished, which is great for home decorators wanting to stain our products to match existing wooden design features. Although made from polyurethane, they can be colored with regular wood stain, or painted over with regular paint - giving you endless design possibilities.
Or, you can order our products finished. There are a range of finishing options available on our faux wood products, all designed to perfectly mimic the hues and colors of real wood. Intricately detailed, these finished beams remain favorites with our customers because they're almost impossible to tell apart from the real thing.
They're molded from real wood and timber. The reason our faux wood products look so vividly realistic is because they're created using molds of real timber beams. This process captures every detail - from grains and knots to the original saw marks and chips. These are why our beams look so amazing; and why many so many home designers are using them for a "real" timber beam look.