Wooden Beams for your Ceiling Decor
Our artificial wood beams with lightly distressed textures are an ideal way to give your ceiling décor a relaxing feel. They can dramatically enhance the look of a room. For a low cost and simple installation, DIYers can easily accentuate and highlight their ceiling designs in no time.
Lightly distressed beams give ceiling decor a fresh new look.
The laid back rustic mood they add to interior designs is sure to transform your home's decor. Thanks to their durable, robust construction, the beams will last for years and always look great. Termites will leave them alone, too.
In today's blog post, we're going to take a look at four popular lightly distressed ceiling beams in our line of faux beams. The first two are Woodland beams and Aspen beams, and are available in thousands of Custom sizes. The second two are the Sandblasted and Windswept styles, which are available in pre-cut sizes.
Woodland beams will give any room enhanced comfort and appeal. It is truly amazing how closely they replicate the grain, texture and color of real wood. Available in the Walnut or Unfinished styles, and with a choice of a 3 or 4-sided beam, these beams can be custom-cut to the height and length your design requires. Thanks to this, a nearly limitless range of options are available for your project.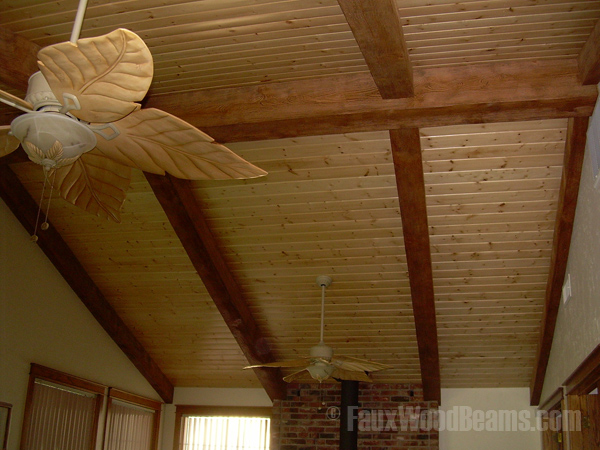 Dan loves how his Woodland beams create a soothing atmosphere
I have attached a few pictures of my finished project using "Woodland" faux beams. I hope you can use one of them on your website. Thanks for a great product. The look is fantastic, and actually quite amazing! Thanks again. -Dan B., Merced, CA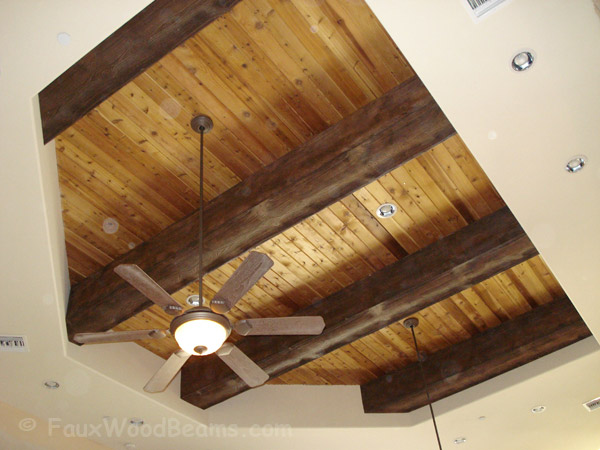 Woodland beams create beautiful ceiling decor.
Aspen beams have an ultra- realistic, classical wood grain pattern that mimics authentic wood perfectly. The gentle, natural appearance makes them a fantastic choice for upgrading any room design. These beams are also available in custom sizing, so that any design can suit them.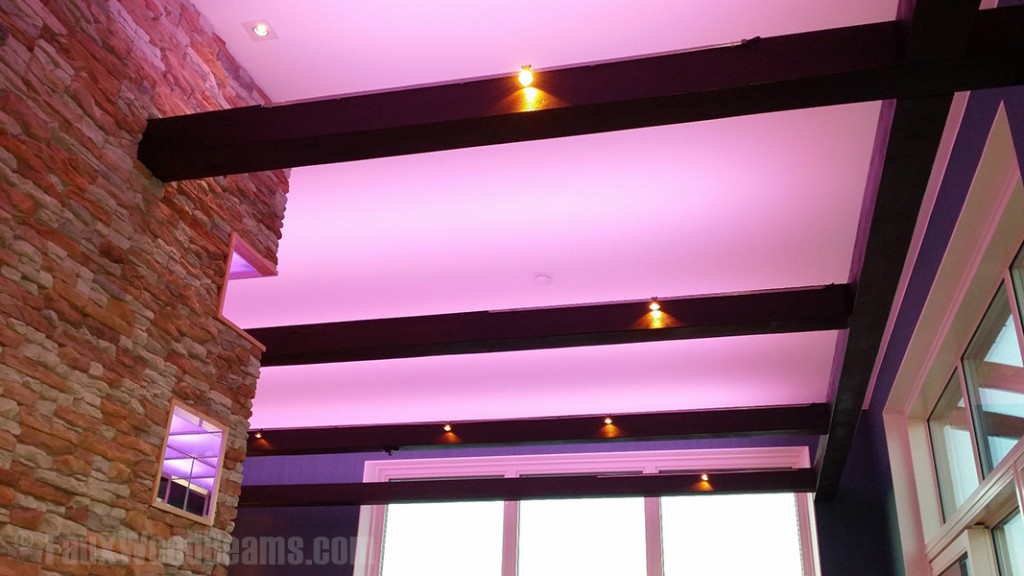 Aspen beams create a lively design
Your beams made a perfect finishing touch to what could have been a pretty boring roof line in this home. I have attached some photos of the finished product. We stained these unfinished beams and put them through the great room and kitchen areas of the home. Including staining and finishing it took us about 2 days and was done just 4 days before the customers took possession. Nice product and great to work with. - Rick L., Edmonton, Canada
Aspen beams give Rick's kitchen a warm look.
The Sandblasted beams have a pronounced grain texture that allows you to easily enhance the overall beauty of a room without taking away from the elements in the rest of the design. These beams come in four different sizing dimensions that will allow for easy designs. Also available in Walnut and Unfinished, they provide a nice balance to your home's décor with their mellow, classic form.
Sandblasted beams offer smooth elegance
We ordered THREE Unfinished Sandblasted Beams sized W 8" x H 6" x L 16' for our family room's cathedral ceiling that measures 23 feet high in hopes of the perfect finishing touch in creating a cozy atmosphere in a grand space. Please notice the slanted/angled ceilings in our space. The beams are absolutely stunning. The dark mahogany stain that so meticulously matches the remainder of the houses wood finishes helps the modern flow of our home. They look SO real. We have received numerous compliments about the beams. EVERYONE'S mouth drops when we tell them that they are faux. They respond, "You mean they are NOT real wood?" 95% of the time our guests do not believe us until we show them a piece of the remainder cut portions. We have already recommended Fauxwoodbeams.com. Thank you! - Nydia L., Cypress, TX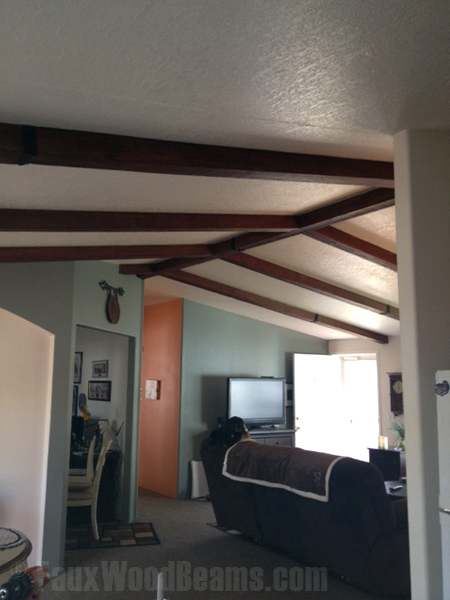 Nydia's Sandblasted beams provide added comfort.
Windswept beams have the gently weathered look and texture of antique barn wood. With their striking appearance, they're a great way to add a comforting ambiance to any room. These beams are available in the Unfinished style, and come in two different sizes.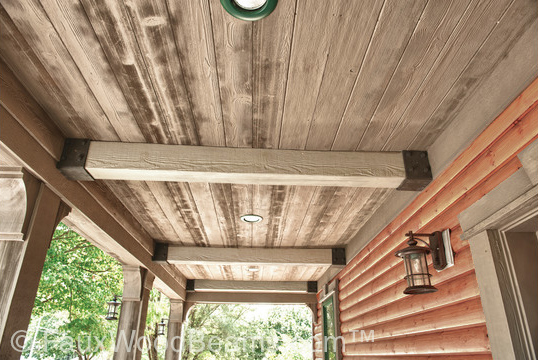 Windswept beams provide welcoming outdoor ceiling decor.
Why didn't we buy windswept beams sooner? We bought our dream beach house and them beams went up throughout the house without a hitch. We even added them in the front outside -- our neighbors can't believe they're not real. And it's great not to worry about damage and rot! - Jane and Hadley, Hyannis, MA
For more inspiration on how you can create gorgeous designs with lightly distressed beams and other styles, make sure to see our beams gallery.